Hulu, Amazon, Scener, Plex and Disney Plus Watch Parties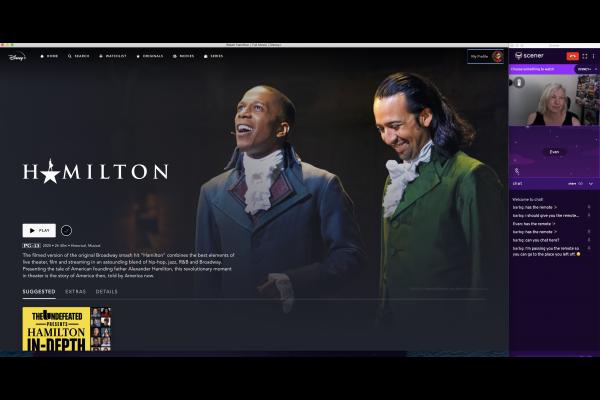 As movie theaters remain closed, more streaming services are coming up with ways to create the social experience of watching movies together. Previously, I covered the
Netflix Party and Twenty Seven
extensions for the Chrome web browser. Now services are launching their own solutions.
Hulu and Amazon Prime Video have an in-app direct sharing experience. The Scener website offers a watch party experience for popular services, and the Disney Party Plus Chrome extension makes it possible to watch with your family and friends while everyone stays in their own homes. Still, all of these watch parties are done on web browsers on a computer and can't be cast or mirrored on a TV.
The Plex Watch Together feature works on any device with a Plex app—from TVs and streaming media players to mobile devices. Still, content is limited to the media you own in your Plex library and some movies and TV shows with ads.
All of these solutions will sync a movie allowing you to comment with friends as you experience each scene simultaneously. Watch parties aren't about sharing your account so others can watch for free. All participants must have their own accounts with the streaming service from which you are sharing. 
In-App Watch Parties
While early third-party solutions like Twenty Seven allows you to share from Hulu and Amazon, now both services have released their own direct solutions. With the click of a button in the title's detail screen, you can invite others to a Watch Party.
Setting up a Watch Party is easy. Hover over the title you want to share. If there is a thin arrow, click on the image. If there is a play button, click on the three dots in the upper right corner of the image. Choose "details" from the drop-down list to take you to the show's detail page. Next to the play button on the details page, you'll find a round icon with a people's silhouette and a play symbol. Clicking the icon, then clicking "start party," displays a link that you can send to your invitees via text or email. 
Most popular titles are available to share, but you can't create a watch party for premium channels like HBO and Showtime. 
Up to eight people can watch together. A text chat window lets everyone communicate during playback. The host can start the party at any time or wait until everyone has joined. To participate in a Hulu watch party, all viewers must subscribe to the Hulu ads-free tier ($12 per month) or Hulu with Live TV ($61 per month). 
Hulu Watch Party is still in early access beta, but I didn't run into any snags, bugs, or problems. It can be played on any web browser, including Safari.
Amazon Prime Video also offers Watch Party directly from the Amazon Prime web page. Only Prime titles are available. Rental movies are not included. Unlike Hulu, you aren't limited to an intimate party. You can invite up to 100 of your close, personal friends and family by posting the link on Facebook or Twitter. All who watch must have Amazon Prime accounts.
Amazon Watch Party is not compatible with Safari or Internet Explorer web browsers. 
Although Amazon Prime Video and Hulu have a massive amount of content, you have to view on your computer. To watch on your home theater, you'll need to connect your desktop or laptop to your TV (usually via HDMI) and set up your TV as an external monitor. 
Watch Together on Any Device
The Plex Watch Together feature allows all participants to view from the Plex app on any device. This includes Fire TV, Roku, and Apple TV devices, Playstation 4, and Xbox One, as well as LG, Samsung, Sony, Vizio, Toshiba, and Roku TVs. And Android and IOS mobile phones and tablets. You can start hosting from any Plex app. Anything in your library can be shared as well as some Watch Free movies and TV shows with commercials.
The first time you share with a friend is a two-step process. To begin, you need to add your friend to your friend list and share your library with them. Then you can choose a friend from your list to watch a video together. You can also set up close friends or family as users allowing them to access your library from their Plex app at any time. 
It's a good idea to add friends to your friend list before showtime. If your added friends don't show up in the list, both you and your friend should exit the app and restart. 
When you are ready to watch together, choose a movie or TV show. Go to its detail screen. Click on "More" and select "Watch Together." Your friends list will appear, and you can choose who you want to invite.  
To join the watch party, your friends need to open their Plex app unless they have set up the app to send notifications. The title will be displayed on the top row of the Plex home screen under "Watch Together". Once everyone has clicked on the title, and their status shows as "ready," you can start playing. Anyone watching together can control playback.
There is no text or video chat available in the Plex app. You'll need to use your phone or tablet while watching on the TV.
Watch Together is still in beta. It's free for now but will likely be a feature on Plex Pass later.
Watch Parties with Video Chatting
While Plex may have no built-in chatting, Scener has both text and video chat. Scener is a web-based app that can share content from HBO, Netflix, Vimeo, and Disney Plus that presently only works on the Chrome browser. All participants must sign up for a free Scener account. 
Start by going to the Scener website and sign in to your account. A large viewing window appears alongside the control and chat sidebar. If you are hosting, choose which streaming service you want to watch from the list in the sidebar. This will display its home screen in the viewing window. 
Choose a title you want to watch with friends, click on play, and then pause while you invite others. Copy the link and send it to others via email or text.
As host, you have the remote control, but you can hand it off to another participant. We started watching Hamilton on Disney Plus, but my son wanted to show me an episode of Community. I passed him the remote, and he "took me" to an episode so he could share a scene. He then switched so we could watch an episode of Game of Thrones on HBO. I took the remote back and started Hamilton again.
Share Disney Plus with the Free 'Party' Extension for Chrome
Disney Plus can also be shared using a third-party, free Disney Plus Party extension. Everyone watching will need to add the extension from the Chrome Extension store. When added, an icon appears in the Chrome toolbar. 
The extension is not affiliated with Disney, so each person will have to register and log in to Disney Plus Party. Be sure your friends tell you the username they chose for the Disney Plus Party extension. As the host, navigate to the Disney Plus website, being sure you are logged in. Choose and start playing a title. Pause it until you've invited others. Clicking on the Disney Plus Party icon in the Chrome toolbar will bring up the invitation screen. Search for your friends by username and send a friend request. Once they are on your friends list, you can invite them to your watch party. The default is for anyone to have playback control, but the host can click on the option for "Host only controls."
The Party extension is new and in beta. The developer has posted a message of apology for the bugs users may encounter, but I didn't have issues. Disney Plus Party limits your sharing time to four hours of content per week. A $3.50 one time donation gives you unlimited access to host Disney watch parties.
We may still be staying home more, but we don't have to do it alone. Grab some popcorn and a drink, plop down on the sofa, and share a movie with your friends and loved ones. We'll let you know as more streaming services add watch party features so you can share from your favorite source.