Hands On: Chromecast With Google TV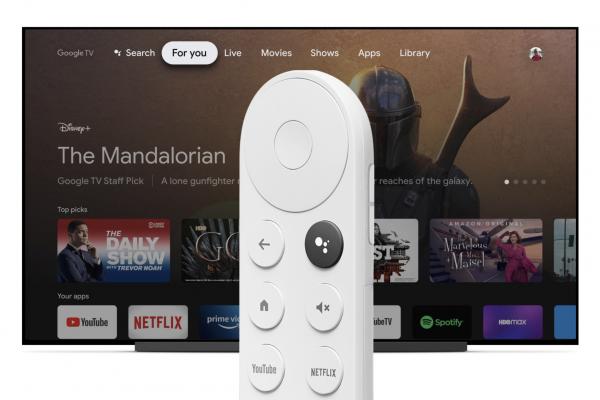 Finally, there is a Chromecast that can rival other streaming players. Unlike its predecessors, the Chromecast with Google TV is a full streaming player instead of a passive device that plays content cast from a phone, tablet, or Chrome browser. It comes with a remote control, and has apps and menus to play directly to the device. As many TVs and other players include Chromecast capabilities, there was increasingly no reason to get a stand-alone Chromecast device until the Chromecast with Google TV. 

The sales associate at Best Buy mistakenly told me that all Chromecasts have Google TV. That statement is incorrect as this is the first of any TVs or devices to have the Google TV menus. The Android TV operating system has been available on TVs and players like the NVIDIA Shield, but they do not have Google TV. While Android TV is the operating system that runs the player, Google TV is the user interface (menus) you see. The Chromecast with Google TV is the first time these menus are launching.  

Because previous Chromecast models only played content cast from your phone or other devices, there was never a need for a remote control. The Chromecast with Google TV comes with a voice remote to navigate the new Google TV menus. The remote has a button for a full Google Assistant to control the Chromecast and smart home devices, and there are direct access buttons for Netflix and YouTube. Power and input buttons can be set up to control your TV. Volume buttons can control your TV, a soundbar, or an AV Receiver. Rather than using HDMI CEC control, the remote must be set up by selecting the brand of TV and audio device.
Setup 

Setting up the Chromecast was a bit of a challenge. In the past, you needed only to plug in a Chromecast and connect to it, but the new Chromecast is set up through the Google Home app on your mobile device. I have an iPhone, so it may have added to the difficulty.   

Setup stopped when connecting to my Wi-Fi. After a few minutes, I would get an error message saying that "something went wrong." The app's instructions said to hold down the back arrow on the remote to restart setup. When it happened again, I went through troubleshooting, including going into my router's settings to be sure I turned on my guest network and enabled users to "see" each other. After unplugging the Chromecast and starting the setup from the beginning, I scanned the onscreen QR code with the Google Home app for the fourth time, and it finally completed setup. I did notice a flash of a message that an "interim update" was performed. The Chromecast then installed a full update after it was connected to the internet. 

Beyond getting connected, there are some choices to make in the Google Home app during setup such as selecting if you want a male or female voice assistant. I selected the services I used—Netflix, HBO Max, Peacock, Disney +, etc. Next, I picked the "ambient mode" of what I wanted to use as a screensaver, with the options being to use my Google photos library or supplied artwork.   

Signing into apps that you subscribe to is easy if you have enabled Smart Lock on a previous Android device, Chrome Browser, or Google app. Smart Lock will automatically log you into those apps on the Chromecast. Otherwise, most apps can be activated on a phone or computer.   

Google TV's home screen is a "For You" menu with recommendations of shows to watch. The Google TV bases the suggestions on shows you watch on your subscription services. The first suggestions weren't particularly accurate for me—my top row was filled with Disney movies, although I don't watch children's animation. An option to check off a title that you have watched, or add a thumbs up/thumbs down will help the For You recommendations be better customized for you. 

When browsing the For You menu, you can also choose to add a title to your watchlist. The watchlist titles appear in the Library submenu. The Library also includes any movies that you have purchased from Google Play, and those videos you have linked to Google Play from Movies Anywhere (or from your Ultraviolet library). It is a handy way to get to what you want to watch next, and it's app agnostic. The titles from HBO Max, CBS All Access, Disney +, and others all appear on the same watchlist.   

Finding other titles to watch is also easy as search results are all-inclusive (as long as you enable access to your apps in setup). If a title is available to stream from more than one app, all available apps are listed with the free (with subscription) option listed above the choice to rent or buy the title from Google Play. When a screen full of results is displayed, the title's price is listed below the thumbnail.  

The voice search understood my requests. As I have other Google Assistant devices nearby, I didn't mind that I had to hold down the Google Assistant button on the voice control remote to search or give commands to the Chromecast. The Google Assistant on the Chromecast with Google TV is one of the best voice control experiences available. I could tell it to play West Wing on Netflix, and It bypassed the sign-in screens and went directly to the next episode from where I stopped watching. For music, I could tell it to play Pink Martini radio on Pandora, and it went directly to the station and started playing. Similarly, it went to my Oldies playlist on Spotify. From there, I asked to watch SNL on Hulu. Again, it immediately went to the show page. Voice commands also control play, pause, rewind, and fast forward a specific amount of time. I was able to rewind one minute and fast forward three minutes.   

Along with streaming directly to the apps, I tested casting from my phone to the Chromecast 4k with Google TV. I cast a 4K version of Fifth Element from my PLEX library. It looked as good as I've seen it. I could choose TRUEHD sound in the PLEX app for better audio too. 

While individual apps may include settings adjustments, the Chromecast does not have access to settings to choose audio and video preferences on the device or in the Google Home app. It appears that the Chromecast automatically determines the best quality based on the content and your WiFi connection. It is capable of 4K at 60 frames per second and is compatible with HDR 10, HDR10+, and DolbyVision. It supports all Dolby audio formats, including Dolby Atmos.  

Other than my issues setting up the Chromecast, it is proving to be one of the best streaming devices I've used. Other than Apple TV +, most apps are available through the Google Play store. The picture and sound quality are excellent, and the voice commands are the most accurate and responsive of any player I've used. At $50, this should give Roku and Amazon Fire TV some stiff competition.   

There is currently a bundle with the Chromecast with Google TV and six months of Netflix for $90. Note that this is the Netflix standard streaming 2-screen plan which only streams in high definition, so you will not get 4K Netflix.