Panda Audiophile Wireless Headphones Get THX Badge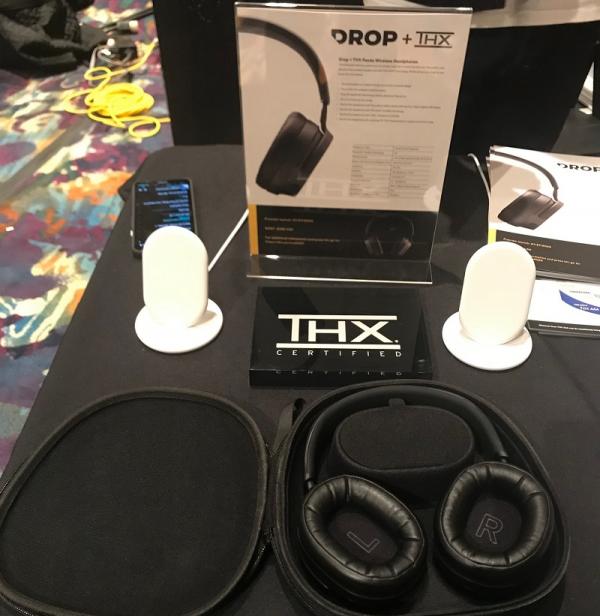 For years, the THX logo on a product meant you were buying something that was a cut above the rest, with the company's demanding certification process guaranteeing that a component met a certain performance level criterion that ensured buyers they were getting the goods, especially when it came to home theater electronics or speakers. However, the certification became diluted over the years as THX seemed to start certifying products and systems well outside of their key areas, and the THX badge seemed to nearly become extinct. But the company is back at CES and has several new technologies, including the launch of Drop + THX Panda, the first audiophile wireless headphone to receive the THX badge.
The new Panda 'phones feature some key THX patented technology, including Achromatic Audio Amplifier (AAA), said to be the world's most linear amplifier technology capable of producing infinitesimally low levels of noise, distortion and power consumption. By utilizing AAA in Panda, the headphones can deliver maximum output power for greater dynamic range and SPL, while still reducing distortion and maximizing battery life.
THX's headphone certification process uses multiple headphone measurement fixtures and specialized microphones to characterize and validate headphone performance. THX also measures performance using microphones placed in the listener's ear canal to further characterize and evaluate the headphones being tested, with certified headphones required to meet frequency response, distortion vs. output, and sound isolation performance specifications.
The phones are rated at a 30-hour battery life, with a full charge taking just two hours. And for listeners in a hurry – say a quick layover on a flight as you rush from terminal A to C – you can get up to three hours of listening from just a 10-minute quick charge.
The headphones feature a closed planar magnetic design with a 0.2-inch ribbon driver. They are said to offer identical performance whether wired or wireless and include the latest Qualcomm Bluetooth 5.0 QCC5124 chipset and support LDAC, aptX, apX HD, aptX adaptive, AAC, and SBC codecs. There are dual microphones on board for hands-free calling, and gamers can purchase an optional detachable boom mic to bring gaming to the next level.
I found the headphones to be very comfortable, with the 13-ounce weight easy on the head. They also offered a surprising amount of acoustic isolation, nearly blocking out all of the mayhem of the crowded Digital Experience! event where they were on display, letting me enjoy some Coltrane jazz in near peace and quiet even at modest listening levels. It's important to note that the sound isolation is entirely passive, with no active noise cancellation to color the audio.
The Drop + THX Panda headphones will be available for pre-order starting January 27 at a price of $400, with the first units expected to ship in June.