Panasonic Puts the Ultra in 4K Blu-Ray Playback
Last week, I had the opportunity to attend the EISA (European Imaging and Sound Association) convention in Antwerp, Belgium. At this annual event, magazine editors from around the globe are given the chance to preview new audio, video, and digital photography products, many of which are yet to hit the market. For me, a highlight of the event was a demo of Panasonic's DP-UB9000, a flagship Ultra HD Blu-ray player designed for high-performance video and audio playback.
The UB9000's video features include Dolby Vision and HDR10+ support. It also performs chroma upsampling on Ultra HD Blu-rays, which are mastered using 4:2:0 color subsampling, to 4:4:4 color output using multitap processing for extended chroma frequency response and smoother color rendering. Another key feature of the UB9000 is its HDR Optimiser. Using this, you select the approximate maximum brightness capabilities of your display (500, 1000, or 1500 nits) and the Optimizer performs internal tone mapping of the HDR signal so your set then only has to carry out minimal processing. (The feature gets disabled when Dolby Vision and HDR10+ content, both of which use dynamic HDR metadata, is displayed on a compatible TV.) In a comparative demo, the player's tone mapping delivered better highlight detail and a more subtle color range when viewing the same HDR content tone-mapped by one of Panasonic's own Ultra HDTVs.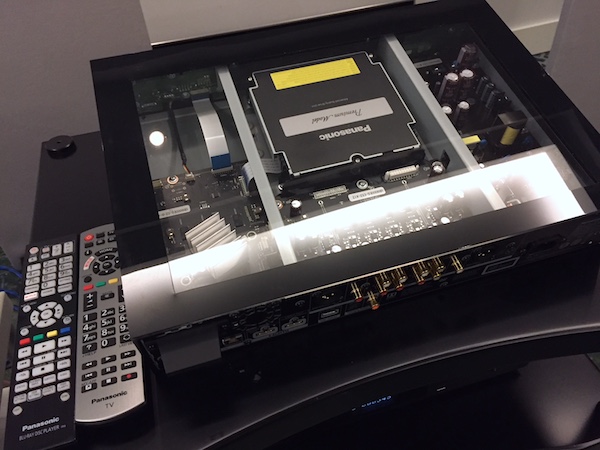 On the audio side, Panasonic's player features a rigid dual-layer chassis and separate power supplies for audio and video circuits. Digital-to-analog conversion is carried out using an AK4493 32-bit/768kHz DAC that delivers a -10dB noise floor reduction over Panasonic's previous model, the UB900. The company is also claiming a significant reduction in jitter noise when the player's HDMI output is used for audio.
While the DP-UB9000 is scheduled to arrive in Europe this October for around €1,000, Panasonic hasn't yet determined if the player will be sold in the U.S. Here's hoping it is: With Oppo Digital's departure from player manufacturing, there will be a gap for high-performance Ultra HD players that address the needs of both videophiles and audiophiles. Fortunately, the UB9000's chroma upsampling and HDR Optimiser features will be available in other models the company is releasing in the U.S. this summer, including the UB820 ($499). Sound & Vision is currently working on a review of the UB820, so keep an eye out for it in a future issue.