Panasonic Debuts New Blu-ray Players That Open With a Wave

Dateline Los Angeles, early March 2011: Local AV scribes are briefed on Panasonic's 2011 lineup of audio gear and new disc players.
Panasonic's name may evoke sound, but its reputation is built on video. Nevertheless, the company does produce audio products, though its U.S. offerings in that space differ from those of many Asian manufacturers. It has never been a major player here in AV receivers or stand-alone speaker systems, but instead puts most of its efforts into home theaters in a box (HTiBs), compact one-piece stereo systems, and related all-in-one packages. Panasonic's new 2011 introductions in these categories include a single sound bar (the fully-powered, $400 SC-HTB520, which includes a wireless subwoofer), four compact stereo systems, and three new Blu-ray HTiBs with 3D capability. Four new stand-alone Blu-ray players were also launched.
The HTiBs start at $400 for the base SC-BTT270 up to $600 for the SC-BTT770. All three include integral, 3D-compatible Blu-ray players, a complete 5.1 speaker array (including wireless surround in the SC-BT770 and an upgrade route to wireless surround in the mid-line SC-BTT370), Cinema Surround Plus that is said to simulate arrays of additional, virtual speakers in both the horizontal and vertical directions,), a Universal Dock for iPod and iPhone compatibility with a digital link, and wireless LAN connectivity including VIERA CAST and BD-Live functionality. The top two models also feature VIERA CAST with Skype, for connection to friends and family around the world that have a compatible TV.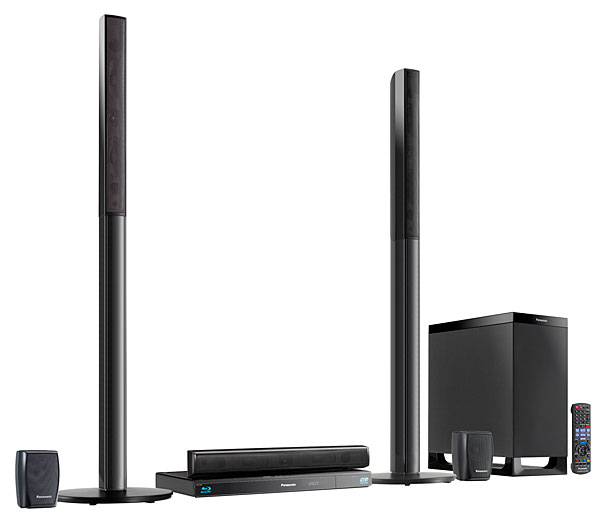 The four compact stereo systems are priced from $100 to $200. While they resemble one-piece, highly featured radios more than full stereo systems with properly separated speakers, they do include features such features (depending on the model) as AM/FM reception, a CD player, a digital link to an iPod/iPhone, wireless music streaming, Bluetooth functionality, and hands-free conversations on your docked iPhone via the system's own speakers and built-in microphone.
Panasonic's four new stand-alone Blu-ray players (not including the new DMP-200 portable) may appear relatively unassuming in their slim, nondescript cabinets (even more slender than last year's models). But at prices ranging from $149 to $229 for the three 3D models, and $99 (!) for the non-3D DMP-BD75, your last excuse for not adding a Blu-ray player to your system has evaporated.
All three 3D players—the DMP-BDT310, DMP-BDT210, and the DMP-BDT110—offer 2D-to-3D conversion. While not the equal of a full native 3D source, the resulting 3D imagery was nonetheless surprisingly effective, based on the demo we saw on a new Panasonic 3D plasma HDTV.

The demo we saw also exhibited extremely rapid disc loading, long a sore spot with Blu-ray players. And while last year's Panasonic players were faster than most, the 2011 models appear to be even quicker. Also welcome is a sensor that opens and closes the loading drawer when you wave your hand over the top of the player. No more fumbling around in the dark for the "Open" switch and pushing the "Off" switch by mistake!
In addition to the VIERA CAST features of last year's Panasonic Blu-ray players, the three 3D players also include Skype video and voice calling, as described above in reference to the new, top-line Panasonic HTiBs. The two top model players also include built-in WiFi, while the DMP-BDT110 includes a wireless adapter for connection to your home network.
A new HDMI Jitter Purifier is also said to improve sound quality. Improved video performance is also claimed for all of the players via a new version of Panasonic's UniPhier chip set, in addition to improved color thanks to the PHL Reference Chroma Processor 2. The on-board video processing is also said to "up-convert all streaming [video on demand] images into HD quality," but we'll ignore that bit of marketing hyperbole in light of the other intriguing features and obvious value offered here.
The DMP-BDT310 also includes dual HDMI outputs. It will arrive in May. As of this writing (early March 2011) the other three new players were already available.
Panasonic also showed a new design for its 3D glasses. They are far more comfortable than the first generation, have a clearly accessible on/off switch, come in multiple sizes, and are closed on the side, which is better for rejecting stray reflections. The price for the new glasses remains as before, at $150/pair.
SPONSORED VIDEO
LATEST VIDEO