Panasonic Aspires to Be Green
Panasonic's Green Plan 2018 will bring a variety of changes and initiatives aimed at making the massive company's activities more environmentally friendly, according to an announcement made at the Eco Ideas Forum in Tokyo.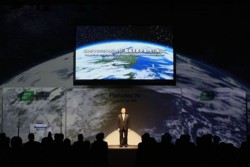 Among the areas the plan will address are solar power, battery technologies, smart energy management, and policies that will more closely examine the activities of manufacturing partners and suppliers of materials. Panasonic will strive to use more recycled materials in new products and improve its recycling and disposal of existing products. It will strive to minimize CO2 emissions, water consumption, and hazardous chemicals. It will examine the impact of its activities on biodiversity. And it aims to double the number of "eco conscious" products sold.
The company has just launched the Earth Lunch Hour, a webcast in which ideas will be shared via video, image, or message. The webcast is in both English and Japanese and is repeated around the clock.
A "Connecting with the Earth" ad campaign has been launched to call attention to Panasonic's Energy Star certified TVs, solar panels, and other products.
See press release and environment page on Panasonic website.
LATEST VIDEO
WHERE TECHNOLOGY BECOMES ENTERTAINMENT