Panasonic 2008 Line Show
At a late winter press event, Panasonic Corporation of North America rolled out its complete 2008 line of 21 plasma and LCD flat paneltelevisions, all branded VIERA for the first time in North America. A Panasonic spokesperson explained that VIERA stands for "Visual Era," and for "exceptional picture, connectivity and customer service and satisfaction" [But the latter didn't make such a spiffy acronym!-Ed.].
The 16 new plasma sets, divided among four lines, include all new panels, a new 46" screen size and improved contrast ratios and feature sets including HDMI connections, SD Memory Card slots, Game Mode and Viera Link. In addition, the full line includes a defeatable 110% color scale setting, "deep color" capabilities, 10-bit color gradation, and anti-glare screens.
Last year's highest performing Panasonic PDPs featured 10,000:1 contrast ratios. The company claims 30,000:1 for this year's best, with even the lowest tier 42" ($1,199.95) and 50" ($1,699.95) 720p PX80 series offering 15,000:1 performance.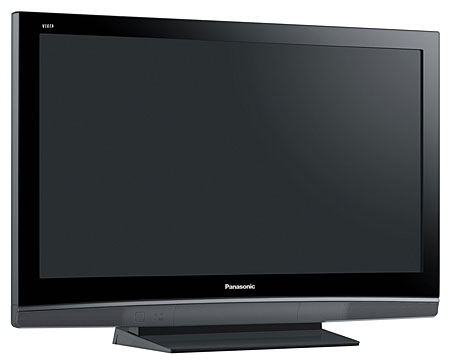 The VIERA 1080p Z80 series, available in 42" ($1,599.95), 46" ($1,999.95) and 50" ($2,499.95) sizes offers 20,000:1 contrast ratio, while the step-up Z85 series, available in the same three screen sizes ($1,799.95, $2,199.95, $2,699.95), ups the contrast ratio to 30,000:1, a PC input and hidden front speakers.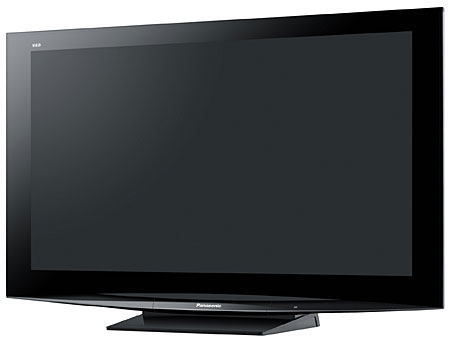 The 1080p Z800 series (prices to be determined) adds a 58" panel as well as THX-Certified Display specifications for all four sizes, four HDMI connections, 30,000:1 contrast ratio and a single sheet front panel glass design. The flagship Z850 series, available in 46", 50", 58" and 65" sizes, adds Vieracast IP enabled online TV capabilities via an Ethernet connection (available later this year) as well as a Pro Setting Menu giving consumers access to professional calibration software. It also includes an AVCHD capable SD Card slot enabling full resolution HD playback of H.264 codec equipped HD camcorder recordings. All 800 and 850 series PDPs feature true 24-frame cinematic playback.
The dual series, five LCD set lineup includes two 720p LX models at 26" ($799.95) and 32" ($899.95) sizes, and the new 37" full 1080p LZ85 ($1,399.95). All of these sets feature three HDMI connections, Game Mode, an SD memory card slot and a PC input. The premium 1080p 32" LZ800 and 37" LZ800 add numerous other features (prices not available at press time).
The entire line of Panasonic LCD televisions feature 1,200:1 native contrast ratios and 10,000:1 dynamic ratios, as well as (specificed) 178-degree viewing angles and proprietary technologies designed to reduce motion blur.
Panasonic claims 100,000 hours to half brightness performance for all of its flat panel sets, which translates into a 30-year lifespan at eight hours of viewing per day. All VIERA PDP and LCD sets include 24 hour a day VIERA Concierge hotline customer support.
Finally, with Pioneer's recent withdrawal from plasma production inducing a swirl of rumors including suggestions that Panasonic would supply panels to Pioneer, and more significantly, that it was considering buying Pioneer's PDP intellectual property and might incorporate KURO technology into Panasonic's next-gen panels, the press event seemed like an opportune moment to attempt to clear up the rumors.
Is Panasonic going to supply panels to Pioneer? "NO!" Is Panasonic going to buy and incorporate KURO technology into its next-gen panels? "NO!" At least "NO!" for now.
From where did these rumors emanate? "Ask Pioneer" I was told by tight lipped Panasonic executives. So, as they say, "stay tuned." Which reminds me: all Panasonic PDP and LCD sets incorporate ATSC tuners and some will soon incorporate OCAP two-way cable cards allowing for on-demand services without a set-top cable box.
LATEST VIDEO