Our Kind of Traitor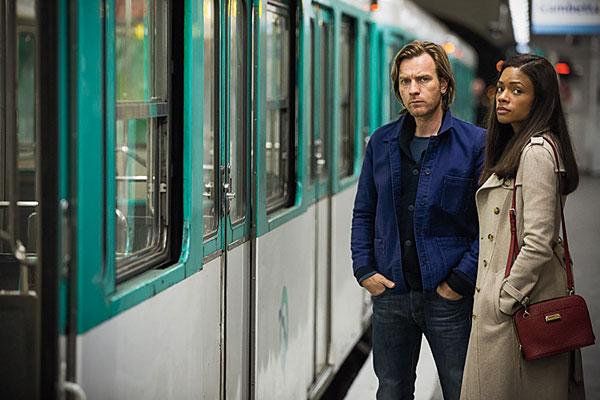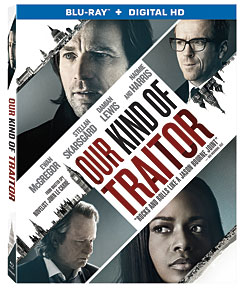 Striking, complex 2.40:1 widescreen images are frequently filled with the length of a body or dazzling landscapes of Marrakesh, Paris, or Berne. One after another, gorgeous compositions emerge with romantic plays of warmth-suffused light in a sharp picture with excellent contrast in bright, green-blue tinted images of attractive pastels and deep blacks. Everything is well defined, with plentiful detail revealing Ewan McGregor's stubble, individual strands of lanky hair, and crow's feet. Faces are dimensional and rounded throughout.
From the bravura opening sequence, the soundtrack kicks in on all channels, thoroughly immersing you in its melancholy orchestral score, sinking you into its sea of strings that constantly build tension. Instrumentation is nicely separated into each channel, and the sound is full and vibrant. In a glamorous mafia party, the occasional 1960s pop song pounds powerfully all around. Dialogue is always clear and distinct, even with thick Russian accents.
Extras include six minutes of deleted scenes that take the story into some interesting new directions, logically cut to keep the story moving. Three making-of featurettes tease out characters and plot interestingly in their mere 18 minutes, leaving me wishing they could have kept going to take a closer look at le Carré's expert exploration of the human condition and modern societal maladies.
Blu-Ray
Studio: Lionsgate, 2016
Aspect Ratio: 2.40:1
Audio: DTS-HD Master Audio 5.1
Length: 108 mins.
MPAA Rating: R
Director: Susanna White
Starring: Ewan McGregor, Damian Lewis, Naomie Harris
This elegant, suspenseful adaptation of John le Carré's novel, Our Kind of Traitor, makes for a marvelous companion piece to the recent excellent TV miniseries adaptation of the writer's The Night Manager. Here, a bored and lost university poetry professor whose marriage is in crisis—one of le Carré's endless supply of honorable and principled innocent civilians who, seeking purpose and redemption, allow themselves to become involved in international intrigue—is seduced into helping Dima, a charismatic money launderer for the Russian mafia desperate to defect to England and save his family. Dima's doing so because a ruthless new head of their criminal organization, The Prince, is killing off all the middle men (and their loved ones) to consolidate his businesses as part of a bid to set up a trading bank in London to launder billions of filthy mafia rubles, all with the aid of corrupt Whitehall politicians, secret services officials, and other members of the British establishment. Meanwhile, the masterful cast has a blast biting into the tasty material and enjoying this gripping, thoroughly involving thriller.