Origin Acoustics Brings Artnovion Room Acoustics Solutions to U.S.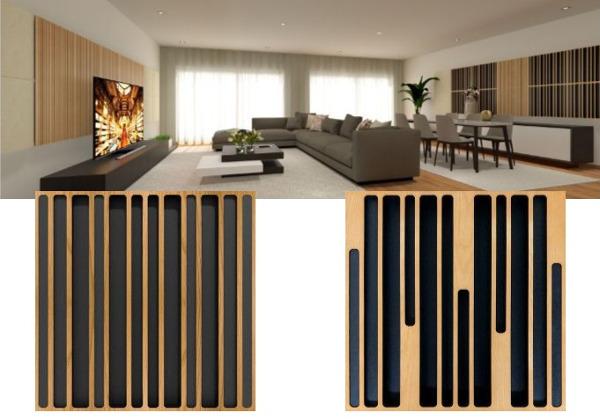 Custom installation specialist Origin Acoustics has announced the availability of new diffuser panels from Portugal's Artnovion that are designed to enhance room acoustics.
Origin, U.S. distributor for Artnovion, said the new residential-focused Lagos Diffuser provides a "more uniform sound field" through the use of diffusion in the mid-high frequency range.
The result of extensive research into diffusion techniques, Lagos is based on a traditional "quadratic residue diffuser" (QRD), but combines varying widths with each cell depth said to overcome some of the limitations of a standard QRD design.
"Well depths are individually tuned to enhance performance at certain frequencies, essentially increasing the effective range of the panel, without compromising the overall linear response," the company said in a press release, adding that the panel's semi-cylindrical response pattern makes it "the perfect solution" for multichannel home-theater applications.
Artnovion offers Lagos in wood and fabric finishes.
Original also announced the Aires Diffuser, which targets pro audio applications. Hailed as a "clear advance in performance over the traditional QRD design," the Aires was inspired by traditional numeric sequence diffusers yet is only 2.3 inches thick with asymmetrical multi-depth wells, some of which use a folded-depth technique to boost the panel's mid-low diffusion range. The extended wells are said to address 160- and 400-Hz frequencies, with a linear diffusion pattern above 700 Hz.
The Aries panel is available in a selection of lacquered and natural wood finishes.
For more information, visit artnovion.com.