Optoma Rolls Out 3 Budget Projectors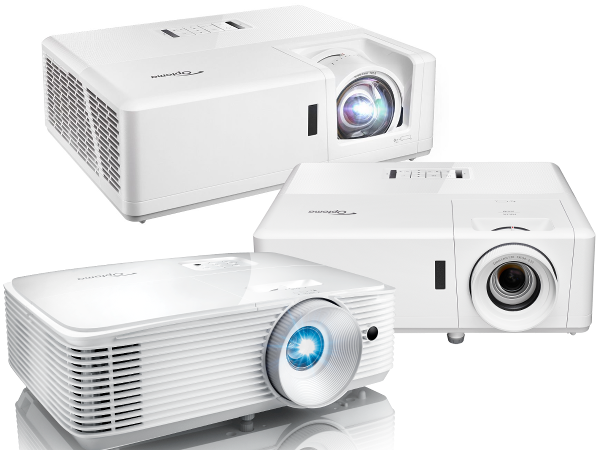 Optoma has introduced three 1080p projectors, ranging in price from $649 to $1,399, including its first laser projectors designed for gaming.
The GT1090HDR ($1,399) and HZ39HDR ($1,199) gaming projectors support HDR10 and HLG high dynamic range (HDR) and are rated for 4,200 and 4,000 lumens of brightness, respectively, with a 300,000:1 contrast ratio (with Extreme Black model enabled). The former is a short-throw model capable of projecting a 100-inch (diagonal) image when placed 3 feet from the screen/wall.
Both models support 4K input via HDMI 2.0 and are equipped with a "maintenance-free" DuraCore laser light rated to last up to 30,000 hours (in Eco mode). Both also carry a five-year (or 12,000-hour) light warranty with a one-year parts-and-labor warranty on the projector.
The GT1090HDR has two speakers powered by a built-in 2 x 10-watt amplifier and features four-corner and auto keystone correction with ±30° horizontal and vertical adjustment. The HZ39HDR has a single 10-watt speaker and provides ±30° vertical keystone correction.
Shared features include the ability to project images up to 300 images (diagonal), VGA input, 0.8-2.0 digital zoom (the HZ39 also offers 1.3x optical zoom), compatibility with 3D Blu-ray Discs, a full-function remote control, and HDMI-link for controlling the projector and connected devices from one remote. An Enhanced Gaming Mode that supports refresh rates up to 120 Hz and a response time of 8.4ms will be available via a firmware update in the April-May time frame.
Rounding out the offering is the HD28HDR home entertainment projector ($649), rated for 3,600 lumens of brightness with a contrast ratio of 50,000:1, and featuring an HDMI 2.0 input and Enhanced Gaming Mode. The projector is equipped with ±40° keystone correction and 1.1x optical zoom and is able to project images up to 300 inches (diagonal).
For more information, visit optoma.com.