Oppo Unveils 4K Successor to BDP-103 BD Player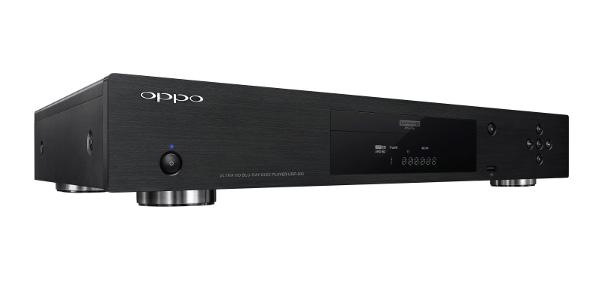 Oppo Digital today announced the Ultra HD successor to its award-winning
BDP-103 universal Blu-ray player
.
The UDP-203 4K Ultra HD (UHD) player, now available at oppodigital.com for $549, supports HDR10 high dynamic range (HDR) playback out of the box and is upgradable to Dolby Vision via a firmware update slated for early 2017 in addition to supporting high-resolution audio with lossless decoding for PCM and DSD.
The player sports a 7.1-channel analog audio output fed by a 32-bit "Velvet Sound" digital-to-analog converter from AKM, an HDMI 2.0 output for connecting to UHD-ready TVs, projectors, and AV receivers, an HDMI 1.4 port for older AV receivers, and two USB 3.0 ports for media playback.
Following a purist approach, the player has no onboard streaming apps. Instead, there's an HDMI 2.0 input to accommodate an external streaming device or set-top box.
In addition to UHD Blu-ray, the player handles Blu-ray, Blu-ray 3D, DVD, DVD-Audio, SACD, and CD and features a precision disc loader to ensure "smooth and reliable playback."
Other highlights include a custom quad-core video decoder/processor, built-in 802.11ac Wi-Fi and Gigabit Ethernet for connecting to a home network, Dolby TrueHD and DTS-HD Master Audio decoding, and a bitstream output for Dolby Atmos and DTS:X playback.
The player has a brushed-aluminum front panel, steel chassis, gold-plated connectors, and is integration-friendly with RS-232 and third-party IP control and a back-panel IR sensor.
Oppo said a successor to the BDP-105/105D featuring upgraded audio performance—the UPD-205—is in the works and expected to be available in early 2017.
For more information, visit oppodigital.com.
LATEST VIDEO