Onkyo TX-SR806 A/V Receiver
Price
: $1,099
At A Glance
: Onkyo's first THX Ultra2 Plus–certified AVR • New THX and Audyssey algorithms • Five HDMI 1.3 inputs • Faroudja DCDi video
With Two Secret Sauces
When I compare the Onkyo TX-SR806 receiver with last year's Onkyo crop, I see incremental but significant improvements. The most notable ones are licensed technologies from THX and Audyssey (more on them soon). But when I compare this product with the earliest A/V receivers (and in the process, look back on myself as I was then), I actually get dizzy.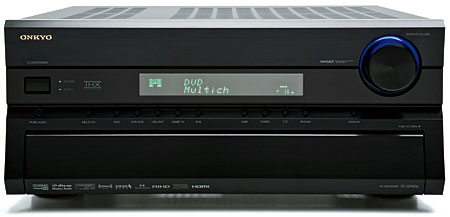 My first serious full-time edit job was with Video magazine. My employer gave me a typewriter and a fistful of pencils, and I hunkered down, editing paper manuscripts and pounding out the magazine's New Products column. When I say pounding, I mean that literally. I worked on a succession of secondhand manual typewriters and pounded one into disrepair about every six months. Cutting and pasting involved a pair of scissors and a stapler.
One day, a press release about the first-ever A/V receiver came across my desk. It had two amplifier channels and no surround processing. What made it an A/V receiver was composite video switching and nothing else. I duly pounded out a New Product item about it.
I scarcely imagined that some day I'd be earning my living reviewing seven-channel surround receivers that set themselves up automatically. If that information had traveled back in time to reach my former self, my head would have exploded, scattering pencils, dotting the manuscript with flecks of blood, sending bone shards into my Underwood Five, and covering the wall with dribbles of fatally challenged gray matter. Nowadays, getting this miracle out of a carton and onto my rack is just another day in the life.

But, to give my younger self some credit, he did anticipate some of the Onkyo TX-SR806's features. He fooled around with a two-channel equalizer just enough to realize how crude it was and the many acoustic problems it left unsolved. And his stereo receiver had a Loudness toggle that goosed low-level listening with a uniform boost to bass and treble frequencies. The appeal of that feature also quickly paled. He would have been pleased to discover the greater precision (and automation) of Audyssey MultEQ room correction. He would also have been intrigued by a receiver that includes dueling low-level listening enhancements in the form of THX Loudness Plus and Audyssey Dynamic EQ.
Big and Blue
The TX-SR806 is a big fellow. Although it's aesthetically conventional, it's nearly 8 inches tall. Its front panel has a green fluorescent display, a volume knob surrounded by blue LEDs, and a straightforward row of source-select buttons. When you press the bottom panel, it glides down to reveal other controls. These include duplicates of the remote's basic menu navigation controls (up, down, left, right), so you can access any menu function from the front panel. The AVR's new and more attractive graphic user interface also comes with a speaker layout diagram.

I've always loved the look and feel of the joystick-equipped remote Onkyo used for many years. The new remote replaces the joystick with a four-way rocker switch. The remote has a wedge-shaped bottom and a rounded underside that makes sense when you hold it. It also has a set of transport keys that are smaller but better laid out.
This is Onkyo's first A/V receiver with THX Ultra2 Plus certification. When used with THX-certified speakers, THX Ultra in any variation has always guaranteed high output in rooms of up to 3,000 cubic feet. This latest form includes boundary compensation (trimming bass for sub placement near room perimeters) and back-surround speaker spacing (a new one on me). But the main thing that distinguishes Ultra2 Plus (and Select2 Plus) from the preceding versions is THX's Loudness Plus technology.
Loudness Plus aims to compensate for losses in ambience, bass, and other elements that occur when you play movies, music, or games below the THX reference level. When the volume indicator reads zero on a properly calibrated system, the sound pressure at the listening position is the same as it would be on a professional movie dubbing stage. That level is too loud for some people—especially me. But as the volume drops, the frequency response of your hearing changes. Beyond a certain point, detail becomes elusive and the soundfield collapses.
Loudness Plus tackles that with THX's Multichannel Spectral Balancing and Dynamic Ambience Preservation. These manipulate frequency response and surround levels in a surgical and psychoacoustically savvy manner. This then enables the system to sound better at low volumes while retaining the original dynamics. Loudness Plus kicks in only when the user sets the volume below the reference level.