Onkyo TX-RZ70 AV Receiver Review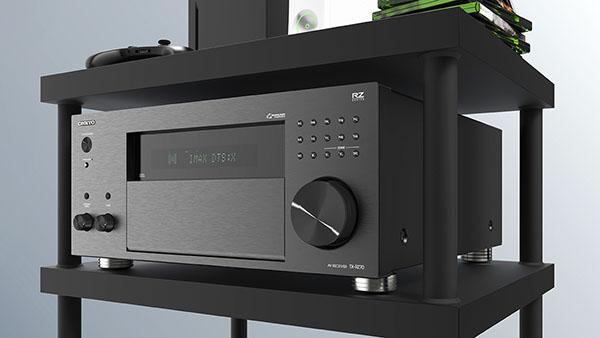 PRICE
$2,800
AT A GLANCE
Plus
Impressive amplifier power, dynamics, and quality
Simple, straightforward ergonomics
THX-Select certified
Full-bandwidth Dirac Live included
Minus
No global user-preset feature
Limited on-board streaming

THE VERDICT
A powerful, fine-performing 11-channel amplifier section anchors a flagship AVR that delivers the goods and is mostly free of excess baggage.
It's been a few years since I've had a big Onkyo AV receiver under the operating lights. And the brand's new flagship model, the TX-RZ70, certainly qualifies: nearly 8 inches tall and some 19 inches deep, and tipping the beam at almost 50 pounds, the TX-RZ70 is no lightweight. As a line-topping design it incorporates all the lead features you'd expect: 11 channels of on-board power, Atmos, DTS:X, and Auro-3D object-oriented surround decoding, 8K HDMI 2.1 all around, and THX Reference certification, plus Dirac Live room-correction EQ with Dirac's Bass Control.
That's a lot to pile into one box, but the TX-RZ70's exterior is surprisingly uncluttered, with just a single big knob, two small ones, a dozen-plus small pushbuttons, and a big, green dot-matrix display. The overall design language (and the display) is mostly unchanged from the last few years, but it's a clean look that I've liked, then and now, made possible in part by the large drop-down panel revealing a dozen or so additional buttons, a 4-way/enter rocker panel, and jacks for a convenience HDMI input and the Dirac setup mic.
Around back you'll find 6 HDMI inputs and three — count 'em — outputs including one dedicated to a Zone 2 system, and no fewer than 13 speaker-out multi-way pairs. Only eleven of these are powered at one time, but as with other 11-channel AVRs I've seen, you can conjure up multiple setups, ranging from an 11-channel main system (7.1 plus four height speakers), to a more modest main with one or more remote-room layouts. And lest I forget, the TX-RZ70 hosts a few legacy video inputs (1 component and 2 composite), for those with a Betamax or Disc-o-Vision units gathering dust in some forgotten closet.
After hefting the big Onkyo onto my equipment rack, I proceeded with setup. Mechanically, this required only plugging in my multi-brand 5.1.4-channel speaker layout (all terminated by convenient banana plugs, fortunately), HDMI cables from cable-box and Blu-ray player sources, and a subwoofer cable. Next order of business: Dirac has been covered several times in recent S&V numbers, but, briefly, the process requires running the Dirac software, which is conveniently baked into Onkyo's proprietary Controller iOS/Android app, on an external device, in my case an iPad mini/5. (You can use stand-alone Dirac software on a PC or Mac or iOS/Android gizmo as well, but the convenience of the in-app setup is tough to beat.)
As I have experienced from several past Dirac runs, D.L. aced my speaker sizes/crossovers, distances/delays, and levels, with the sole exception of my sub, which nearly all room-correction systems tend to over-delay and over-gain. And, also as I've found in multiple past trials, it did an excellent job of fine-tuning in-room sound, correctly locating, and compensating my room's two main modes. Room modes, or resonances at low frequencies arithmetically related to the room dimensions, impose a salad of deleterious effects on reproduced sound.
By mitigating these, correctly implemented room correction can make a dramatic difference. And not just in the bass. Though leveling bass is the most obvious advantage, doing so reduces interactions at higher frequencies, resulting in clearer, more "focused" midrange, as well as the tighter, better pitch-defined, and often deeper bass you'd expect. Dirac Live Bass Control, which as mentioned is an extra-cost ($99) option, enables discrete ops of the TX-RZ70's twin subwoofer controls, allowing for different crossovers, delays, and levels, which, as I understand things DLBC will integrate into an optimally calibrated ur-subwoofer.
Any flavor of properly engineered room correction will offer much of these benefits to a greater or lesser degree. Dirac Live is one of the best such available, and I expected, and experienced, very obvious improvements in these regards. That said, in the interest of the levelest possible playing field, I did the greatest part of my listening with Dirac disabled.
Listening
If you strip away all the "extra" features, any AV receiver is at bottom a multichannel amplifier with a surround processor/decoder and switching facilities on top. Confirming amplification competence is always my first order of business, and it didn't take long for the TX-RZ70 to assert that there was "nothing to see here," which I mean in the most positive sense. Beginning as always with stereo, full-range (no subwoofer) listening via my lower-than-average-sensitivity, almost-full-range stereo monitors, I heard all the dynamics, detail, and transparency I expect from any top-shelf design. (If you're looking for comments on "amplifier sound," you've come to the wrong shop. I've long maintained that competently designed modern amps, regardless of topologies and technical details, while operating within their linear range, dynamic capabilities, and into their intended loads, are fully transparent. Of course, these are three very big "ifs," which I believe account for the differences we in fact occasionally do hear in the real world.)
In any case, the big Onkyos' amps aced the stereo test with ease. A favorite classic recording, Janis Ian's 1993 Breaking Silence (which still sounds audiophile-ready even by current standards) offered up "This Train Still Runs," via the RZ70's Pure Audio mode—no processing, no crossover, no subwoofer. What a pleasure to hear drums that sound like real drums! With the Onkyo doing the business at reference-playback level, my stand-mount three-ways, which as mentioned are some few dB less sensitive than most similar designs, produced full dynamic thrills, with kick and snare drums solidly delineated, while protecting the record's sweet, airy treble and (of course) Ian's slight-but-solid mezzo-soprano vocal.
For a more muscular amplifier workout I turned to a guilty pleasure, the Kentucky Headhunters'—a bunch of crack studio cats masquerading as a really good bar band—Electric Barnyard. Again the Onkyo showed no shortfall of power or punch, even at fully rocking levels, on tracks like the Hunters' cover of the forgotten Norman Greenbaum one-hit classic "Spirit in the Sky." Complete with an homage to the original's knife-edge fuzz guitar updated with much more powerful bass and drums, this still sounded great at wall-pounding levels, the four-on-the-floor bass-and-kick retaining full girth and definition, which earns another definite check mark.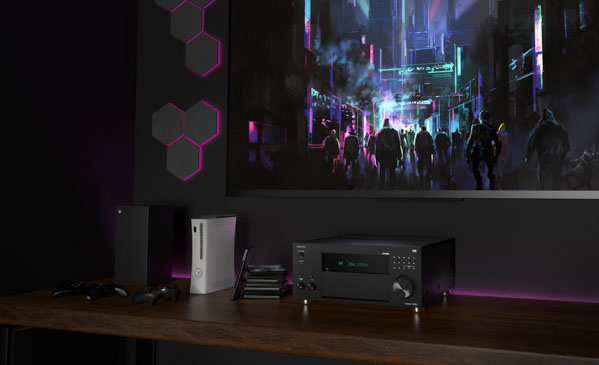 Thanks to Dolby Atmos' widespread acceptance in the recording and mastering worlds, surround music, which is surely an AVR's truest all-around test, is (finally) having a moment. Frustrated by Qobuz's foot-dragging on Atmos music and Tidal's limited classical catalog, I (finally) signed up for Apple Classical's free one-month trial. (Free, that is, if I remember to cancel next month.) Wandering through this Ali Baba's cave of choice eventually selected a lossless, Atmos remaster of Mahler's Fourth from the Concertgebouw Orchestra under that eminent Mahlerian Leonard Bernstein. I've been to a few concerts i.r.l. at the Concertgebouw — one of the world's finest-sounding halls — and found this to be a pretty convincing rendition. Hearing Mahler's iconic sleigh-bells in the opening bars with genuine spatial depth and height to their jangle, as opposed to the "flat-space" of stereo, highlighted how valuable I think well-judged surround-music production can be.
Though a 1988 recording, this spiffed-up remaster sounded glorious, and I happily sank into my listening seat for the full four movements of the Amsterdamers' famously syrupy strings, forgiving and Lenny's, umm, relaxed tempos (and, sometimes, exaggerated rubato) at a lifelike, mid-hall level. And not once did the Onkyo make itself known, which is all I ask of any amplifier or processor.
Then again, you could argue that the true core challenge to an AVR is film sound, but either way the TX-RZ70 proved up to the task., Among the numerous titles I sampled, a 4K/Atmos stream of the fairly forgettable (and comically but un-smilingly violent) action-er Extraction proved entirely satisfying via my full 9.1.4 speaker array. Extraction may not have won the Palme d'Or, but it boasts a bang-up Atmos soundtrack and, occasionally, some unexpectedly classy cinematography — and Chris Hemsworth for any hunkaholics reading this. This cornucopia of gunshots, explosions, and whirling and occasionally crashing helicopters was an Atmos playground. The Onkyo never stumbled while delivering this sonic buffet even at very near reference levels, yet dialog and soft music effects were unfailingly clear and defined.
The Rest of It
I found the new biggest Onkyo an easy home-theater bedfellow, with simple, self-prompting menus and a clean, unfussy, yet fairly dense remote layout with full, albeit manual key illumination.
The TX-RZ70 is mostly free from extra features of questionable utility, but does include a pretty comprehensive Zone 2 and Zone 3 multiroom option, with the usual HDMI-video capability for Zone 2, and an audio-only Zone 3, with a "Whole House" mode that does just what you'd expect. There's also something called Cinema Dedicated Mode, which purports to "…improve sound quality by limiting the activity of digital circuits and thereby suppressing the noise that is generated by them" (a sub-option also kills network activity, for greater suppression).
I confess not only that I heard no impact whatsoever from these, but that I've never heard any result from similar "super-purity" settings on the slew of AVRs and integrated amps that have passed through my paws since Dubya was in office. Maybe my hearing is not acute enough — or maybe the difference of a dB or two well south of -90 dB to begin with just isn't audible in the real world. THX Loudness Plus, a volume-aware "smart" loudness compensation scheme, is on board in a full suite of THX listening modes for Movies, Music, and Games.
I don't know how this compares to Dolby's or Audyssey's equivalents, either of which I consider to be quite valuable, but it seemed similarly effective at making substantially below-reference-level playback rather more impactful. Bi-directional apt/X-HD Bluetooth is on board, so you can stream from a phone or whatever, or go walkabout with a pair of BT headphones.
One feature the Onkyo does not include, and that I frankly kind of missed, is any sort of multi-modal preset routine: something that can remember multiple combinations of source, surround-mode, channel-levels, EQ settings, and the like and store these for one-touch recall. In the real world, such functions can prove very handy indeed, because we seldom want precisely the same settings for, for example, Debussy and Die Hard. Another absence I encountered was the lack of an "info" on-screen display that shows current input source, signal-type, bit-rate, video mode, surround mode, and so on, on one or two screens. Several competitors feature displays of this sort, and I've found myself consulting them frequently.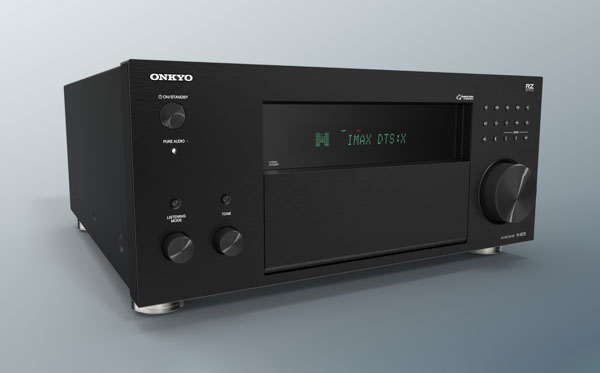 The TX-RZ70 does not include a full-function on-board streamer per se, though basic screens allow for direct-access of Spotify, Tidal, Pandora, Amazon Music, and Deezer, all of which can also be streamed via the Onkyo Connect app, as are Airplay and Chromecast — the same one used to run the Dirac Live calibration routine. (For the record, while the Amazon Music direct-access screen worked as expected, the Tidal one reported "Error: requested quality is not in user's subscription," which is nonsense since my Tidal sub is top-tier. Software oopsie, no doubt.) Then again, all these and their competitors are equally cast-able from their respective native apps, with far greater functionality.
Anyway, everything from your electric toothbrush on up seems to include at least some streaming capabilities these days. I used both Tidal and Qobuz iOS apps via Chromecast with no issue, as well as Roon over this and AirPlay both. The TX-RZ70 is Roon Tested (usable via Airplay/Chromecast, at their max resolutions), but Roon Ready status is not yet on board; a firmware update is said to be on the way but had not arrived during my trials.
At the end of the day, though, my experience confirmed that in the TX-RZ70 Onkyo delivers what it promises: flagship-level audio and video quality, with 11-channel wattage that compares favorably with just about any other AVR available, and does so at a very competitive price.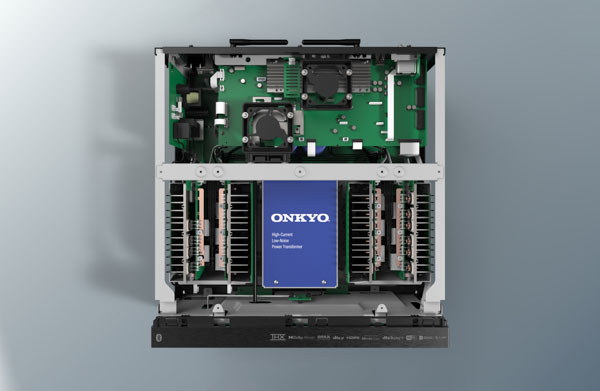 SPECS
Power Output: 140 watts per channel (20 Hz-20 kHz, 0.08% THD, 2 ch. driven at 8Ω; (surround: 11 ch.x210w at 6Ω, at 1kHz, 1% THD, 1 ch. driven)
Dimensions (WxHxD, Inches): 17.1 x 7.9 x 18.7 in.
Weight (Pounds): 48.5 lb.
Audio Inputs: 7x HDMI (1 front, 1 eARC), 2 coax, 2 optical digital, 1 USB (media only); 4 analog stereo line unbal.,1 MM phono.
Audio Outputs: 13x speaker (11 active simultaneously: up to 4 assignable to zones); 11.2-channel unbal. preamp outputs (inc. assignable Height-2/Zone-3, 2 discrete subwoofer outputs), 2 stereo zone line out
Video inputs: 7x HDMI (1 front), 1 component, 2 composite
Video Outputs: 3x HDMI (1 eARC, 1 zone)
Wireless: Bluetooth (RX/TX) 4.2 A2DP/AVRCP/aptXHD; WiFI Chromecast, Airplay2
Additional: FM 75Ω "F" antenna; AM-antenna push-terminals; Ethernet (network, control, streaming); RS-232 (control), 1x 12v-trigger; remote in