Onkyo TX-NR7100 9.2-Channel A/V Receiver Review Page 2
The results were interesting. Dirac nailed the bass-tightening and midrange focus I've come to expect from my many experiences with multiple auto-EQ systems, including Audyssey and Anthem's ARC. Basically, it mitigated the worst of the low-frequency resonances imposed by typical room modes. (As I've said many times, get the bass right, and
everything
improves.) With the caveat that auditory memory is notoriously unreliable, I felt that Dirac was a bit more aggressive in the midrange-sharpening department, yielding decidedly enhanced clarity and definition, as well as a slightly more "open" sound on things like male announcers or massed woodwinds. The AccuEQ result shared this to a lesser degree, though AccuEQ's effect was similar in the lower, and most important octaves.
After my sandbox sessions with Dirac and AccuEQ, I turned all equalization off for my extended listening, something I always do with such features to ensure a level playing field for product revieews. But for the record, both systems, and Dirac in particular, are valuable features. In typical rooms and systems, carefully utilizing them will do more than almost anything else to improve real-world sonic accuracy.

One of the first things I cued up to stream for full-system enjoyment was the 2017 Christopher Nolan WWII actioner Dunkirk, which is an aural and visual feast with sky-high production values. Every scene sounded (and looked) fabulous, via the TX-NR7100 and my new 65-inch Sony OLED TV. With many stereo and 5.1 speakers having recently passed through my studio, it had been a while since I'd fired up my full Atmos reference layout with worthy content, and boy was it worth the effort, as the several Spitfire fly-by scenes from Dunkirk dramatically demonstrated.
Onkyo rates the TX-NR7100's stereo output at 100 watts per channel (20Hz-20kHz, RMS, 0.08% THD). I've had enough experience with multichannel receivers to guess that in the real world this probably boils down to 75 watts or so for several-to-all-channels-driven performance. But in the same real world, this is plenty of juice to deliver fully cinematic levels from a powered-subwoofer-supported system, even one like mine with somewhat lower-than-average-sensitivity main speakers.
With the Onkyo in the mix, the slam of Dunkirk's high-impact ground scenes, and the swoop of its airborne dogfights, ramped up the tension effectively, and they were helped along enormously by Hans Zimmer's propulsive, unrelenting score. (Zimmer almost continuously incorporates "Shephard tones," an aural illusion that induces the sensation of a continuously rising scale or sweep, always ascending but never arriving.) Think sound is secondary in the movies? Not here—Dunkirk's score in Atmos was all-encompassing and served to produce a large measure of the film's considerable quiet anxiety.
A recent addition to my multichannel SACD library is a 2015 disc of the usual Mussorgsky suspects (Pictures; Night on Bald Mountain/, Songs and Dances of Death) by the Mariinsky Theater Orchestra under Gergiev (found in a "used CD" bin at a local shop—score!). This music is beautifully recorded, with an unusually close-in perspective that retains convincing ambience and considerable tonal warmth. It sounded great via the Onkyo, from soup to nuts.
On the biggest full-orchestra climaxes in Pictures and Bald Mountain I felt I was hearing a bit subtly thicker, or almost congested sound, than I'm accustomed to, however. Coincidentally, I was exactly at THX-reference level on the Onkyo's volume display, which delivered just about honest, concert-hall loudness to my ears. This got me wondering, so I tried something I've done before on occasion. Cuing up my old standby Sheffield Drum Record CD and selecting the Onkyo's all-channels-stereo listening mode with a five-speaker/no-subwoofer setup, I connected four of the five active channels to 8 ohm dummy loads so I could "solo" one channel at a time. With all channels playing, this same "THX ref" volume setting produced a nearly on-the-drum-stool level that was impactful, to say the least. And whether I "soloed" a main-front, center, or surround speaker, all I heard was clean, pristine, and masterfully recorded drum sound.
Returning to multichannel-surround, I cued up a succession of other, more familiar SACD and DVD-Audio discs encompassing, orchestral, jazz, and rock, and heard nothing untoward. Every disc sounded clean and dynamic. Some combination of surround playback and the Mariinsky SACD's close-in recorded perspective and must have triggered the "thicker" sound I felt I heard, but I don't think the TX-NR7100 was a contributor. Moral of story: never leap to conclusions.
Continuing, I streamed both hi-res Tidal tracks via the receiver's native "Net" input option, and my own hi-res files, including DSD ones, via DNLA, with consistently satisfying results. The TX-NR7100 proved to be not quite as quiet as my everyday DAC and amps: with master volume set a few dB below reference, the ear-to-the-midrange test discovered audible hiss. But this was inaudible from 8 inches distant, and thus wholly irrelevant. The fundamental audio quality that Onkyo's latest receiver brings to the table is impressive.
Hands On
The remote control Onkyo packs with the TX-NR7100 is three-quarter-sized, at least relative to the brand's older handsets, but generally well laid out, with bright, readable white-on-black text. Annoyingly, though, brand-O places its volume up/down rockers on the lower-right, with tone-control on the left—an odd choice. Can we all agree that remote layouts should be standardized? Volume on the left where God intended, and the other main +/- rocker on the right? I mean, does Ford put the accelerator pedal on the left, and Chevy on the right?
The remote provides direct-access keys to the receiver's 12 principal inputs, which I liked, but no direct-access to surround/listening modes (you have to step through the available options onscreen via the Movie/TV, Music or Game keys), which I didn't. And the Onkyo Controller app merely reproduces these mode-stepping keys, which I consider a missed opportunity. In fact, other than the admittedly invaluable control over Dirac and AccuEQ setup routines, the app offers little beyond volume control, source/stream selection, and tone control.
Speaking of streaming, the TX-NR7100 includes onboard access to Spotify, Deezer, Pandora, Tidal, Amazon Music, and a few more (but not Qobuz). When streamed Tidal using the receiver's direct-access network connection, the excellent sonics I expected were fully evident, but the features were pretty bare-bones. Of course, the Tidal app running on my phone or tablet delivered the full interface when connected to the TX-NR7100 via AirPlay or Chromecast built-in, both of which the receiver incorporates along with DTS Play-Fi. I also confirmed that the TX-NR7100 worked as expected when connected to my Sony TV's HDMI eARC port, accepting Dolby multichannel audio in various formats—including Atmos—from Netflix and Amazon Prime Video.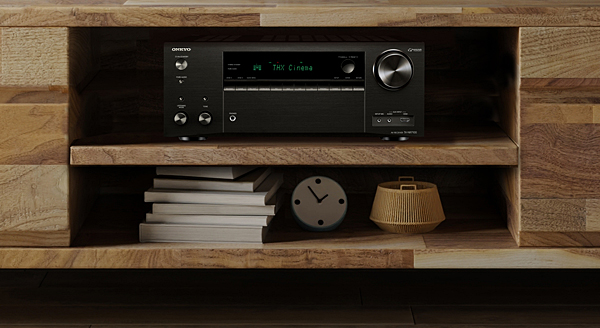 The Onkyo worked fine as a "Roon Tested" destination when streamed to via Chromecast built-in or AirPlay 2, the latter of which is limited to 16-bit, CD-quality. Oddly, the TX-NR7100's manual makes no mention whatsoever of Roon, despite the fact that Onkyo's own marketing materials clearly list the TX-NR7100 as as Roon Tested. "Roon Ready" means a component can function as a Roon "Endpoint" via wired-Ethernet at the maximum resolution of the source and/or Endpoint component. I don't know why most A/V receiver-makers, including Onkyo, don't implement "Roon Ready" status, which would likely require just a few hundred (thousand?) lines of code since nearly all such receivers already have the Ethernet jack and stream hi-res content from a networked DNLA server. (Money, probably, though manufacturers seem happy enough to pony up licensing fees to just about everyone else. The TX-NR7100's packaging, for example, sports some 20 branded logos from Dolby, DTS, Dirac, and a host of others.) In any case, I streamed my hi-res music library at full resolution (up to 192kHz and DSD 5.6mHz) to the Onkyo's network input from my iMac's TwonkyMedia server with fully realized sonics and no fuss.
Conclusion
Sorry folks, but it appears that I've descended "into the weeds." (In engineering slang, getting lost in the details.) The bigger picture is that Onkyo's TX-NR7100 provides the latest in video connectivity standards, more than solid audio performance, and cutting-edge auto room/speaker correction and customization features. And it does all of this at a very fair price.