Onkyo TX-NR636 AV Receiver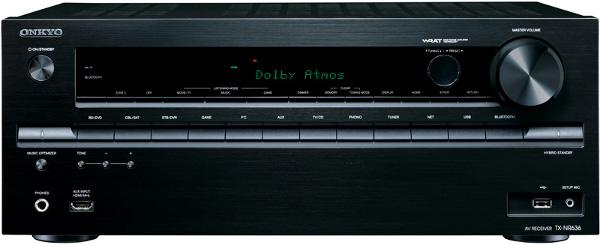 PRICE
$700
AT A GLANCE
Plus
HDMI 2.0/HDCP 2.2-compliant
Solid amplifier performance
Fine Qdeo video processing on tap
Upgradeable for Dolby Atmos
Minus
Some menu layouts a bit unintuitive
Cramped, non-illuminated remote
THE VERDICT
Onkyo's latest high-value offering arrives in an up-to-the-minute HDMI 2.0 flavor.
Want to know what next year's $700 AV receivers will offer? Just take a look at this year's $1,000 models. With every spring season, a whole new crop of receivers sprouts up, offering more for less. Competitive pressures and the relentless march of HDMI standards are the likely catalysts, but whatever the reasons, all the major brands roll out whole phalanxes of new AVRs. And with each iteration, last year's step-up features seem to move one place lower on the price grid.
The big beneficiary here, of course, is you—at least, the more patient among you, who get last year's cool stuff at this year's prices. Onkyo's new TX-NR636 is an excellent example: It delivers the same 115 watts-all-around that you got on last year's version (and give or take a handful of watts, on the version from the year before, and the year before that), with nearly all the same features. Plus a couple of significant changes. First, the TX-NR636 will be one of the first receivers to support the new Dolby Atmos surround format via a firmware update that will be available later in the year; with the update, you'll be able to configure the back-surround amps for a pair of Atmos-enabled speakers. Second, Onkyo has abandoned Audyssey auto-setup/equalization processing for a new, proprietary system dubbed AccuEQ. What's more, Onkyo has incorporated HDMI version 2.0 and HDCP version 2.2 copy protection—the TX-NR636 being one of the first such receivers to reach market. HDMI 2.0 brings a laundry list of new capabilities, many of them fairly arcane in current environments, but the big news is "full" 4K-at-60-Hz ability, versus the 4K-at-30-Hz limitation of HDMI 1.4. I won't have much to say about that, lacking as I do 4K sources and a 4K display—nor am I quite sure I'm ready to sit 4 feet from a 50-inch screen to perceive the greater pixel density beyond 1080p that 4K video offers. But if future-proofing allows you to sleep better at night, this Onkyo's got it.
Setup
Unboxing and setting up the TX-NR636 was a cakewalk, thanks to the simplicity of HDMI, the light weight of the receiver (22 pounds), and its banana-friendly, standard-spacing multi-way speaker connectors. In fact, the rear panel looks almost a bit sparse: There are no S-video jacks at all (few tears shed here) and only a single component input and output plus three composite ins and outs. Welcome to the HDMI Age, High Period.
With the Onkyo sitting on my rack and fully plugged up, I proceeded directly to the receiver's setup page. This proved a little trickier than I'd supposed, since the remote key marked "Setup" took me not to an initial-setup menu but to a list to choose inputs—audio options like bass and treble and surround mode, and video options like monitor output and aspect-ratio choices.
I eventually found what I was looking for under the remote's Home key, in the form of a gear icon (also) labeled Setup, which itself led to a familiar list: Input/Output Assign, Speaker Setup, and so on. AccuEQ, though, was only to be found under the semi-penultimate item, Hardware Setup, where the final item was Initial Setup. Of course, if I'd read the 18-page basic manual packed with the receiver (this Q-codes you to a full online PDF manual), I'd have known that plugging in the supplied calibration microphone slings the TX-NR636 directly into its AccuEQ routine. (I did, in fact, know or at least suspect as much: Nearly all auto-setup routines regardless of brand do likewise. I wanted to explore the menus anyway.)
AccuEQ proceeded in familiar fashion, cycling twice through all channels with brief noise bursts. The process was smooth, the initial results a little less so: Onkyo's system set all front and center speaker crossovers to 150 hertz (I know all three speakers to be in-room accurate to well below 100 Hz), and the surrounds to 120 Hz. (My reference crossover setting for my main-front Energy Veritas 2.2i speakers is 60 Hz; for my center, 80). AccuEQ's distances were very accurate, but levels were off by several decibels amongst the front trio, relative to what my handheld SPL meter (and my ears) told me, and twice that on the surrounds. (To be fair, most systems get dipole-surround levels wrong.)
So I gave AccuEQ a second run with slightly different mike and speaker placements, and I got completely different results. Main-front crossovers were now set to 40 Hz (lower than any other auto routine I've used), the remaining channels to a sensible 120 Hz. Distances were still perfect, and levels—except subwoofer, which was as usual several decibels too hot—within a decibel or so either way to my meter, all of which is well above average. Moral: If an auto-EQ system seems confused, then reboot, reposition, and retry before condemning.
AccuEQ's speaker/room correction proved tough to judge since defeating/enabling it passes through a four-second muting interval. But my conclusion was of a very slightly warmer mid-to-low bass, with very little impact on the upper seven or so octaves of sound. This is different from my experience with Audyssey MultEQ, gained over many runs in my room on various receivers and pre/pros, where the net results have been reliably, noticeably "tighter" midbass and "better focused" (or, perhaps, "more spatially distinct") treble. Any road, the effect of AccuEQ was quite minimal with my room/speaker combo—which is flatter than most to begin with‐and entirely benign in any case. Obviously, any auto-cal system can and probably will yield dramatically different results and character in each different room setup. Regardless, I proceeded to do all my subsequent listening with the EQ defeated, as always.