Onkyo TX-NR5008 A/V Receiver Page 3
Say Hello to My Little Friend
With the EQ off, the Onkyo's overall tonal palate was very good with most TV and movie fare. It was also excellent with highquality CDs, particularly in Pure Audio mode. With EQ on, it was truly spectacular. Near the end of my listening, I switched back to my reference Marantz SR8002 AVR for a few days, but I found its tonal balance to be too warm and laid back in comparison to the more exciting Onkyo. From a power perspective, the 145-watt-per-channel Onkyo trounces the 125-wpc Marantz in a way that a mere 20-watt difference can't explain. So much for comparing one manufacturer's power claims to another's.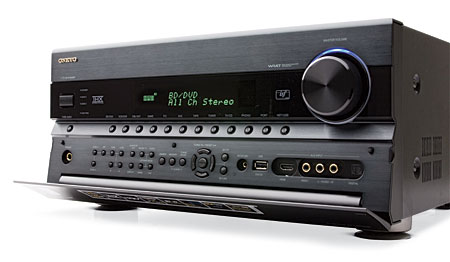 The TX-NR5008 had more of the right stuff when driving my Revel speakers. It did a better job of it than even a very powerful five-channel ATI 1505 amp I've used in the past. It offered tight, powerful lower midrange and that in-the-room presence you expect from fancier and far costlier setups. The jazzy drumming on ABC's Castle really stood out; my daughter and I both commented on it at the same time. My recollection of the Pioneer Elite SC-27 AVR [Home Theater, March 2010] is admittedly hazy, but as much as I liked it, I definitely prefer the Onkyo's sonics. Features and ergonomics aside (and the Onkyo kills most everybody else on features and ergonomics), the TX-NR5008 is the best-sounding AVR I've ever used, bar none.
I cranked up One eskimO's debut CD and was immediately submerged. The Onkyo's resolution is very good. I could hear digital clipping on some of the recorded keyboard instruments that the sound editor must have missed (or worse, ignored). Other than that, One eskimO's disc would certainly be reference quality, and it sounded glorious over the Onkyo when cranked to high heaven.
Movies with high-definition soundtracks certainly sounded great. The Temptations' "Ball of Confusion" starts the story on Tropic Thunder (after the spoof on Blu-ray movie trailers that open the movie), and it never sounded as good on the radio as it does in Dolby TrueHD. Dialogue intelligibility is very good, but you'll still need to turn on the subtitles to understand the tons of hilarious stuff that comes out of Robert Downey Jr.'s politically incorrect mouth. Ten Years After's "I'd Love to Change the World" is movie-style-mixed so the level cuts back appreciably when the actors are speaking and kicks back smoothly to loud, emotional levels when they're not. Thanks to the Onkyo's character, the music remained equally interesting when it served the dialogue as when it served itself.
The great '90s movie Fly Away Home starts with a Mary ChapinCarpenter song so sad in context, it never fails to move me. Redone in Dolby TrueHD for its Blu-ray release, it sounds every bit as involving as it should. The graceful piano sits prominently in the mix. The Onkyo brings out the rich upper harmonic content, while lending the proper heft and solidity to the cello that accompanies it. While there's no reason to listen to a song as subtle and sad as this at very loud levels, I did, and the Onkyo presented it with no noticeable compression and without the slightest sign of struggle.
Top Five Records
Onkyo breaks new ground here, with features, ergonomics, and sound that make it a Home Theater Top Pick among the latest crop of AVRs. It not only provides a lot of power on paper, it does so under real-world conditions as well—regardless of how well it tests on the bench. It does for video what standalone video processors a decade ago only dreamed of doing.
The TX-NR5008 gives you control of your iPod from its unified remote, plus excellent-sounding Internet radio, including subscription services, all without the need for any additional equipment. There's even a phono stage for us true believers. With Audyssey MultEQ XT32 engaged, it's one of the top AVRs out there sonically. Compared with the competitors' flagship products, the Onkyo comes in nearer the bottom price-wise and at the top in nearly every other category you can think of.