Onkyo to Expand RZ Receiver Series in April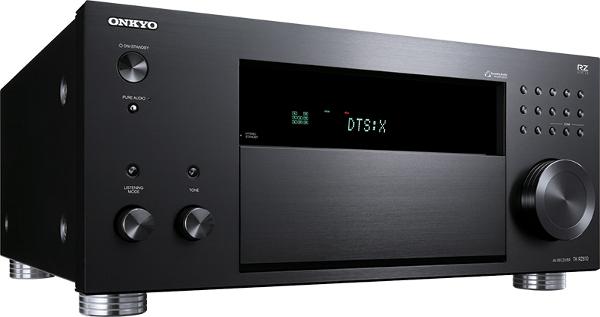 Onkyo today announced plans to add three 7.2-channel AV receivers—the TX-RZ610 ($799), TX-RZ710 ($999), and TX-RZ810 ($1,299)—to its RZ Series in April. All models will support high-dynamic range, 4:4:4 color space, and HDCP 2.2.
The RZ810 and RZ710 are THX Select2 Plus-certified and ready to decode Dolby Atmos surround. DTS:X decoding capability will be added this summer via a firmware update, according to Onkyo. The amplifier section of both models uses high-output transformers and custom capacitors to deliver 130 and 110 watts, respectively, into 8 ohms (20 Hz–20 kHz, 0.08% THD, two channels driven).
Both models offer eight HDMI inputs and two outputs—one for the main display and one for Zone 2 HDMI that supports high-dynamic range, 4:4:4 color space, and HDCP 2.2. The receivers are equipped with a powered Zone 2A/2B speaker output with a dedicated DAC; the RZ810 adds Zone 3 pre/line-outs and 7.2 multichannel pre-outs for further flexibility.
The TX-RZ810 has separate analog amplification and digital processing blocks and uses "solid copper bus bars that limit interference and patented Vector Linear Shaping Circuitry (VLSC) on all channels for noiseless digital to analog conversion."
Rated to deliver 7 x 100 watts into 8 ohms, the TX-RZ610 features rigid insulator feet to dampen vibration-borne interference and a pre/line out for Zone 2 plus a powered Zone 2 output with a dedicated DAC.
All three receivers employ Onkyo's new AccuReflex technology—part of its AccuEQ room calibration suite—that adjusts the phase of sound bounced off the ceiling by Atmos-enabled speakers for a more cohesive surround sound experience.
The receivers can also stream "almost any" audio content from mobile devices and laptops via AirPlay, Google Cast, or Bluetooth and share it wirelessly via FireConnect or to other wired zones. Mobile support for Google Cast, Tidal, and FireConnect (which requires an optional Onkyo wireless speaker) will be enabled via firmware updates scheduled for the summer.
Built with custom integration in mind and protected by a three-year warranty, all of the new RZ models are equipped with RS-232, IR and 12v triggers as well as PC setup, detachable power cables, and optional rack kits.
Onkyo said the RZ series will be further expanded later this year with the 9.2-channel TX-RZ1100 network receiver and two 11.2-channel components—the TX-RZ3100 network receiver and PR-RZ5100 network pre-processor.
For more information, visit onkyousa.com.