Onkyo to Distribute TEAC Products in the U.S.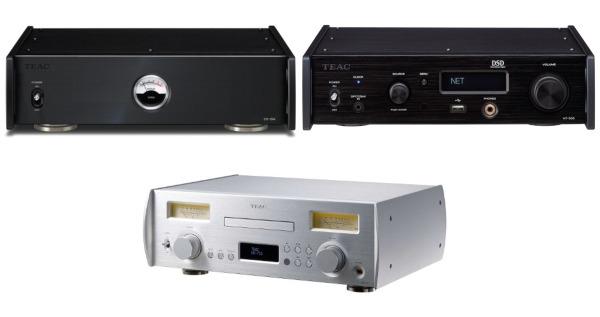 Onkyo USA has acquired exclusive distribution rights to market and distribute
TEAC home entertainment products
in the U.S.
Under the agreement, TEAC will be distributed through the same formidable network used to market the Onkyo, Pioneer, Pioneer Elite, Integra, and Esoteric brands, which should raise the profile of the brand that played a key role in pioneering home audio recording in the early '70s.
Onkyo singled out three products that will initially benefit from the new distribution agreement:
• NR-7CD network CD player/integrated amplifier, an all-in-one device that supports Hi-Res Audio streaming, including DSD 5.6MHz, 384-kHz/32-bit PCM, and MQA.
• NT-505 USB DAC network player, a dual monaural USB DAC designed for audio delivered from a PC or Network Attached Server (NAS), which can be controlled via a free app. The player decodes MQA, supports music subscription services, including Tidal and Qobuz, and is Roon-compatible.
• CG-10M Master Clock Generator that delivers an "extremely accurate clock signal" to digital-to-analog converters (DACs) in Hi-Res Audio applications.
"TEAC is a world-renowned brand with high-quality offerings across a variety of price points that give the line retail flexibility as well as access to a wide audience — from the professional recording studio right down to the casual listener," said Jason Sausto, CEO of Onkyo USA. "Onkyo USA has built its reputation on excellent customer service and channel expertise, and TEAC's newly refreshed and diverse lineup should benefit from both."
For more information on TEAC, visit audio.teac.com.
A Brief History of TEAC
Culled from the company website.
TEAC — which stands for Tokyo Electro-Acoustic Company — is one of four divisions of TEAC Corporation, a $1.2 billion manufacturing company headquartered in Japan. Since its founding in 1953, other divisions of TEAC have evolved into high-tech leaders in data storage devices, consumer electronics tools and industrial products, but TEAC has remained dedicated to making innovative products for capturing creativity in the field of music and audio.
For more than 30 years, TEAC has developed products for every segment of the sound and music industry, from the high-end audio professional in a major post-production studio to the novice or hobbyist at home.
After virtually creating the home recording scene during the early 1970s, TEAC went on to achieve recognition for pioneering products in the professional recording arena as well.
Industry firsts include:
• 1/2-inch, 4-track cassette recorder
• 8-track, reel-to-reel/mixer combo
• R-DAT recorder
• MiniDisc digital multitracker and CD scratcher
Click here for more on TEAC's history.