Onkyo Bows "Refined" Integrated Amp for $600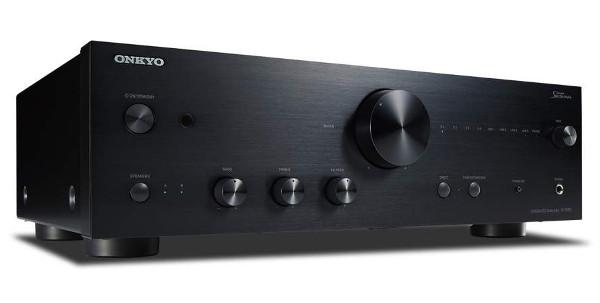 Onkyo has introduced an entry-level integrated stereo amp that delivers "refined" performance for $599.
Instead of commonly used IC chips, the A-9150 is built around Onkyo's proprietary SpectraModule, which generates a high slew rate (500 V/μs) to "significantly improve instrument definition and placement across the soundstage." Rated to deliver 2 x 60 watts (4 ohms at 0.08% THD), the amplifier also incorporates a custom high-current transformer, two oversized custom capacitors, and discrete output transistors.
Covering both old and new audio sources, the preamp section has an AKM 768-kHz/32-bit digital-to-analog converter (DAC) plus an independent phono section with dedicated equalization for moving magnet (MM) and moving coil (MC) cartridges and a custom head amp for MC signals. The DAC's performance is enhanced with the DIDRC Filter technology Onkyo developed for its flagship stereo components, which is said to remove ultra-high-frequency noise in an effort to preserve the integrity of the original recording.
The A-9150 boasts audiophile construction featuring separate digital and analog sections, hand-selected parts, an aluminum volume control, and a thick anodized aluminum faceplate that's screwed to a full, flat chassis.
Connectivity options include four gold-plated RCA line inputs, two gold-plated coaxial digital inputs, two optical digital inputs, and gold-plated speaker posts with an A/B selector for switching between two pairs of speakers.
For more information, visit onkyousa.com.