Nyrius Aries Pro Wireless HDMI Transmitter Review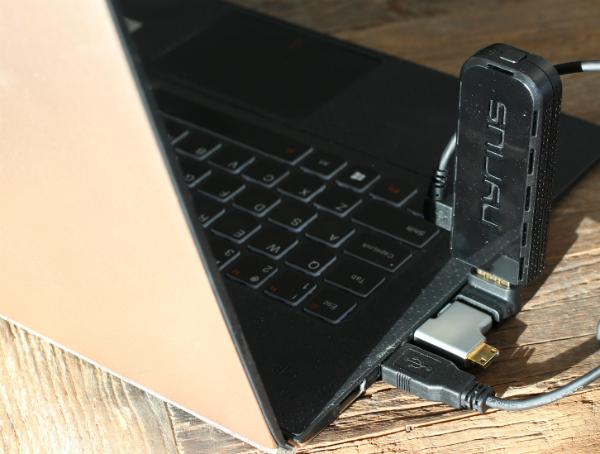 Cutting the cable is still a dream for most gear addicts. The interior decorator in your household might be more accepting of new gadgets if you can also get rid of the wire clutter. Thankfully, my household is a bit different, because we're both technology freaks, which makes reducing wires even more critical for us. As promised a few weeks ago, and still in pursuit of the perfect wireless transmission system for my oh-so challenging concrete house, I had a chance to review the Nyrius Aries Pro Wireless HDMI system.
The Aries Pro (MSRP $250, originally $400) is designed to transmit from any HDMI device to a TV or monitor in up to 1080p HD with 3D capability. It has almost zero lag or latency, making it ideal for business and gaming scenarios. Its main advantage is that it can be used to connect a camera or drone to a monitor, a laptop to a TV, or have a wireless connection to a projector. It could also be used to simply transmit HD signal from a cable box in one room to a TV in another room.
This system supports up to 1080p and PC resolutions of 1024 x 768, 1280 x 1024, 640 x 480, and 800 x 600. Audio formats are supported up to 7.1, DTS and Dolby Digital. The transmission frequency is 4.9 through 5.9GHz with Dynamic Frequency Selecting.
The Aries Pro is similar to the other systems by Nyrius, although the Aries Pro has a smaller and sleeker transmitter so it's not awkward to use with a laptop. It should not be confused with the Aries Home+ which has multiple inputs and isn't really portable for use with a laptop. The Pro has a receiver with a 5V DC power adapter with an HDMI output that plugs into the TV input. There's a power button with an indicator, a pairing indicator, and a button to activate on-screen information.
The transmitter is very small compared to the other Nyrius transmitters - it looks like an oversized USB flash drive, but plugs into the HDMI output on a computer, gaming system, or laptop. It can even be used to send the signal from a camera to a monitor in the field, but It should be noted that it needs to be powered, either via a computer's USB port or using an external AC power plug, or other USB powered device. A USB cable is provided, but a USB-to-AC adapter is not.
My laptop has a micro-HDMI output, so I had to use an adapter, which is not included. However, a right-angle L-adapter is included, so I was able to plug in without covering the USB port, which is needed for power. Before buying one, you should definitely make sure you can access the HDMI port and still have a viable USB charging option available. This arrangement is also very useful when plugging in behind a gaming console, as it raises the transmitter up for better range and clearance.
Speaking of range, the Aries Pro claims a transmission range of up to 100 feet with clean line of sight, but it will go through floors and walls, which reduces that range significantly. The system pairs up upon powering up with no steps needed by the user. I was able to get close to 100 feet without any physical obstructions and could get it transmitting through a single concrete wall. For me, the problem, as it always is with wireless devices, are the floors in my home. Prestressed concrete appears to be an impenetrable barrier for all but the most robust transmitters. I could not get a solid signal lock between floors in my home.
When I was within range, the system was flawless. HD signals looked clear and sharp with just minor artifacts with fast-paced scenes. There were occasional drop-outs when the signal froze momentarily, but they were very rare.
Another thing that should be noted is that the transmitter gets very hot. Not dangerously so, but if I was spending hours with it on my lap, the heat would be a problem. It's getting cold out now, so a warm lap is welcome, but next summer, it could be an issue.
And so, my search for a solution that will work in my home continues. For many people, in fact probably most people, the Aries Pro is a very simple, elegant solution. It pairs quickly and effortlessly right out of the box, the video and audio signals were very clean, latency wasn't a big issue, and it is portable for use with a laptop or camera - even a drone. If only the signal was just a bit more robust to works its way through reinforced steel and concrete floors my search would be over.