NuVision Lucidium NVU55FX10LS 3D LCD HDTV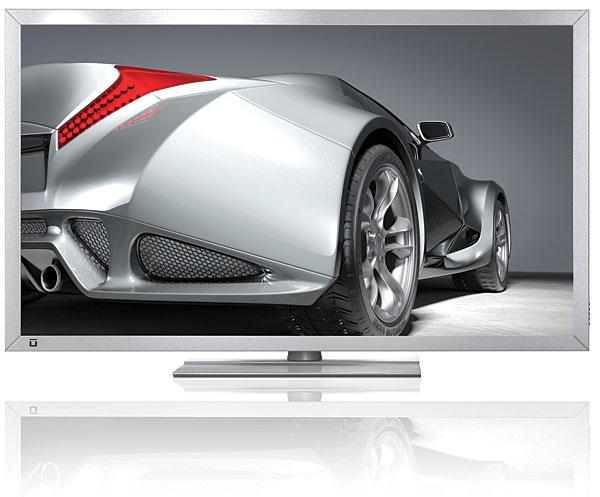 Price
: $6,999
At A Glance
: Refined, engaging picture • Compromised LED dynamic edge lighting • 3D resolution not full HD (at press time)
Going Upscale With 3D
Unless you're a regular reader and recall our review of the Lucidium NVU55FX5LS HDTV (Home Theater, April 2010), you may not have heard of NuVision. The company keeps a relatively low profile in an attempt to build a reputation as a connoisseur brand. It sells primarily through custom installation channels, and all of its products come with a two-year warranty and a two-day on-site, nationwide service program.
But 3D calls, and no self-respecting manufacturer can afford to overlook it. The NVU55FX5LS is determinedly 2D, but the new Lucidium NVU55FX10LS adds 3D to the mix, along with a few new technical wrinkles. As with the Lucidium NVU55FX5LS, the FX10LS comes in three sizes: 40, 46, and 55 inches. We received the 55incher for review.
Keep It Simple
The NVU55FX10LS employs LED edge lighting, as do many other new LCD sets. But in this line, NuVision adds its True Dimming feature, which dynamically modulates the LEDs globally for improved black level performance (in other words, not full-array local dimming in which the LEDs are arrayed in clusters behind the screen).
The set is a smartly sleek 1.5 inches thick without its stand. You can custom-order the frame in any of a dizzying array of colors. The screen itself has a nearly matte finish, which makes it far less prone to reflections than the mirror-like glass on most flat-panel sets.
The NVU55FX10LS doesn't offer multiple picture modes. There are no preset Vivid, Dynamic, or Cinema settings, and there are no multiple Custom settings, either. What you get is what you set. Nor is there a separate menu for 3D operation. If you want changes from the 2D settings for 3D playback, you have to make them manually, and then change them back again when you return to 2D viewing.
NuVision includes a few other useful controls in the Advanced Image Settings menu. Here you'll find the controls for Backlight and Gamma (the latter is adjustable in fine gradations ranging from 2.0 to 2.4). Frame Forward Motion (FFM) is NuVision's frame interpolation mode for smoothing out motion (veteran readers won't be surprised to learn that I left this off). The FX10 Mode utilizes the set's native 240-hertz refresh rate to flash each frame of 24-fps sources 10 times. FFM and FX10 cannot be used together.
The Advanced menu also offers two noise-reduction controls plus a Game mode. The latter is said to reduce video processing to minimize the delay between the player's commands and the onscreen results. A 1:1 pixel-to-pixel aspect ratio displays a source as is, with no overscan. If you're in this setting and switch to a 480i source, the image will look like a large postage stamp in the middle of the screen surrounded by black borders on all sides. To enlarge an image with a resolution lower than 1920 by 1080 to fill the screen, you must manually select a different aspect ratio option.
A Color Calibration menu is accessible through a password that's openly shown in the owner's manual. Here you'll find the White Balance adjustments: both Gain (high) and Offset (low) controls for red, green, and blue. There's also a blue-only mode that you can use to check and set the HDTV's Color and Tint controls without filters.
The set doesn't offer either a color management system or any optional color gamut settings. Like its FX5 sibling, the NVU55FX10LS has no Internet apps, nor any way to directly view photos or listen to music on the set (not that you'd want to do the latter; the NVU55FX10LS' internal audio is poor). But more manufacturers are adding streaming apps to their Blu-ray players, so the lack of these in the set itself shouldn't be a deal killer.