Now You See Me 2
The sleeper hit of 2013 was sure to get a sequel, and for the most part, it works well, although I think a second viewing will definitely make things a bit clearer. The pacing is brisk from the first scene, and you have little time to either catch your breath or put all the pieces together on the fly. If you're unfamiliar with the franchise, it's a cross between Ocean's Eleven and Mission: Impossible, with a bit of magic thrown into the mix—in other words, a lot of fun.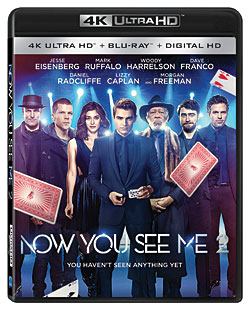 Comparing the Blu-ray to the UHD shows a very slight bump in resolution, but the differences aren't night and day. Shadow detail is slightly better in 4K, colors pop a bit more—especially green and red—and detail in clothing is a notch sharper. Both versions have some head-scratching color grading, especially when the crew is in Macau, and the fleshtones look unnatural and inconsistent from scene to scene.
The Dolby Atmos track is included on both the Blu-ray and UHD, and it's a reference-quality mix that's sure to please those who have gone through the trouble of upgrading their systems to support object-based audio. The surround channels are particularly active, and the flashback sequence where a safe is dropped into a river creates the illusion of being trapped inside the steel coffin. Not to be forgotten is the active and prevalent LFE, which certainly rocks the house when needed.
The supplements (housed on the Blu-ray) include an audio commentary from director Jon M. Chu and three featurettes. The first, "The Art of the Ensemble" looks into the cast where no one is truly the star. Next up are a visual effects featurette and a piece on the philosophies of magic. Finally, there's a UV Digital Copy code.
If you enjoyed the first film, you'll probably like this as much as I did. Throw in a reference Atmos track, and this is an easy one to recommend.
Blu-Ray
Studio: Lionsgate, 2016
Aspect Ratio: 2.40:1
Audio Format: Dolby Atmos/TrueHD 7.1 core
Length: 129 mins.
MPAA Rating: PG-13
Director: Jon M. Chu
Starring: Jesse Eisenberg, Mark Ruffalo, Woody Harrelson
With the FBI hunting them after their last "show," the Horsemen have been in hiding, honing their skills in preparation for their next Robin Hood–inspired adventure. Their target this time around is an unethical tech mogul, whose new product isn't all it's cracked up to be. Unfortunately for our heroes, their plan backfires when the FBI crashes the show and they must make a fast getaway. They end up on the other side of the world where they're blackmailed into performing their most impossible heist yet.