Now Is a Great Time to Buy a New TV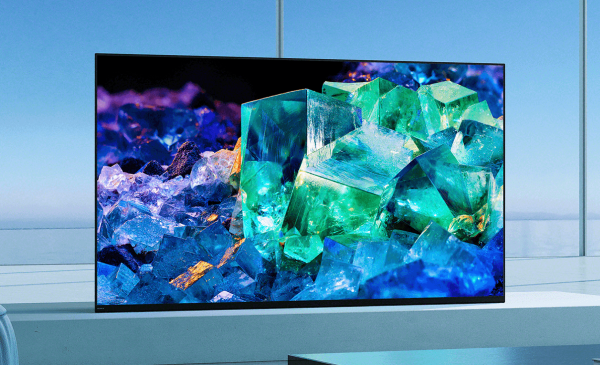 TV Prices Buck U.S. Inflation Trend
Consumer electronics in general but TVs in particular have a decades-long history of providing amazing value. Except for an unprecedented and short-lived Covid-driven spike in 2020-2021, retail TV prices have been relatively immune to inflation over the past four decades while the cost of almost everything crept up. (Lately, of course, inflationary pressures have caused the price of everything to spike up.) So if you're thinking about updating your TV, now is a great time to do it. But don't just take our word for it. We checked in with Robert (Bob) O'Brien, TV expert and co-founder of Display Supply Chain Consultants (DSCC), to get his take on TV pricing as we head into the holiday season.
S&V: When we last spoke in the early spring, you noted that the surge in demand for TVs during the pandemic drove retail prices up for the first time in more than 40 years due to supply constraints caused by factory closures. This was quite a shock because, as you pointed out, TV prices have almost always gone down since the 1980s. At the time, you also pointed out that LCD TV price inflation peaked at 13.3% in August 2021 and that you expected to see a return to the historic pattern of declining retail prices. Though U.S. inflation has shown signs of abating, it remains high across all product categories. So the million dollar question: How's it looking for TV pricing as we head into the holidays? What's the trend?
Bob O'Brien: This holiday season will be a great time to buy a TV, because TV prices have dropped dramatically. The Consumer Price Index (CPI) says that prices have dropped 17% from a year ago as of October, and I expect prices to continue to fall in the holiday season starting with Black Friday.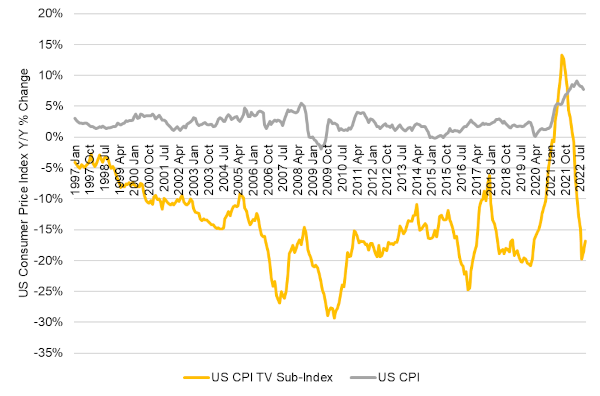 S&V: Is there any particular category or types of TVs you expect to benefit more or less from this (category-specific) "negative inflation"?
O'Brien: I expect to see prices fall across the board, but especially for higher end TV sets such as TVs with screen sizes 65 inches and larger and OLED TVs. Back when the pandemic hit and there was a shortage, TV brands concentrated on high end sets with their limited production quantities. Now that the shortage has turned into a surplus, it's inventory of the premium models that remains too high.
S&V: What's happening with OLED pricing in general and, specifically, with TVs based on new QD OLED technology (so far from Samsung and Sony)? I was surprised to see Samsung's excellent new 65-inch S95B 4K TV selling for $1,900. I expected it to be a lot higher…
O'Brien: I also expected it to be a lot higher. I bought a 65-inch S95B myself when the price hit $2,000, because I didn't think the price would fall any further than that, but if you've seen it at $1,900 then you beat me. My TV set looks great, though. In general, we're seeing OLED TV prices falling in the second half of 2022 because they need to close the gap with LCD.
S&V: How about the new Mini-LED and MicroLED TV technologies. Are there any price advantages to be gained in this environment for one or the other, or is it strictly a supply/demand question?
O'Brien: Remember, MicroLED is a completely separate technology from LCD and OLED, and MicroLED TVs are more than 10 times more expensive. Samsung has 110-inch MicroLED TVs available, but the price exceeds $100,000. We don't expect MicroLED to be anywhere close to mass-market prices — that is, under $10,000 — during this decade. Mini-LED is a backlight technology for LCD TV, and the costs are coming down for this technology but it's still a hefty premium over conventional LCD.
S&V: Do you expect to see TV pricing to continue to decline in 2023? And, if so, how low can retail prices go?
O'Brien: With the exception of 2021, TV prices have declined every year since the 1980s, so I expect that to continue in 2023. And in 2024 and 2025 and so on. In my long career in watching TV prices, every time I think they can't go lower, they do.
S&V: To get back to what you said earlier, it really does seem to be a great time to buy a new TV. What do you tell family and friends who ask about this?
O'Brien: Exactly that — it's a great time to buy a new TV, and I just bought one myself.
S&V: What do you expect to be the big news in TVs next year?
O'Brien: Bigger screen sizes — we expect Samsung and Sony to add a 77-inch (or similar size) to their QD-OLED lineup. LG has already added 97-inch screen to their [standard] White-OLED lineup along with other sizes in the 70-inch-plus range. With the industry in oversupply, they want to sell as big a TV as possible.
Also see: