The Normal Heart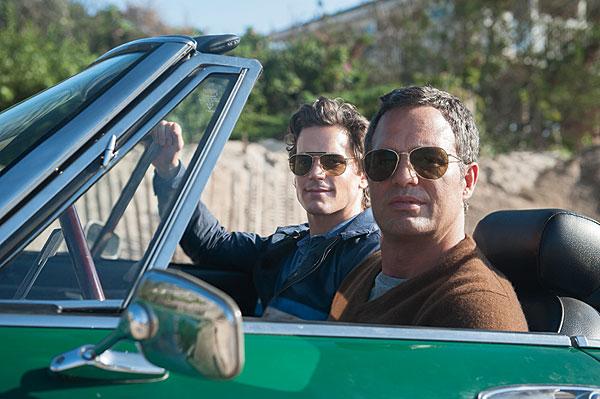 As the numbers of infected and dead mount exponentially, Ned's building frustration and outrage at the indifference of the government, press, and medical industry to the plight of homosexuals—refusing to fund research, create facilities for treatment of the sick who are turned away from hospitals, or even acknowledge and help raise awareness of the disease—forces him to overcome his role of passive observer in order to confront each institution.
Picture contrast is good; the white lab coat of Julia Roberts (surprisingly powerful as the wheelchair-bound physician struggling alone treating the infected) is bright white and her sweater a deep black. Tones are solid, with rich, colorful shirts and a big, yellow taxi taking away someone's old man because ambulances wouldn't carry AIDS patients. Skintones are naturally sallow. Images are bright, crisp, and detailed, stripes in dressing gowns and hospice blankets well defined, as are lesions on skin.
In the opening, the very clear, full DTS-HD Master Audio 5.1 soundtrack puts you at the center of all the realistic atmospherics of arrival at Fire Island—surf, manly voices, and disco. And instead of the vocals in pop songs just being in the front channels, you're immersed in a sea of Bryan Ferry with the instruments of Roxy Music well separated into various channels. Johnny Mathis, Tom Tom Club, and The Rolling Stones are given similar treatment, helping to express the wide range of emotions—fury, loving tenderness, anguish, sadness—that erupt throughout the rest of the film.
Extras consist of a decent 10-minute promotional piece.
Blu-Ray
Studio: HBO, 2014
Aspect Ratio: 1.78:1
Audio Format: DTS-HD Master Audio 5.1
Length: 132 mins.
MPAA Rating: NR
Director: Ryan Murphy
Starring: Mark Ruffalo, Jonathan Groff, Julia Roberts
This powerful and moving story (screenplay by Larry Kramer, based on his own play), starts in 1981 with shy screenwriter Ned Weeks (Mark Ruffalo) only able to watch the summer bacchanal at Fire Island, New York—gay-male heaven—too unconfident to join in the revelries. It ends with a gay prom at Yale in 1984 where he's found his confidence but is now too sad to dance. In between, what starts with the first warning cough from a buff-bodied, seemingly healthy man announcing the arrival of AIDS in the community leads to the spreading of a plague that fills the newly liberated gay men with fear. The mysterious disease is a complete unknown, with no one able to say how it spreads, how to treat it, or how to protect yourself beyond completely abstaining from sex.