New Tributaries 18-Gbps HDMI Cable Good for 164 Ft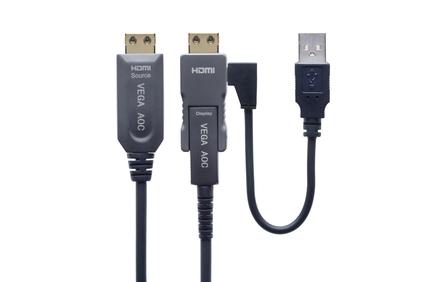 Orlando, Florida-based cable specialist Tributaries has introduced a hybrid fiber-optic/copper cable designed to transport 4K/60 HDMI signals up to 50 meters (164 feet) at a data rate of 18 Gbps.
Described as ideal for long cable runs through walls and ceilings, the new UHDV Vega cable uses glass fiber to transport video, audio, and clock signals via four TMDS channels, while copper carries the Display Data Channel (DDC) responsible for the two-way communication of EDID and HDCP data.
The cable is certified by DPL Labs to deliver 18 Gbps of uncompressed data, including 4:4:4 color sampling at 8-bit color, 4:2:2 color sub-sampling, 10-bit or 12-bit deep color with high dynamic range (HDR), and 32 channels of audio at sampling frequencies up to 1536 KHz.
The benefits of fiber-optic signal transmission include immunity to electromagnetic interference (EMI) and the ability to send signals instantly without perceptible signal loss over longer distances than would be possible with copper, according to Tributaries. The company also developed a proprietary Rise Time Restorative (RTR) circuit to preserve the integrity of DDC signal transmission over long lengths of copper. Embedded in the display end connector, the circuitry is said to ensure zero latency.
Commenting on RTR technology, DPL Labs' Jeff Boccaccio said, "The HDCP channel is most important and suffers greatly with distance. Copper cables longer than 10 meters are highly susceptible to a loss of performance, which can only be corrected electronically. We were pleased to discover that the Vega series has addressed this problem by adding additional circuity inside the connector to correct for these losses."
Designed for easy installation through conduit using a handy pull tool Tributaries provides, Vega is a directional cable terminated with a two-piece assembly comprising a Micro Type-D HDMI connector with a Type-D to-Type-A adapter. The cable requires external AC power but only at the display end; a USB power cable and AC power supply are included. The company warns that using a component's USB receptacle to power Vega can result in cable failure.
All Vega hybrid HDMI cables are hand tested at the Tributaries facility in Orlando and available in lengths of 10 ($450), 15 ($500), 20 ($600), 30 ($700), 40 ($800), and 50 meters ($900).
For more information, visit: tributariescable.com.