New SVS Subwoofers Offer Flagship Tech and App Control at Lower Prices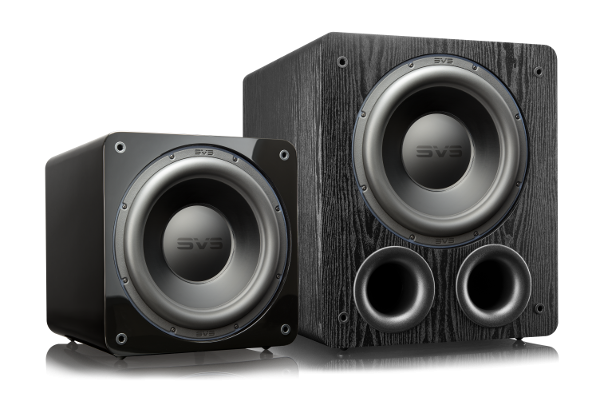 SVS today introduced a mid-priced line of app-controlled subwoofers that borrows technology from its flagship 16-Ultra series to "set performance benchmarks at their price range and well beyond."
The new 3000 Series, which kicks off with the sealed-cabinet SB-3000 ($1,000-$1,100) and ported PB-3000 ($1,400), is built around a new SVS-designed 13-inch high-excursion driver and Sledge STA-800D2 amplifier that "combines the high-current output of discrete MOSFETs with Class D efficiency" to deliver 800 watts RMS and peak power said to exceed 2,500 watts.
The proprietary driver combines a rigid yet lightweight aluminum cone with a 25-pound dual ferrite-magnet motor assembly to deliver what SVS describes as extreme excursion and sound-pressure levels. SVS said the cone, which features a long-throw parabolic surround and composite-fiber dust cap, is designed to move "massive amounts of air to create tactile sonic energy without ever flexing or losing control."
Rated frequency response (+/- 3 dB) is 18-270 Hz for the SB-3000 and 16-260 Hz (port open) and 18-260Hz (port sealed) for the PB-3000.
Rounding out the tech package is a 50-MHz Analog Devices processor that incorporates 56-bit filtering for precise in-room tuning and frequency-response optimization via the SVS app, which provides offers a convenient way to set up and control the subwoofer without leaving the couch.
Available for Android, iOS, and Amazon devices, the app provides access to custom presets, a three-band parametric EQ and can be used to adjust volume, crossover frequency, polarity, room gain, and more. Bluetooth connectivity allows full control with bi-directional feedback that shows adjustments in real time on both the app and rear panel of the subwoofer, even if the sub is out of sight.
The 3000 Series cabinets feature a double-thick MDF front baffle and rigid internal bracing to "eliminate any chance of coloration or resonance from the cabinet, even when the deepest low frequencies are played at reference levels."
Both models include a non-resonant steel mesh grille and are available with a standard black ash finish. The SB-3000 also has a gloss black option for $1,100 ($100 more than the standard finish).
For more information, visit svssound.com.