New Soundbar Built to Match Samsung's Frame TV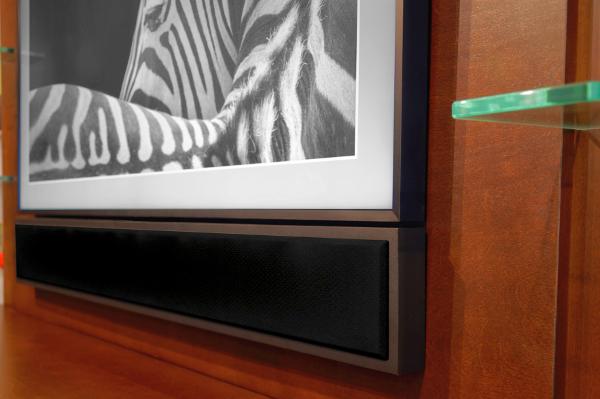 Next Level Acoustics, the New England-based maker of custom-install speakers and enclosures, has introduced a high-performance soundbar that matches the elegant aesthetics of Samsung's popular
Frame TV
, which displays high-resolution art when it's not in use.
The Fusion Frame soundbar is custom-built as a perfect complement to the super-shallow Frame TV in all four of its (diagonal) screen sizes: 43, 49, 55, and 65 inches. All models are configured for stereo at prices ranging from $1,400 to $1,900 with the option of an LCR configuration for the 55- and 65-inch models ($1,850 and $2,150).
To create a soundbar capable of producing "deep natural bass" from a cabinet only 1.75 inches thick, Next Level Acoustics had to develop a proprietary enclosure with a "radical" internal air-load management system and custom woofers.

"A typical cone woofer can't perform as needed with the shallow cabinet so we engineered and built our own 4.5-inch aluminum-dome drivers," explained John Sollecito head of engineering and manufacturing and designer of the JSE Infinite Slope audiophile speaker. "The drivers have stiff, non-resonant cast baskets mated to powerful rare-earth neodymium magnets. A high flux two-layer voice coil drives the ultra-stiff aluminum dome suspended by a butyl rubber surround for very high acceleration and excursion.
"The result is clear, dynamic bass and smooth detailed midrange, much more than one would imagine possible from such a thin soundbar."
Highs are handled by a proprietary high-precision crossover that feeds 1-inch soft-dome tweeter built by the speaker experts at Denmark's Vifa.
Fusion Frame cabinets are made of precision-cut MDF, lined with an anti-resonant coating, and boast heavy-duty gold-plated binding posts/banana jacks that occupy a recessed channel on the back panel to ensure flush mounting to the wall. The enclosure is supported by screws, accessible from the front panel, that attach directly to studs or supplied wall anchors.
Recommended power is 30 to 150 watts and all Fusion Frame soundbars have a removable magnetic grille and sport a black Plex finish that matches the Frame TV's bezel. An optional white lacquer maple veneer finish is also available along with a custom paint option.
Next Level Acoustics supports its Fusion Frame soundbars with a full 5-year warranty.
For those who want bass that extends beyond the soundbars' 70-80-Hz limit, the company offers the CI-IW10S in-wall subwoofer. Built to fit standard 2x4 construction and rated down to 34 Hz, the sub has a 10-inch driver and can be powered with as little as 40 watts, according to the company.
Next Level also makes a generic Fusion Flat version of the soundbar that can be used with any TV.
For more information, visit nextlevelacoustics.com