McIntosh Tube Preamp Boasts Powerful Digital Chops
McIntosh has introduced a classic tube preamp with a secret weapon you wouldn't expect to find: an upgradeable digital audio module built around a 32-bit digital-to-analog converter (DAC).
Slated for release this month with an $8,000 price tag, the C2700 preamp boasts six vacuum tubes — visible through a glass panel — and McIntosh's new DA2 digital audio module, an update of its earlier DA1 module that supports playback of 24-bit/96-kHz files and DSD up to DSD512 (the DA1 is limited to DSD256).
Designed to avert obsolescence, the removable digital section converts Dolby and DTS multichannel audio formats for stereo playback and provides seven connections: two coaxial, two optical (both 24 bit/192 kHz-capable), and a USB input that now supports DXD up to 384 kHz in addition to the proprietary MCT connector for use with McIntosh's MCT series of SACD/CD Transports).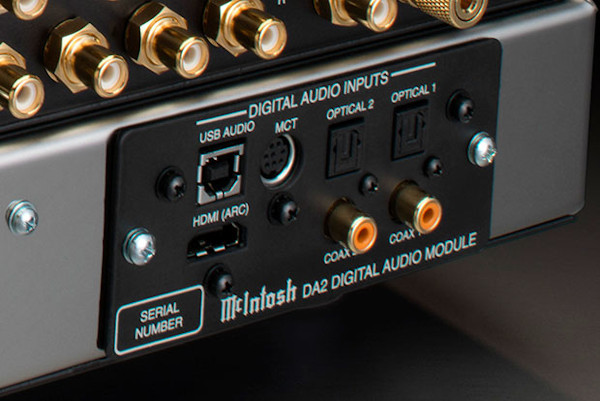 The module enables control of TV power and volume through the preamp's remote control when CEC communication is enabled and supports Audio Return Channel (ARC) through its audio-only HDMI connector to facilitate easy connection with ARC-equipped TVs.
On the analog side, the C2700 features nine inputs: three balanced, four unbalanced, and two phono inputs to accommodate turntables with either a moving coil or moving magnet cartridge. Also included is a front-panel headphone jack, powered by a dedicated amplifier featuring McIntosh's Headphone Crossfeed Director (HXD) processing for "added dimension."
Outputs include a fixed unbalanced connection and six variable connections — three balanced and three unbalanced.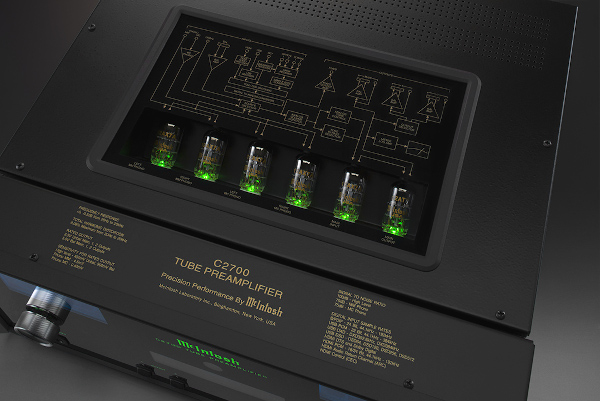 Behind McIntosh's signature black-glass front panel and blue VU meters is a stainless steel dual-chassis structure that keeps the analog and digital sections separate to preserve signal integrity. The preamp supports home theater passthrough for seamless integration in an AV system and has rotary bass and treble controls that adjust in 2-dB increments.
For more information, visit mcintoshlabs.com.