New Klipsch Subwoofers Hide in the Wall (or Ceiling)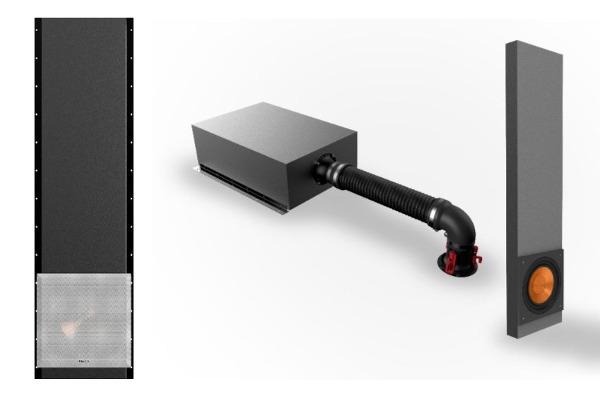 New subwoofers from Klipsch are designed to deliver powerful bass with a "minimal visual footprint" — so minimal that the bass module is hidden in the wall or ceiling.
The latest additions to the company's Professional Series, the PRO-1200SW is intended for new construction and described as easy to install in standard 16-inch-on-center stud bays, while the PRO-800SW is designed for installation in a ceiling.
Both models are built around a long-throw Cerametallic woofer with a reverse rolled surround housed in an MDF enclosure — 12 inches in the PRO-1200SW and 8 inches in the PRO-800SW.
The PRO-1200SW ($2,200) is a sealed-box design measuring approximately 61 x 16 x 4 inches that stands upright between the wall studs; it joins the existing 10-inch-woofer PRO-1000SW and is rated to handle 250 watts RMS with a maximum output of 112 dB at 70 Hz and low-frequency limit of 21 Hz (±3 dB).
Designed for installation tight spaces, the PRO-800SW ($1,100) is a bandpass design that vents bass through a flexible tube with a 4.25-inch opening that matches the diameter of most recessed lights. The subwoofer includes a robust 90° connector and support legs to secure the tube. Klipsch offers a kit to convert the 800SW for in-floor installation with a 4 x 10-inch vent.
The PRO-800SW is rated to handle 125 watts RMS with a maximum output of 103 dB at 70 Hz and low-frequency limit of 38 Hz (±3 dB).
Both models feature paintable grilles that attach magnetically to the subwoofer frame. The PRO-1200SW's grille is 15 x 15 inches. Klipsch's KDA Series amplifiers (sold separately) have EQ presets and limiter settings designed to optimize the output and acoustic performance of the in-wall/ceiling subwoofers.
Click here for more information on the PRO-1200SW and here for the PRO-800SW.