New Install-Friendly Separates from NAD
NAD is bringing a new preamp-tuner-processor and two new multichannel power amps to CEDIA.
NAD says the new T 175 Preamp-Tuner-Processor is designed with a "more intuitive, less intimidating user interface than is typically seen today." In keeping with the simplicity aspect, the T 175 includes a modular layout that places key circuitry on five independent and removable boards which makes the unit easier to service or upgrade. The T 175 also includes four HDMI 1.3 inputs; Audyssey Auto Set-Up and Calibration; MultEQ XT Room Correction; as well as Audyssey MultEQ XT Pro, a technology that allows installers to calibrate acoustical output using a laptop computer.
In addition, the T 175 features NAD's EARS II digital surround mode for creating surround sound from two-channel sources; Burr Brown DACs with a 24/96 converter for each of eight channels; a 40-preset RDS AM/FM tuner, in addition to an XM input for an external XM Mini-Tuner module; a Universal Portable Media Player input jack on the front panel, plus the ability to control Apple iPods with an optional NAD iPod dock.
Some of the multiroom aspects include: three zone capability, all with independent source and volume control; an RS-232 serial connection; multiple 12-volt triggers and IR-connections; plus a simplified second-zone remote control.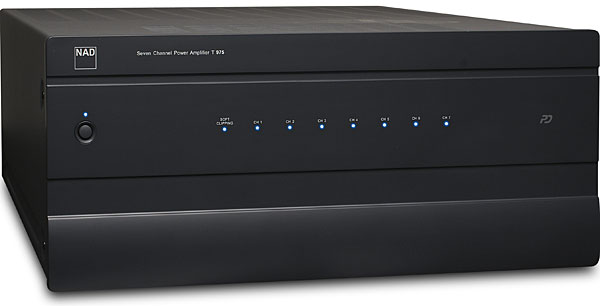 The new T 975 and T 955 amplifiers contain an array of identical modularized single-channel amplifiers, which are fully independent beyond their common power supply. This makes the design what NAD calls "multi-monoblock". Both amps use NAD's PowerDrive technology to automatically adjust power supply settings to best cope with a loudspeaker's impedance characteristics.
The T 975 is rated at 140 watts-per-channel with all seven channels driven simultaneously. The smaller T 955 provides 100 watts-per-channel with all five channels being driven simultaneously. NAD notes that these power ratings are over a full bandwidth range of 20 Hz – 20 kHz with 0.03% THD at either 8 or 4 ohms.
The T 975 uses a variable-speed fan-cooling system. Each amplifier's back panel includes individual gain adjustments, five-way speaker binding posts, and gold-plated RCA input jacks.
The T 175 Preamp-Tuner-Processor will be available in November with a MSRP (US) of $1,999. The T 975 and T955 amplifiers are available now at respective MSRPs (US) of $2,499 and $1,999.