New Gear for Spring 2021, Part 2 Page 2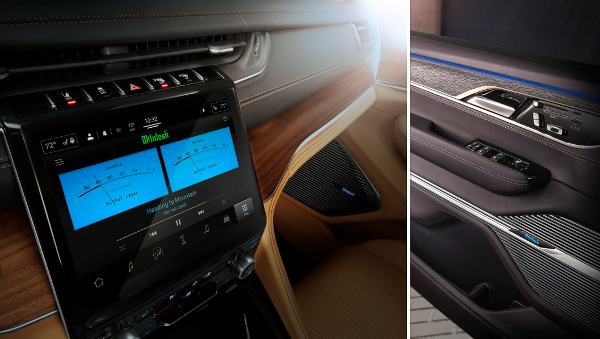 McIntosh Previews Killer Audio System for 2022 Grand Wagoneer
When Jeep unveiled the Grand Wagoneer Concept vehicle last fall, it announced plans to revive the long-dormant Wagoneer badge in the 2022 model year as a premium portfolio of SUVs built to "deliver a unique customer experience." Leading-edge technology would be central to the rebirth with features like hands-free active driving assist and automated parking plus a commitment offer a no-holds-barred sound system developed by the audio experts at McIntosh Laboratory. The goal: to take the 72-year-old brand's home-audio experience on the road.
Working with a prototype of the Grand Wagoneer's cabin, the McIntosh team was given free rein to create the best possible audio system — one that would envelop all passengers in a "live music experience." Engineers from both companies spent countless hours studying the vehicle's interior and fine-tuning what would become the McIntosh MX1375 Reference Entertainment System, which will debut midyear as an exclusive feature of the resurrected Grand Wagoneer.
With 23 custom-tuned speakers — including "one of the highest performing 12-inch subwoofers in the industry" — adaptive 3D surround processing, and a 24-channel amplifier rated to supply 1,375 watts of power, the system is guaranteed to turn heads in the showroom.
"When we were developing the MX1375 Reference Entertainment System, we set up a McIntosh Reference room next to the Wagoneer team's facility to ensure the best parts of the home system experience made it into the Grand Wagoneer," explained McIntosh president Charlie Randall. "It was fascinating to hear the progression as the vehicle started to take on qualities of the Reference Room itself. I can't wait for customers to hear and feel it for themselves."
McIntosh developed a second custom system for the Wagoneer Series III trim level and Grand Wagoneer Series I and Series II trims. A notch below the reference system, though still very impressive, the McIntosh MX950 Entertainment System mates 19 custom-tuned speakers, including a 10-inch subwoofer, with a 17-channel amplifier rated to deliver 950 watts of power.
Both systems borrow patented technologies from McIntosh home products — including Power Guard, which monitors and adjusts incoming audio signals in real-time to prevent distortion and clipping — and can be operated via an in-vehicle app that complements Jeep's Uconnect platform. As you can see from the photo, the systems also remain true to Mac's iconic industrial design, including those unmistakable blue power meters.
Pricing has not yet been announced but we can tell you that the MX1375 system is reserved for the Grand Wagoneer and will be offered as standard equipment on the Series III model. For more information, visit mcintoshlabs.com.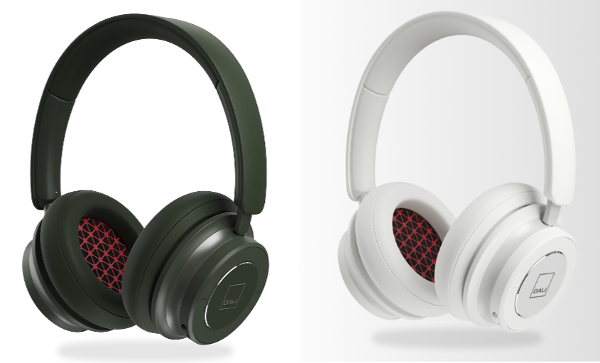 DALI Expands Color Options for Wireless Headphones
Danish speaker specialist DALI is expanding the color options for its first (and only) wireless headphones, introduced in 2019. Later this month, the IO-4 ($399) and DALI IO-6 ($499) models will be available in army green and chalk white through the brand's exclusive U.S. distributor, Lenbrook Americas. The new colors join the existing iron black and caramel white finish options.
Both are closed back, over-ear designs that support aptX HD-enabled Bluetooth with custom 0.4-inch drivers, swiveling earcups, and memory-foam earpads covered in durable faux leather. The IO-6 includes active noise cancellation (ANC) and has a rated battery life of up to 30 hours per charge. The IO-4 lacks ANC but boasts an extended play time of up to 60 hours. Charge time for both models is 2.5 hours. Visit dali-speakers.com for more information.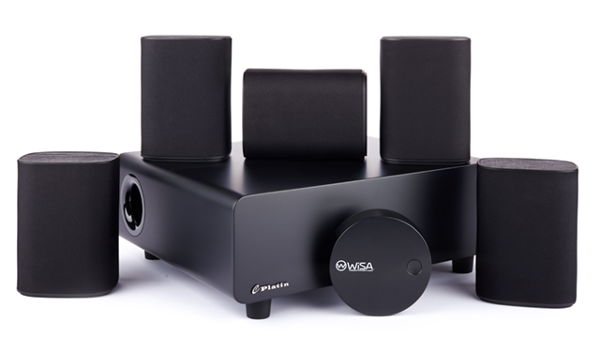 Platin Introduces $899 WiSA-Based Wireless 5.1 Speaker System
Remember when "home theater in a box" systems were all the rage? Platin Audio, a company founded in Denmark that describes itself as a "dedicated team of designers, visionaries, and engineers" who are passionate about sound, has introduced a wireless speaker system that has everything you need to enjoy music and movies, except a source component.
Dubbed Milan, the 5.1 system sells for $899 and arrives in a single box containing a SoundSend wireless transmitter, five powered satellite speakers, and a low-profile powered subwoofer. Getting the system up and running is as simple as connecting the transmitter to your TV using an HDMI connection that supports ARC (Audio Return Channel) or eARC (enhanced Audio Return Channel). Once it's plugged in, the transmitter finds the speakers, converts the TV's audio output into a series of high-quality wireless signals, and directs those signals to the appropriate speaker.
The transmitter is based on the proven WiSA wireless standard, which supports resolutions up to 24 bits at 48 or 96 kHz with near-zero latency and near-perfect synchronization ("within 1/1,000,000 of a second") between up to eight speakers; it also decodes Dolby Audio and Dolby Atmos. Once the system is set up, you can use the companion SoundSend app to adjust volume, create a sweet spot using its My Zone automatic level control and otherwise fine-tune the sound using a multi-band equalizer and audio presets for movies, sports, gaming, and more.
Measuring about 6 x 4 x 3 inches (h x w x d), each of the two-way satellites is small enough to be placed almost anywhere, including on the wall. The subwoofer mates a 6.5-inch woofer and 100-watt amplifier in ported cabinet slim enough to fit under a sofa or chair. Milan is a follow-up to last year's Monaco 5.1 wireless surround sound system, featuring more conventional looking satellites and an elongated center speaker with a mid-tweeter-mid driver configuration instead of the Milan's single midrange-plus-tweeter configuration.
"We are excited to see this system become available and deliver immersive audio performances at a great price point," said WiSA president Tony Ostrom. "A key goal at WiSA is to promote amazing home cinema experiences and help facilitate their availability across large spectrums of styles, prices, and performance levels, thus enabling adoption and enjoyment by a massive number of enthusiasts." Visit platinaudio.us for more information on the Milan speaker system, which is also available through amazon.com.
Cary Audio's DMS-700 Is Now Roon-Ready
North Carolina-based Cary Audio, a company specializing in two-channel audio gear for more than 30 years, has announced that its DMS-700 network audio player has been certified as Roon Ready, ensuring full compatibility with the Roon music-management software favored by audiophiles.
As part of the certification, Roon's Quality Assurance Team makes sure the Roon software identifies the DMS-700 and automatically configures its settings for optimal performance. As part of the upgrade, Cary is offering a complimentary two-month subscription to Roon. To request a promo code, email sales@caryaudio.com.
Upgrading the DMS-700 for Roon compatibility involves a series of steps, including updating firmware and a factory reset. Click here for update instructions. For more on Roon, visit roonlabs.com.
MORE NEWS & GEAR
Qobuz Hi-Res Music Streaming Now Available on Sonos
Polk Audio Launches Reserve Series Loudspeakers
Bluesound Introduces Pulse Soundbar+
SVS Announces 3000 Micro Subwoofer
Sonos Introduces Roam Portable Smart Speaker
Epson, Philips Agree on Industry Standard Projector Specs
Paradigm Launches Founder Series Loudspeakers
SVS Launches 1000 Pro Series Subwoofers