Product News: Fall 2020 Edition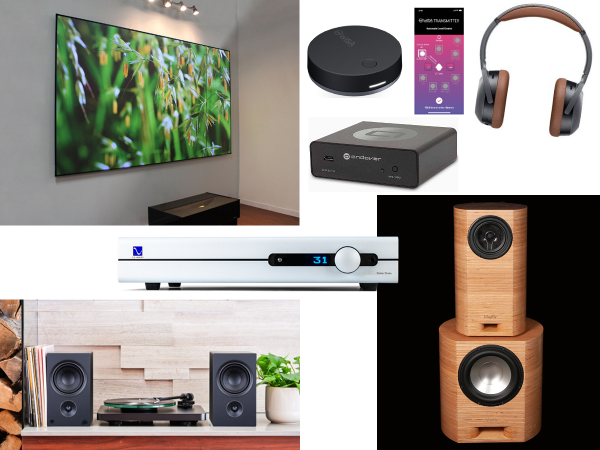 With Thanksgiving only two weeks away, the 2020 Holiday Season is well underway as pandemic-wary shoppers scramble to place online orders to ensure gifts are delivered before Christmas. Whether you plan to shop online, mask up and hit the stores, or opt for "contactless delivery" or curbside pickup, there are plenty of new A/V products to consider. From a newly ISF-certified projection screen to a hi-res music streamer that can be had for $129 to a unique speaker that finds a crazy new application for the tried-and-true acoustic diffuser, we take a look at some of the new gear A/V makers have introduced in recent weeks with high hopes of making your holiday list.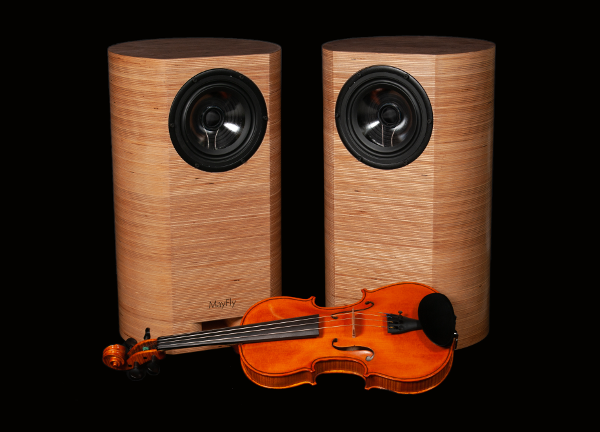 First-of-its-Kind Speaker Has Built-in Diffuser
In a category known for evolutionary change, newcomer MayFly Audio is starting something of a revolution with the development of a compact, two-way speaker that employs a unique internal diffuser to improve sound quality.
Company founder and chief designer Trevor May says the diffuser — an adaptation of a "skyline diffuser" used to treat room acoustics and the cornerstone of his MF-201A speaker — yields a more controlled midrange and better bass by "eliminating internal reflection and diffraction artifacts, lobe tilting effects, and woofer breakup." An accomplished electrical engineer and professional musician, May has applied for a patent for his diffuser, which is made of precision-cut slices of birch meticulously arranged (and glued) in 24 rows.
The resulting geometric pattern forms the inside of a 20.5-inch-tall ported cabinet that mates a 7-inch woofer with a coaxially aligned 1-inch fabric-dome tweeter from the renowned Norwegian speaker builder Seas. May opted for a coaxial driver because he believes the configuration benefits most from the speaker's unique design.
"With the skyline diffuser you can control the frequencies that you want to diffuse and leave other frequencies alone," May explained, enabling him to tune the cabinet for optimal bass while keeping mid-frequencies from "rattling around inside and reflecting out of the driver opening." The diffuser also produced the unexpected benefit of controlling cabinet resonance. "So the sound you hear is just from the driver and not from the surface of the cabinet which would muddy the sound."
The rounded enclosure is clad in birch laminate, hand-finished with a special French polish, and equipped with gold-plated binding posts. The MF-201A is rated to play down to 30 Hz and handle up to 100 watts with a sensitivity spec of 88 dB/W/m. Pricing is $3,000/pair with walnut, white oak, and cherry finish options available at extra cost; matching stands are available for $500/pair.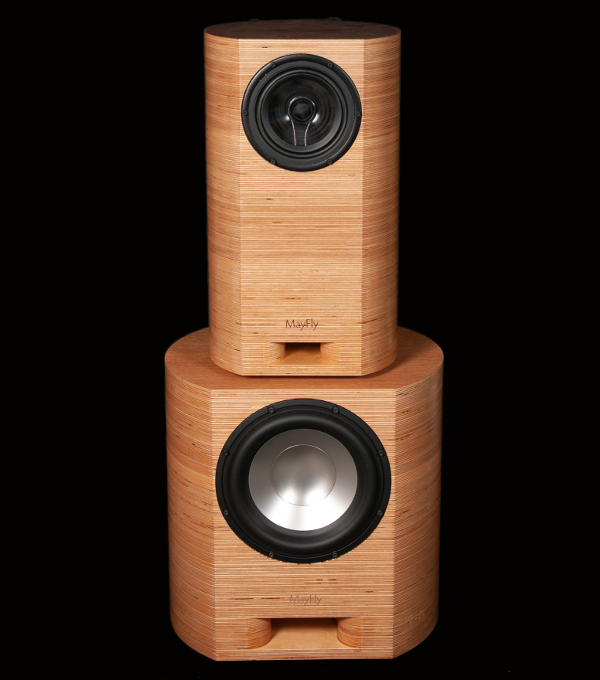 The MF-201A speakers are also offered as part of the MF-301 system, which adds a pair of matching bass modules for $12,000. Each module is 38 inches tall and houses a 10-inch aluminum driver that extends system response down to 15 Hz.
MayFly offers a 30-day money-back guarantee that does not cover return shipping costs. Visit mayflyaudio.com for more information.
New Adapter Makes TVs Compatible with WiSA Speakers
The Wireless Speaker & Audio (WiSA) Association is getting ready to ship its first branded product — an adapter/transmitter that converts the audio output of most smart TVs into a high-quality wireless signal compatible with WiSA Certified speakers.
The SoundSend transmitter, available later this month for $179, automatically finds and connects with WiSA Certified speakers once it's plugged into the TV's optical audio output or ARC/eARC (enhanced Audio Return Channel)-enabled HDMI port. The device is able to transmit up to eight audio channels in addition to decoding Dolby Digital, Dolby Digital+, and Dolby Atmos soundtracks.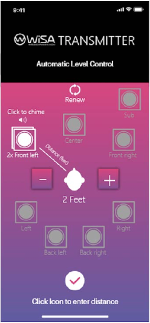 When a wireless connection is established, the SoundSend mobile app can be used to fine-tune the sound with individual-speaker and master volume control, multi-band equalization, audio presets (movie, sports, gaming, etc.), and a My Zone automatic level control that ensures balanced sound by "calibrating each speaker to the listener's location." The TV's remote is used for day-to-day system operation.
The WiSA protocol supports audio resolutions up to 24 bits/96 kHz and is designed to ensure low latency and less than 1 microsecond of synchronization between speakers.
"The SoundSend is the perfect solution to accompany today's smart televisions that deliver millions of hours of highly-produced content with multichannel audio coming from hundreds of sources," said WiSA President Tony Ostrom. "The product's seamless connectivity provides consumers the freedom to mix and match WiSA Certified components to create a fully interoperable surround sound system."
Visit wisaassociation.org for more information. Click here for information on more than two dozen WiSA Certified speakers available from 10 brands, including Klipsch, Enclave Audio, Dynaudio, and Savant. Enclave Audio's CineHome PRO wireless home theater speaker system received Sound & Vision's Top Pick honors in May; see our full test report here.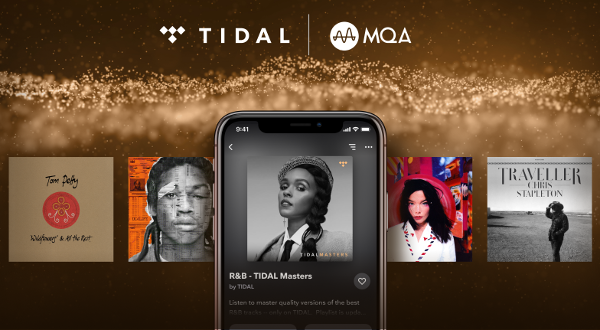 Tidal Adds Millions of Master Quality Tracks
The subscription-based music streaming service Tidal has upped its game big time, adding millions of MQA tracks from Warner Music Group to its Masters catalog. The service now offers the largest catalog of MQA-encoded music outside of China.
The expanded Masters catalog includes iconic albums from artists such as Missy Elliott, LCD Soundsystem, Madonna, The Notorious B.I.G., and others. MQA's built-in authentication system confirms that "the listener is getting the exact sound created in the studio." The technology also fixes problems created when analog sound is converted into digital, a process that introduces time-smearing artifacts.
"By paying great attention to the nature of sound and the way we hear, MQA opens a clear window and delivers all the detail and nuance of the original song," said MQA founder Bob Stuart, who earlier this year became the first audio engineer to receive the Prince Philip Award from U.K.'s Royal Academy of Engineering. "The music industry's catalog contains millions of significant performances from the early days of CD where, sometimes, the recording was created in 44.1 kHz/16 bit and where no alternative existed. We are delighted that Warner Music Group is bringing this content to Tidal."
To make it easier for listeners to discover MQA music, Tidal has created Master Editions of its Artist Radio and Track Radio playlists and made it possible to build a personalized playlist of master-quality music in My New Arrivals. Tidal also recently launched a Connect feature that allows listeners to stream CD- and MQA-quality music from its HiFi tier ($19.99.month) directly to connected devices from Bluesound, Cambridge Audio, DALI, KEF, iFi audio, Lyngdorf, Monitor, NAD, and Naim Audio.
Visit tidal.com for more information.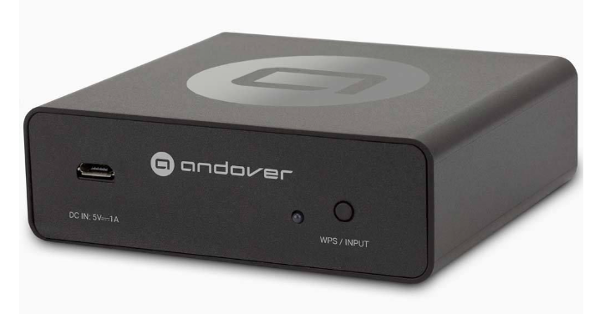 Andover Audio Makes Hi-Res Streaming Affordable
Who says you have pay hundreds (or thousands) of dollars to add high-resolution music streaming to your audio rig? Songbird, the newest addition to Andover Audio's small but growing collection of products, supports hi-res streaming (up to 24 bits/96 kHz) and provides ready access to Tidal, Qobuz, Spotify, internet radio, and other services through its companion app for the entirely reasonable price of $129.
The compact streamer sports optical digital and analog (minijack) inputs and outputs as well as an Ethernet port, making it easy to connect to any audio system. It also supports Bluetooth streaming and is compatible with DLNA and Apple AirPlay devices. You can even use the box to add a digital input to a vintage system that doesn't already have one.
Two adapter cables are provided: a 1.5-foot optical-to-mini-Toslink cable and a 3-foot minijack-to-dual-RCA cable. Andover also includes a Velcro strip for securing the box, which is only 3.5 inches across, to any surface. Visit andoveraudio.com for more information.