New AI-Based Hub Ups the IQ of Smart Homes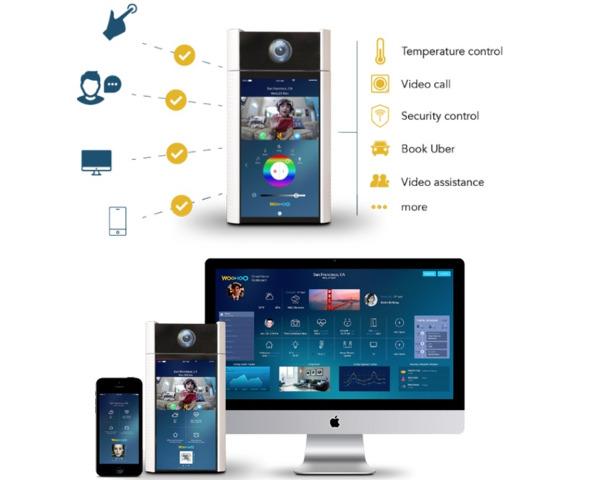 San Francisco startup SmartBeings is getting ready to ship WooHoo, the "world's first" voice-controlled, AI-based smart home hub, a Kickstarter project that beat its $30,000 funding goal by $24,000 in February.
Slated to retail for $89 with annual subscription fee of $108 ($228 for the business platform), WooHoo combines voice and facial recognition with motion detection and HDMI, USB, and SD ports in a cloud-based platform said to deliver "the smartest home experience yet."
The first round of products are slated for delivery in May.
The company explains the genesis of WooHoo on its Kickstarter page: "At first, we created a smart home hub, then we integrated it with current and future smart device technologies like facial recognition and voice recognition, added a 7-inch touchscreen to make it easy to use, connected it to the Cloud, and gave it an artificial intelligence (AI) so it can continuously learn."
Unlike other devices on the market, WooHoo can store multiple user profiles and, thanks to voice recognition and a 360-degree rotating HD camera with facial recognition, knows which user profile to engage when a command is issued. The hub uses natural language processing to simplify voice control, eliminating the need to "phrase your questions as if you're a robot or an internet search engine."
The battery-powered device supports multiple wireless protocols—including Wi-Fi, Bluetooth, ZigBee, Z-Wave, and Lutron wireless—and uses applications to turn lights on and off, adjust temperature, lock doors, and create reminders as well as control other smart devices. In addition to accessing audio and video content, you can store digital content offline and even use WooHoo's built-in 4G LTE network to access the hub when a Wi-Fi signal is not available.
The hub provides dashboards (through its online platform) that enable smart homes and businesses to manage, control, and track devices and collates data from smart devices to build fitness records, expenditure reports, diaries, to do lists, and more. Its Android-based touchscreen also shows who's in the house at any time and can be used to download apps or start a video conference.
WooHoo is wall mountable and available in five colors—black, blue, green, yellow, and pink.
For more information, please visit smartbeings.com.

SPONSORED VIDEO