New 1080p LCDs From Sharp!
Sharp Electronics introduced two new 1080p AQUOS HDTVs on August 31st at a press event held in NBC's famed Rockefeller Center Studio 8H, home to Saturday Night Live since it's debut on October 11th, 1975.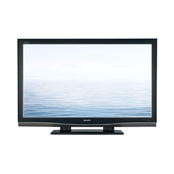 Why introduce the new sets in that hallowed venue? Through an arrangement between Sharp and NBC, 8H is equipped with numerous Sharp AQUOS HDTVs, which are visible to "sharp" eyed viewers at home during pans of the audience.
The new sets, flown in from Japan just in time for the event, were produced at Sharp's new 8th Generation LCD plant, Kameyama No. 2, which will be visited by a group of lucky journalists next month. Unfortunately, Sharp did not have the good sense to invite me, so the trip will not be nearly as entertaining and laugh-filled as it could be. The new "state of the art" facility, described in great detail at the event, is both ecologically friendly and technologically advanced. It's capable of utilizing the world's largest glass substrates, which are 1.3-times larger than those used by generation 7 factories.
A single "motherglass" can yield six 46" panels or six 52" panels, which will help increase efficiency and lower prices. Production at the plant is expected to increase six-fold by the end of 2008, thanks in part to new processes that will cut lead time in half. The entire production- from LCD panel fabrication to final set assembly- takes place within the factory, eliminating expensive and time consuming sub-assembly shipping.
The factory utilizes one of the world's largest solar power systems, capable of generating up to 1/3 of the operating electricity. C02 emissions have been reduced and the new plant recycles 100 percent of the water it uses. All of the factory workers make their own clothes and…. OK, just kidding about that!
The new AQUOS sets- the 52" LC-52D62U and the LC-46D62U- utilize the next generation of Sharp's proprietary Advanced Super View (ASV) Black TFT Panel, which is claimed to decrease colorshift while providing the highest claimed contrast ratio in the industry- rated at 2000:1 and 10,000:1 dynamic contrast ratio with Enhanced Picture Contrast Technology. Claimed response time (long one of LCD's weakest suits) is an impressive 4ms with "Fine Motion Mode" on. Black levels have been enhanced and viewing angles are spec'd at an impressive 176 degrees.
Both sets feature full 1920x1080p resolution, dual HDMI inputs, and ATSC, QAM and NTSC tuners.
The physical presentation features a rich black piano lacquer bezel combined with a "wave" shaped aluminum lower lip concealing the bottom-mounted speakers. A removable table stand makes for easy wall mounting.
The physical presentation is a matter of taste of course, and many journalists in attendance were enthusiastic. But to my eyes the bezel is too wide and the aluminum "wave" is too shiny. I also found the shape distracting. I bet the next generation of this set will feature a black anodized "wave," but aesthetics is not exactly my middle name.
As for the picture quality, despite harsh studio lights shining directly at the screens, both sets impressed on the usual loops of flowers and bugs and all the other content that makes your nose run and your skin itch. Contrast ratio, black level, and especially the lack of noise impressed the finicky reviewers in attendance.
Most impressive though, were the MSRPs, with the new 52" model going for $4,799 and the 46" set priced at $3,499.
According to Toshihiko Fujimoto, Sharp's Chairman and CEO, when the new factory is fully functioning its output combined with that of Kameyama No. 1 will increase to 20 million LCD sets a year, based on 32" sets.
Sharp has been plagued by panel shortages, which has caused its market share to drop from first to third place behind Philips/Magnavox and Samsung. A new assembly facility in Mexico opens this month, and when it's fully functioning by next summer it will be capable of producing 100,000 sets a month.
Meanwhile, Sharp's president Katsuhiko Machida sees LCD set prices plunging as much as 20 percent next year due to industry wide overproduction and cost reductions. But this is mostly in the low resolution segment of the marketplace, as 1080p inventory is still expected to be tight next year.
If the company begins to lose money on each unit sold, a Sharp spokesperson told me, the company expects to make it up with increased volume. No he didn't. I'm only kidding! What do you expect from a press event held at studio 8H? Watch it! Landshark!
LATEST VIDEO