Netgear Digital Entertainer HD
Stream like you've never streamed before.
I guess the Internet is never going to hit maximum capacity.
Various Websites post more and more interesting video content every day. It's all ours for the taking, or at least viewing. But there is a gap in this sizzling entertainment landscape, namely that much-studied distance between the Internet and the living room. Netgear's Digital Entertainer HD aims to bridge that gap in a unique way. The new EVA8000 has a modified version of the SkipJam media receiver (October 2005 HT—Netgear bought SkipJam last year). This new model is a more generously featured successor to their first digital media receiver, the EVA700. The EVA8000 packs an HDMI port capable of 1080p output, making it an ideal match for a new HDTV. There are further compatibility enhancements, too, as well as quite a happy bonus for a living-room device. . ..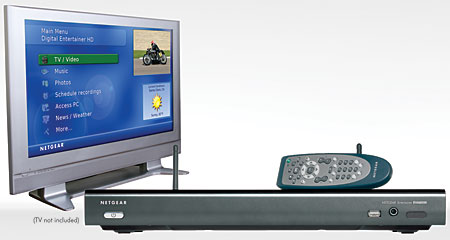 YouToo
The Digital Entertainer HD contains no storage of its own. Instead, it streams its content from one or more networked computers (Mac or PC). It can also stream from the Internet, via its integrated support for YouTube, that the user can access from the sofa using a remote control. Visit www.youtube.com to see what's new, perform searches, and mark favorites for repeat viewing. The site is without a doubt the best destination for instant-classic, too-cool, and vintage video clips. It's supported by fans who are eager to share, and it's all for free. Even at the computer, though, with the benefit of a mouse and keyboard, searches for particular content can take a while to whittle down. If you use the remote's number pad to enter text, as on a cell phone, it can be agonizingly slow. Any Internet-enabled device like this should accept a standard keyboard. But when I attempted to connect a keyboard to the Netgear device, my computer scanned it as if it were a USB drive, potentially containing music or video, and then ignored it. (USB keyboard support is reportedly coming soon.)
The Digital Entertainer HD requires either a wired or wireless connection to a PC running Windows XP or Vista, or a Mac. The powerful twin antennas make light work of Wi-Fi B/G networks. I tried both the wired and wireless options for this review, and both were utterly reliable. The included CD carries the Digital Entertainer for Windows application that you must install and run on the host PC. A configuration wizard helps you locate all of the audio, video, and photos in any shared folders on your network, and it later gives you the freedom to select or unselect any individual folders. For me, this step meant ensuring that my kids' photos made the cut, while batches of shots of old DVD players wouldn't crowd the pipeline. Once I connected my PC to the Digital Entertainer HD, Windows Media Player 11 immediately asked me if I wanted to allow file sharing, and I agreed. Over in the living room, a simple wizard on the TV guided me through the other half of the setup, including networking choices. Still, future changes to my settings almost always required a reboot of the Netgear device, a process taking over a minute each time.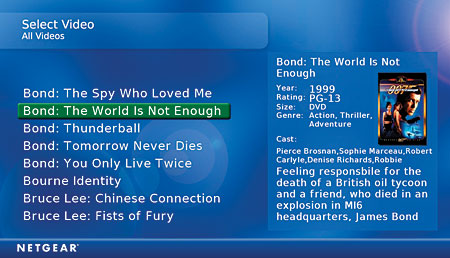 Despite the fact that I have cover art saved on my PC, some of the tracks I played displayed no identifiable cover images—and sometimes the wrong covers. You get a trial version of the software to correct this problem and restore the virtual covers; the full version is a $25 download. If your PC already has an NTSC or ATSC tuner installed (and I hope yours does), you can stream, pause, and rewind live TV and schedule recordings from the Digital Entertainer HD using their program guide. This requires an activation code from the Netgear online store for another $5.
Speeds and Feeds
The Digital Entertainer HD's default resolution out of the box is 480i. As of a recent firmware update, though, it auto-detects HDMI and instantly makes the adjustment to the out-
put setting. The update is simple to perform; all you need is a USB flash drive to physically carry a download from your PC to the living room.
While the user interface is not as pretty as those on some other set-top boxes, the experience is surprisingly rich. An active YouTube video will keep playing (with audio) in a reduced window as you navigate between other tasks in other onscreen menus. However, even with the unit's adequate internal scaling, YouTube is inherently "Internet" video, and so the quality can be jarringly ugly on an HDTV. Fortunately, the Digital Entertainer HD is a Microsoft "Plays For Sure" device. It plays higher-quality DRM-protected Windows Media Video downloads from a variety of sources, versus lower-quality streamed video. To that end, the Digital Entertainer HD also offers integrated support for BitTorrent.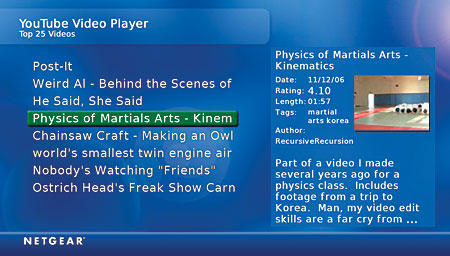 Stream YouTube videos directly to your HDTV.
BitTorrent originated as a peer-to-peer protocol. Many different download sites use it because of its efficiency in distributing large files, legitimate and not. But now www.bittorrent.com has opened its virtual doors to sell 100-percent legal downloads of movies and TV shows from major studios, plus special-interest videos. Almost everything on the bill of fare is in standard definition. At press time, 16 720p or 1080i videos were available. Three—provided by VOOM—are $3 each, and the rest are free. Some high-def shorts and movie trailers are also available from Apple and Microsoft. This HD content looks far superior in the home theater environment, and any self-recorded high-def programming on your PC will also take advantage of the Digital Entertainer HD's HDMI output. Other than that, there just isn't much need for HDMI quality right now.
Of course, this box is a gateway to your music library as well. It can play iTunes music away from the computer, although the PC must be authorized to play the tracks and must be running the Digital Entertainer for Windows and iTunes software. I plugged in my iPod, and it displayed photos and played unprotected music without incident. This was after a two-minute scan, though, which I had to repeat every time I removed and reattached the player. When my PC was powered down, it could not play purchased iTunes directly from the iPod, invoking the same restrictions as if it were trying to play from my computer's hard drive. You can also play purchased WMA music, but not rented tracks from subscription services. The Digital Entertainer HD can also stream Internet radio.
Interestingly, shortly before this review, AppleTV expanded its own features set to include YouTube support, in addition to a new model with a 160-gigabyte hard drive. The Digital Entertainer HD is, in a sense, the anti-AppleTV. It offers no onboard storage whatsoever, yet it assures compliance with the Universal Plug-and-Play AV and Digital Living Network Alliance interoperability standards. It also works with a broader range of computer-downloaded content, although iTunes video is explicitly incompatible. But the Digital Entertainer HD can also stream video and even podcasts from its internal list of Websites. This includes good stuff from the BBC and National Geographic. Like I said, there's no shortage of content out there.
Highlights
• Wired or Wi-Fi streaming from your Mac or PC, or directly from www.youtube.com
• Compatible with a large selection of audio/video formats
• Can orchestrate TV recording (with your existing tuner and $5)