Near Field Communication: payment- and party-enabling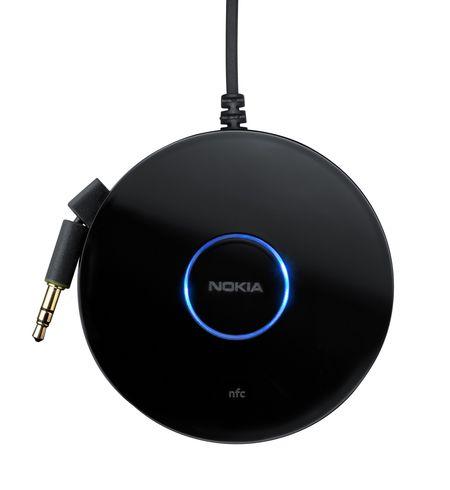 While we have yet to see an explosion of NFC-enabled products, Nokia's brought the near-field communications protocol to a new range of home entertaiment products launching along with its much-lauded new N9 MeeGo phone.
The Play 360°portable speakers are quite cool, but we're most interested in the MD-310 Wireless Music Receiver, the hockey-puck-styled object pictured above, which, as you might expect by the name), plugs into your home audio setup and receives audio wirelessly from your mobile device. It does so over Bluetooth, which ordinarily wouldn't excite S+V or its readers, but Nokia's taken an interesting approach on two fronts.
First, pairing with your device can be done via NFC (provided you have an NFC-enabled handset - obviously Nokia would like to see an N9 in your pocket), so the process is as easy as tapping the device with your phone. A beep confirms the connection, and you're good to go.
Secondly, the audio stream is delivered using CSR's apt-X codec, which promises quality indistinguishable from a 16/44.1 source. Obviously it's not lossless, but given the claims we're very interested to hear this in action. There aren't many apt-X capable devices on the market (at least some Apple computers running 10.6.4 and above, the N9, and some of Samsung's Galaxy range), but it's nice to see a developing standard based around the commonly accepted Bluetooth protocol.
Maybe someday you'll be able to pay for these things via NFC too. Probably not by the time these things come to market in Q3 of this year, but someday. Meanwhile, some video demos from Nokia here.
- Michael Berk
LATEST VIDEO