NAD T785 A/V Receiver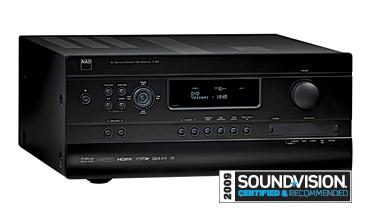 The A/V electronics maker NAD may be more easily defined by what it is not than by what it is. NAD is not a brand of a huge Asian multinational firm, whether Japanese, Korean, or Chinese. It is not a small, high-end American company. And it is not a private label for some huge big-box chain.
What NAD indisputably is, is unique on today's A/V scene. The firm is small and international, with design offices in London, Toronto, and Hong Kong, a corporate center in Ontario, Canada, and distributors around the world, with manufacturing contracted to select Asian factories, usually on a product-by-product basis. And the products themselves eschew features and flash for solid performance basics, frequently with a proprietary technological twist or two. This approach necessarily means that NAD is not often first to market with a new standard or processing mode, but it also means that it can enjoy a period of contemplation and refinement before jumping on (or off) this or that bandwagon.
Such would appear to be the case with the firm's new top A/V receiver, the T785. NAD is a good 12 to 18 months behind the big Asian brands when it comes to HDMI 1.3 connectivity, Dolby TrueHD/DTS-HD Master Audio processing, and high-def video upconversion - all features found in its new receivers. But the firm has used that time wisely, designing entirely new modular underpinnings for the T785 and its sibling T775 and T765 receivers (and T175 surround preamplifier). In essence, these receivers devote half of the component's chassis to a seven-channel amplifier with a unique, twin-toroidal power supply and the other half to a computer-like "card cage" with five slots to accept modules.
As it stands, the T785 comes with three standard modules that deliver the input/output basics. In addition to these, it features the AM200 audio module, which incorporates Dolby TrueHD and DTS-HD Master Audio processing (and all the rest of the Dolby and DTS broods, of course) via high-speed Texas Instruments audio DSPs, and the VM200 video card, which delivers top-tier video processing and onscreen graphics via Sigma Designs VXP silicon. Future options will offer at least some protection against the obsolescence so dreaded in the A/V world. An HDMI v1.4 module is currently in the works, and third-party options - including a Control4 home-automation integrator - are also pipelined.
SETUP
The T785 looks handsome in the classic NAD way, with its dark-charcoal-gray chassis, simple Euro-styled controls, and uncluttered front panel. Hookup was facilitated by nicely staggered, heavy multiway binders for all seven speaker connections, a generous complement of HDMI inputs, and Audyssey's automated setup routine for speaker calibration and MultEQ room/speaker correction. The NAD receiver's crisp onscreen displays are simple and text-based, but they pop up and down ultra-fast - a very welcome attribute.
Audyssey's routines worked their familiar magic, determining my speaker layout and setting appropriate crossover points in all cases, as well as dialing in relative channel levels that correlated nicely with my subsequent checks using a handheld meter.