NAD T 778 AV Surround Sound Receiver Review Page 2
One feature that differentiates the T 778 from virtually every other AVR on the market is NAD's Modular Design Construction (MDC), which the company describes as "planned evolution." Similar to a computer, MDC utilizes a series of cards that can be removed and replaced as new features, technologies, or specifications arrive. In theory, when HDMI 2.1 is finally fully realized, instead of junking the entire chassis, you could just remove the installed HDMI card, replace it with a new one, and voila!—your system is fully up to date. There is one open card slot in the T 778, but NAD commented that there are "no upgrade cards available or planned at this time."
Setup was mostly straightforward and performed either via the front panel display or onscreen menu. Network setup is not supported. Configuration options include the usual ability to rename and assign inputs, set front display parameters, set speaker size/distance/levels, choose which of the 11 speakers will be active during Enhanced Stereo (NAD's version of all-channels stereo), choose when triggers are active, and more.
For those running rigs with less than nine speakers, you get the flexibility to also configure the surround back amplifier channels as front bi-amp, rear height, or Zone 2. Those wanting to get the full 7.1.4-Atmos/DTS:X experience will need to add an external two-channel amp. (Pre-outs are available for all channels on the T 778.) To round-out my install, NAD sent me its C 268 ($899), an 80-watt stereo amp that powered on (and off) quickly and consistently using one of the T 778's triggers, making the connection totally seamless.
One way-cool T 778 feature is configurable A/V Presets that allow you to store five memories with listening mode setup preference, DSP options, tone controls, speaker configuration, and even front panel-display status. One preset I created affected the front-panel display. I preferred it to be off when watching movies, and then on when listening to music, and a simple preset selection allowed me to quickly switch back-and-forth. Another use would be to set your front speakers as "large" when listening to two-channel music, and then "small," with bass routed to a subwoofer, when watching movies.
Bells & Whistles
Two of the T 778's biggest "extra" features are Dirac Live room correction and BluOS audio streaming. The included Dirac Live license is a scaled-back version that limits frequency range adjustment from 20-500 Hz as well as the number of measurements you can take. It also omits advanced features provided in the full Live version (available for $99) that let you set target curves. Measuring with Dirac Live is a bit more involved than with other systems like Audyssey in that it requires connecting a computer (PC or Mac) running the Dirac Live app to the same network as the receiver, plugging the supplied microphone into a USB module on the receiver's rear panel, entering your speaker configuration, calibrating levels, and then running a series of measurements. (An iOS/Android version of the app is also available.) You can load up to three separate measurement filters into the T 778 and then easily recall them either individually or via the presets mentioned above.
An entire review could be based around the T 778's BluOS network streaming (many products featuring BluOS are featured in other reviews on this site), but suffice it to say, this is one of the most compelling solutions on the market, with a fantastic app (iOS or Android) that provides access to the most popular streaming services (Pandora being a notable exception). In addition, BluOS allows for high-resolution (24-bit/192kHz) streaming from networked storage (decoding of OGG, FLAC, ALAC, WAV, WMA-L, and AIFF formats supported) or via Qobuz, Deezer, or Tidal (via MQA). The T 778 also functions as a Roon endpoint. Being able to grab my phone and access millions of songs on-demand, create and edit a playing queue, and easily jump between different services is exactly the streaming experience one should expect. And since BluOS supports multi-room streaming, the T 778 can function as an audio zone in a full house-wide audio system.
Music Performance
The T 778 happened to arrive just before quarantine at home orders took effect, so let's just say I got to use it to watch lots of movies and TV, and to listen to lots of music. And I mean lots.
My immediate impression was that the T 778 had a very liquid and organic sound; it was smooth, natural, and pleasing, and also easy to listen to even when pushing reference volume levels. The overall tonal balance was wonderfully neutral, but with loads of dynamics and detail.
The included HTR8 remote control makes toggling Dirac Live on/off easy so you can quickly compare sound quality with and without the correction activated. I found Dirac Live had a "tightening" effect—it was the audio equivalent of someone turning a screw to lock-in focus, which resulted in a sharper, more detailed sonic image. Bass also greatly benefited by gaining depth and definition. My only real complaint with NAD's implementation of Dirac Live is that once it's engaged, you can no longer tweak individual channel levels—if you wanted to increase the volume in the overhead speakers, or add a bit more bass, for instance.
I listened mainly to CD-quality and high-res music streamed from Qobuz, playing a variety of albums both familiar and new. Miles Davis' seminal album Kind of Blue is one I've listened to so many times, but it still never fails to please on a good system. The final song "Flamenco Sketches" really exhibited that "liquid" quality I mentioned above. Detail was wonderful, with Bill Evans' gentle piano clearly differentiated from Jimmy Cobb's steady gentle cymbal-work. Enabling Dirac Live had a distinct effect on the quality of Paul Chambers' standup bass notes, giving them more extension but also a more visceral and textured pluck.
A song I use to check dynamics is "Rickover's Dream," from the Michael Hedges album Aerial Boundaries. With a good system, you can close your eyes and picture Hedges just attacking his guitar, snapping the strings or banging on its body. The T 778 had plenty of power to deliver the guitarist's dynamic onslaught on this track.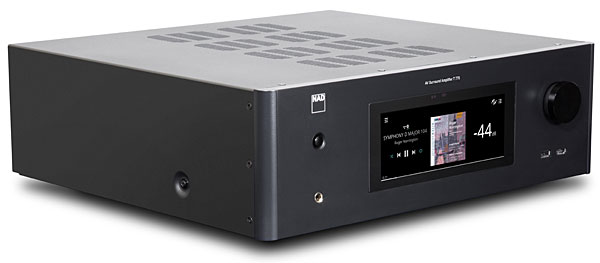 Although I'm a huge Fiona Apple fan, I'll admit that her latest, Fetch the Bolt Cutters, was one that took a few listens to wrap my mind around. This album is edgy, raw, and full of energy, with the singer's wry humor poking out in tracks like "Under the Table." But Apple draws you in over multiple listening sessions, and the T 778's detailed presentation helped me to appreciate the multiple layers of instrumentation, the sung/screamed/whispered vocals, and the sonic character of Apple's home studio where it was recorded.
Movie Performance
I'm generally not a fan of Kristen Stewart's one-note emotional range, but I found her latest film Underwater to be pretty entertaining. Underwater takes place on a large drilling platform thousands of feet below the ocean's surface, and the movie is filled with loads of ambient sounds–pipes bursting, water dripping, electrical wires buzzing, metal structures groaning, etc.—and the T 778's DTS Neural:X upmixer did a wonderful job rendering a cohesive and immersive environment. Dialogue can be difficult to understand with some "hot" DTS mixes, but the T 778 always kept dialogue clear and intelligible regardless of the volume level. Underwater also has the most powerful bass effects I've experienced in some time—they literally made objects in my room rattle and vibrate. Overall, the NAD delivered this soundtrack without strain, with Dirac Live helping to lend definition to the lowest octaves.
I was on the fence about re-dipping into the Star Wars universe for the latest 4K releases, but then I went ahead and watched The Empire Strikes Back. This is a fantastic restoration with a new transfer from a true 4K digital intermediate, and the Dolby Atmos soundtrack is surprisingly dynamic. From the film's opening, you'll hear probe droids launching and whizzing overhead, along with the howling winds and snowstorms of Hoth, and the living jungle of Dagobah.
Vin Diesel's latest actioner, Bloodshot, was a casualty of coronavirus, releasing to the home market just two weeks after debuting theatrically. Like Underwater, it's entertaining if you go in with expectations properly set. Bloodshot's Dolby Atmos soundtrack is dynamic, engaging, and immersive throughout, frequently using the height speakers in creative ways. One example is a scene where the Talking Heads' "Psycho Killer" blasts through the overhead speakers and surrounds during an interrogation. Other Atmos highlights include voices echoing around the room during flashbacks, and the sounds of machines sliding overhead with gears turning and whirring. With all of these, the T 778 placed the sounds accurately, locating me solidly in the middle of the action.
Conclusion
Wrapping up my evaluation of the T 778, the saying "got it where it counts" comes to mind. Sure, it might lack a few convenience features, but the sound quality is superb, and there's enough power to easily drive nearly any speaker to cinema-like levels. When you add in Dirac Live room correction and BluOS streaming, it makes for an incredibly compelling package that will have you listening to and enjoying more of your favorite music. And while you shouldn't necessarily buy a receiver simply based on its cool-looking front panel, in this case it won't hurt any. Lastly, with its future-ready MDC chassis design, the T 778 might just be the last receiver you'll ever need.