Music Videos Go 3D
Is 3D the next big thing in music video? Maybe, maybe not, but there certainly is an emerging wave of 3D productions, both clips and longform videos.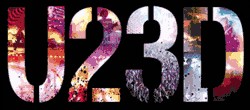 James Cameron (him again!) is producing a concert-length movie for the Black Eyed Peas. Also planning longform 3D productions are Justin Bieber, N.E.R.D., Kylie Monogue, and Sia. U2 actually beat them all to it, filming its 2006 Vertigo tour and releasing U2 3D in 2008. Guitar Center Sessions has captured performances by Peter Gabriel and Jane's Addiction in 3D. Also on the 3D concert bandwagon are Miley Cyrus, the Jonas Brothers, and Kenny Chesney.
3D music video clips have come from Shakira, Bon Jovi, and Broken Bells.
See Associated Press.
LATEST VIDEO
WHERE TECHNOLOGY BECOMES ENTERTAINMENT