Multiroom Magic with Sonos
Price:
$1,098 (as reviewed)
At A Glance: Robust wireless communication between devices • Supports most audio codecs except Apple FairPlay DRM-protected and WMA lossless • Access to numerous online audio-subscription services • ZonePlayers can stream local analog sources to other zones
I've often thought it would be nice to have music in multiple rooms of the house; but, as I've alluded, my home is not custom install friendly. I decided that a wireless multiroom system would definitely be the best bet. Sonos, a company that focuses exclusively on wireless multiroom audio, has a system that's designed to do just thatŃand moreŃin up to 32 independent zones without breaking the bank or tearing down any walls. After I read the endearing tag line, "Wireless that works like magic," I thought, what better time or place could there be to check out Sonos' latest system incarnation? So I asked Sonos to send out its Bundle 150 two-zone package ($999 ) plus a ZoneBridge and let the fun begin.
This Thing Is All Meshed Up
It's hard to overstate the simplicity of the Sonos system concept. There are three basic Sonos bricks: two audio players (the ZonePlayer 90 and ZonePlayer 120) and one handheld wireless Sonos Controller 100. The Bundle 150 includes one of each. The ZonePlayer 90 ($349) is a small, squat, cube-like component (under 3 inches tall and less than 5.5 inches square) that includes two Ethernet ports, an analog audio output, an optical and a coaxial digital audio out, and an auto-detecting analog audio input. The ZonePlayer 90 is designed to be used as a source component for an A/V system, a tabletop radio, or even with a set of amplified speakers. For $150 more, the slightly larger (3.5-by-7.3-by-8.2-inch) ZonePlayer 120 loses the analog and digital audio outputs, but it adds a built-in 55-watt-per-channel amp and a subwoofer output with a fixed 80-hertz crossover.
Regardless of the extent of your Sonos system, you need to have at least one ZonePlayer must be hard wired, using an Ethernet cable, directly to your home network's router. The system uses this connection to access the Internet and any shared music files that might be stored on other computers or network attached storage (NAS) devices that are part 
of your home network. Beyond that, each ZonePlayer wirelessly communicates with the others via SonosNet 2.0, the company's encrypted, MIMO peer-to-peer wireless mesh network technology. In addition to being an audio component, each ZonePlayer essentially operates as a wireless repeater, using three built-in antennas and radios to spread the signal far and wide. As a result, the more ZonePlayers there are in a system, the more robust the network is. (And the better Sonos' bottom line is, no doubt.)
There's also a fourth brick in the Sonos construction set, the ZoneBridge ($99), which doesn't do audio. It's a system extender—think of it as a ZonePlayer without the Player. You can use it to make the Sonos system's direct connection to your router if it happens to be located in an area of your home where you don't want or need to set up a separate zone.
It would make for great copy if I ran into some overwhelming problem when I set up the Sonos Bundle 150. After two years of living in this house, I certainly expected it. But that's not how it went. Instead, it happened just the way the Quick Setup Instructions said it would. First, I connected the ZoneBridge to my router. Then I hooked up the ZonePlayer 90 to the radio in the kitchen. Next, I set up the ZonePlayer 120 with a pair of bookshelf speakers in the bathroom. After I plugged in the Sonos Controller 100 to charge, I went upstairs to my office and installed the Sonos Desktop Controller software on my laptop. And now here's the really hard part. Once it was installed, the Desktop Controller instructed me to add the ZonePlayers to the system one at a time by pressing each device's mute and volume up buttons. In other words, I had to get out of my chair, walk down the stairs, press a button, and then walk back up the stairs. (I thought this was supposed to be easy!) Once the controller is fully charged, you can add it to the system in basically the same manner.
You Will Do What I Am Thinking
I thought the Sonos Controller 100 was about as cool as cool could get when it first came out. In fact, I still think it's pretty cool. Or at least, that's how I felt until Sonos overnighted me the company's first review sample of the Controller 100's replacement, the new Controller 200. Wow! What an awesome improvement. The new model is so well designed, it begs to be played with. It's also less than two-thirds the size of the original, so the Controller 200 is easy to hold and operate with one hand. Gone are the Controller 100's scroll wheel and low-resolution (240-by-320) LCD screen. The Controller 200 is built around a higher-resolution (640-by-480), higher-contrast touchscreen. You can enter text directly via the onscreen keyboard (when searching for an artist name, for example), which makes it infinitely superior to the previous scroll-and-click method. To scroll through a song or artist list, you just slide your finger up or down the screen. Anyone who has used an iPhone or iPod touch will be instantly familiar with the way the Controller 200 operates. The only hard keys are the mute, volume up and down, and zone buttons across the bottom. The rechargeable battery is now user replaceable, and the charging cradle is included rather than being an option, as it was with the Controller 100. The icing on the cake is that, at $349, it's $50 cheaper than the Controller 100. Once it's available, the Controller 200 will take the place of the Controller 100 in the Bundle 150. The new package will be called the Bundle 250 ($999).
With the introduction of the Controller 200, Sonos also released its Sonos Software 3.0. The most significant new feature of the software update is Info View, which provides access from the Controller 200 to music information such as artist bios, similar artists, and upcoming events, when you listen to Rhapsody or Last.fm.
In October 2008, Sonos released a free Sonos Controller for iPhone app that lets you control any or all of the ZonePlayers in your system directly from an iPhone or iPod touch in the same way you can with the Controller 200. (An iPhone or iPod touch won't expand the SonosNet mesh network.) A new version of the app will add the Info View feature. For current and future Sonos system owners who own an iPhone or an iPod touch, downloading the free app is almost like getting a $349 rebate check from Sonos.
A Streaming Good Time
Once you get your controllers up and running, you can access your digital music library and play music in different zones in your home. About the only audio file formats the system doesn't support are Apple FairPlay DRM-protected and WMA lossless, so format conversion shouldn't be an issue for most people. But you don't have to listen to your own music. You can also use the Sonos system to directly set up online accounts for audio subscription services, such as Rhapsody, Napster, and Sirius Internet Radio. Pandora, which used to be available only by subscription, is now free to Sonos system owners, as is Last.fm and 25,000 radio stations via Sonos Radio.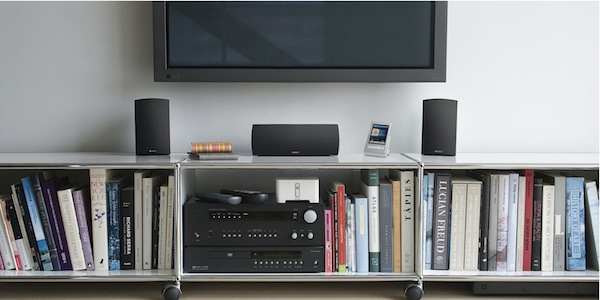 The analog audio inputs on the back of each ZonePlayer let you listen to a local source, such as that iPhone you're using as a Sonos Controller, right there in that zone. But each ZonePlayer can encode the incoming audio and stream it to any other ZonePlayer in the system. In my case, I connected the Zone2 output of my Onkyo A/V receiver to the ZonePlayer 90's input and used it to stream audio (compressed or uncompressed) from the AVR's XM tuner to the ZonePlayer 120 located in my office. (You don't need to sign up for an additional service.) As if that weren't cool enough, the ZonePlayers' audio inputs are auto sensing, so listening to a particular zone's line-in source only becomes an option on your controller's menu if that ZonePlayer senses that a source is plugged in. None of this would matter if the sound quality suffered, but that's not the case here. Of course, a lot depends upon file formats and the encoding bitrate of your digital collection, as well as your choice of online music sources. But whatever the signal quality, the Sonos system will do it justice.
On a lark, I decided to hook up the amp in the ZonePlayer 120 to a pair of BG Z-92 floorstanding loudspeakers and use the subwoofer output to drive BG's BGX-4850 THX Ultra2Đcertified in-wall subwoofer. Yes, it was a bit of overkill, but the ZonePlayer 120's little 55-watt amp sounded amazingly good at a moderate volume on these very revealing speakers. You shouldn't expect it to rock the foundations of your house but you certainly shouldn't be shy about pairing up the ZonePlayer 120 with a good pair of bookshelf or on-wall speakers.
Just before we went to press, Sonos announced the ZonePlayer S5, a $399 amplified ZonePlayer with built-in speakers. Sonos is pitching the system as the ultimate wireless music system for iPhone owners. Like Sonos's other ZonePlayers, an iPhone or iPod touch loaded with the (free) Sonos Controller app is the ideal (and free, if you already have one) remote control for the S5. iPhone/iPod-less people, after they overcome their shame (and come up with $349), can use one of the new Controller 200 remotes. The one-piece design means the only wire you have to deal with is the power cord, which makes the S5 the quickest and easiest of Sonos's ZonePlayers to get up and running. However, if you're starting a system with a single S5, you'll need to have either a hard-wired Ethernet connection between it and your broadband router or a ZoneBridge directly connected to your router.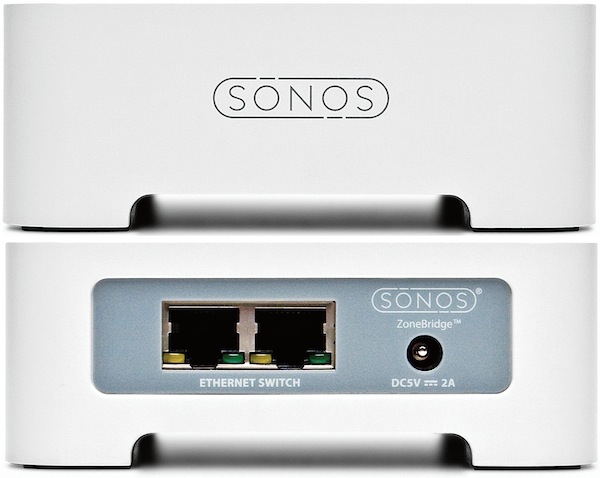 My Network Has Fallen, and It Can't Get Up
It's one thing to yak on and on about how simple a system is to set up and use, but what happens when the system setup isn't as easy as 1-2-3? Inevitably, it's going to happen, whether it's an incompatible router, issues with Internet service via satellite (my unfortunate case), or incomprehensible firewall settings. That's when it's customer support time; and, as many of us know, this is when most consumer electronics companies go horribly wrong.
For starters, Sonos' massive website is fabulous, not only in terms of raw content, but also in its presentation. Information is easy to find, and it's written in a manner that's easy to comprehend with plenty of explanatory diagrams and screen shots. For example, although iTunes will download artwork, it doesn't automatically embed the artwork into the music files' metadata. If you're using iTunes as your main media program, you'll need to use third-party software to embed the images in order to view cover art on the Sonos handheld or Desktop Controller. A page on the Sonos website walks you through the entire process. It even provides the download link for a suggested program that will do the trick. I don't particularly care for the small, light-blue font that the Sonos web folks use for large blocks of text, but it's hard to fault the site for anything else.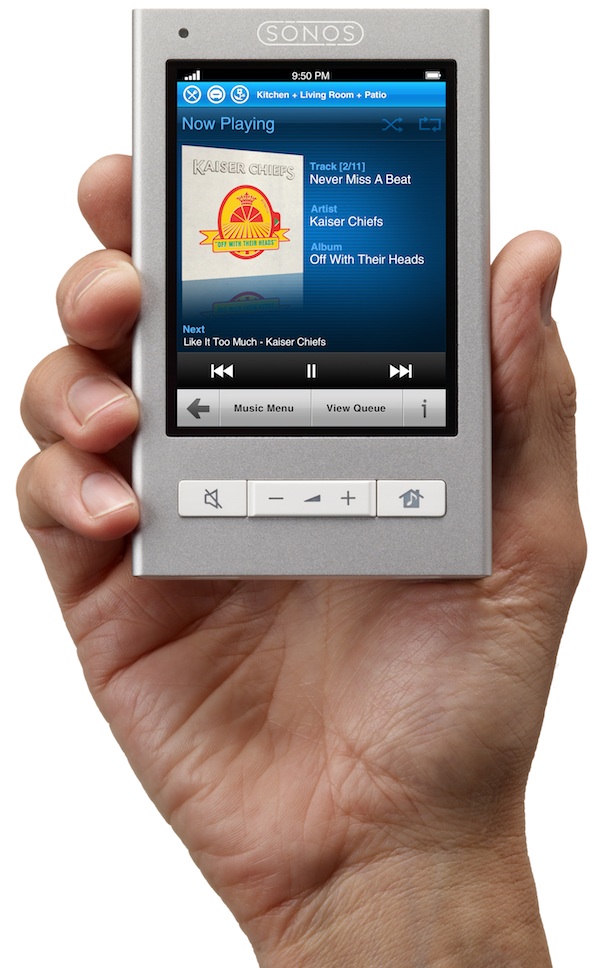 However, a website is no substitute for a real human being with real expertise. In my dealings with the Sonos support staff, I found them to be equally impressive. Granted, it's possible they put the only two good people they have on my case since this was a review, but I think that's unlikely. While we couldn't solve all of my problems since satellite Internet is, unfortunately, a royal pain in the ass, but Clay took care of a couple of other network issues and, in the process, discovered a looming-but-unrelated problem with my main computer. I don't think that's a normal part of the customer support program, but it shows that the guys know more than just how to read a customer support flow-chart script. Interestingly enough, during the course of our troubleshooting, Clay told me that I had both of the system's ZonePlayers and one of the controllers sitting in the same room only a few feet away from each other. (Fortunately, he didn't know that I wasn't wearing pants while I was talking to him on the phone. At least, I hope he didn't know.)
So No? So Yes
I've seen lots of gear over the years, and I've had the chance to look at it from many different value/performance perspectives (as a consumer, salesperson, etc.). I certainly haven't seen it all; but looking back over everything that I've either plugged in, pushed a button on, or otherwise eyeballed or touched, I can't think of another product that's so impressive or compelling when it comes to form, function, and performance. Not only does the Sonos system do what it says it will—that is, make multiroom audio easy—it does it with gear that looks and sounds great, is a joy to use, and works consistently and reliably. If you're even remotely interested in multiroom audio, Sonos is the system to start with. Most likely, it'll be the one you end up with, too.