Multiroom Magic with Sonos
So Many Rooms, So Few Wires
My home began as a tiny two-room house on a hilltop in the middle of nowhere back in the late 1800s. A century later, I'm sitting in a cubbyhole office in the original upstairs section. Old and new sections butt up against one another. Some of the home's old elements have been remade to look new, while its new parts have a patina of old. Straight lines and level floors are few and far between. With two totally separate (in both location and age) upstairs areas, it almost qualifies as a human Habitrail. As they say in the real estate business, it has character.
When you have such an old house, you need to approach home-improvement projects with trepidation. Even a seemingly insignificant 20-minute project (like replacing a 10-year-old light switch with an occupancy-sensing switch) can snowball into a day-long repair job that will inevitably include two trips to the hardware store and end with the original switch put back in place.
I've often thought it would be nice to have music in multiple rooms of the house; but, as I've alluded, my home is not custom install friendly. I decided that a wireless multiroom system would definitely be the best bet. Sonos, a company that focuses exclusively on wireless multiroom audio, has a system that's designed to do just that—and more—in up to 32 independent zones without breaking the bank or tearing down any walls. After I read the endearing tag line, "Wireless that works like magic," I thought, what better time or place could there be to check out Sonos' latest system incarnation? So I asked Sonos to send out its Bundle 150 two-zone package ($999) plus a ZoneBridge and let the fun begin.
This Thing Is All Meshed Up
It's hard to overstate the simplicity of the Sonos system concept. There are three basic Sonos bricks: two audio players (the ZonePlayer 90 and ZonePlayer 120) and one handheld wireless Sonos Controller 100. The Bundle 150 includes one of each.
The ZonePlayer 90 ($349) is a small, squat, cube-like component (under 3 inches tall and less than 5.5 inches square) that includes two Ethernet ports, an analog audio output, an optical and a coaxial digital audio out, and an auto-detecting analog audio input. The ZonePlayer 90 can be used as a source component for an A/V system, a tabletop radio, or even with a set of amplified speakers. For $150 more, the slightly larger (3.5-by-7.3-by-8.2-inch) ZonePlayer 120 loses the analog and digital audio outputs, but it adds a built-in g-watt-per-channel amp and a subwoofer output with a fixed 80-hertz crossover.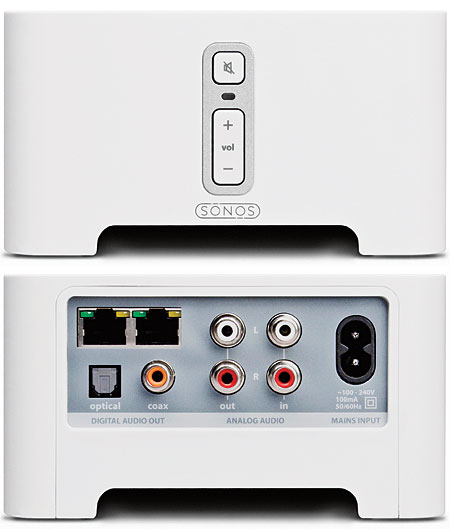 Regardless of the extent of your Sonos system, you need to have at least one ZonePlayer directly connected to your home network's router—that is, hard wired with an Ethernet cable. The system uses this connection to access the Internet and any shared music files that might be stored on other computers or network attached storage (NAS) devices that are part of your home network. Beyond that, each ZonePlayer wirelessly communicates with the others via SonosNet 2.0, the company's encrypted, MIMO peer-to-peer wireless mesh network technology. In addition to being an audio component, each ZonePlayer essentially operates as a wireless repeater, using three built-in antennas and radios to spread the signal far and wide. As a result, the more ZonePlayers there are in a system, the more robust the network is. (And the better Sonos' bottom line is, no doubt.)
There's also a fourth brick in the Sonos construction set, the ZoneBridge ($99), which doesn't do audio. It's a system extender—think of it as a ZonePlayer without the Player. You can use it to make the Sonos system's direct connection to your router if it happens to be located in an area of your home where you don't want or need to set up a separate zone.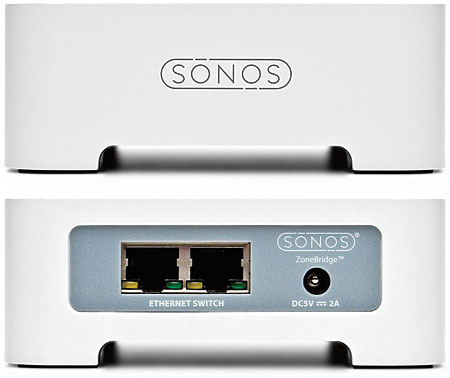 It would make for great copy if I ran into some overwhelming problem when I set up the Sonos Bundle 150. After two years of living in this house, I certainly expected it. But that's not how it went. Instead, it happened just the way the Quick Setup Instructions said it would. First, I connected the ZoneBridge to my router. Then I hooked up the ZonePlayer 90 to the radio in the kitchen. Next, I set up the ZonePlayer 120 with a pair of bookshelf speakers in the bathroom. After I plugged in the Sonos Controller 100 to charge, I went upstairs to my office and installed the Sonos Desktop Controller software on my laptop. And now here's the really hard part. Once it was installed, the Desktop Controller instructed me to add the ZonePlayers to the system one at a time by pressing each device's mute and volume up buttons. In other words, I had to get out of my chair, walk down the stairs, press a button, and then walk back up the stairs. (I thought this was supposed to be easy!) Once the controller is fully charged, you can add it to the system in basically the same manner.