Much Ado About Nothing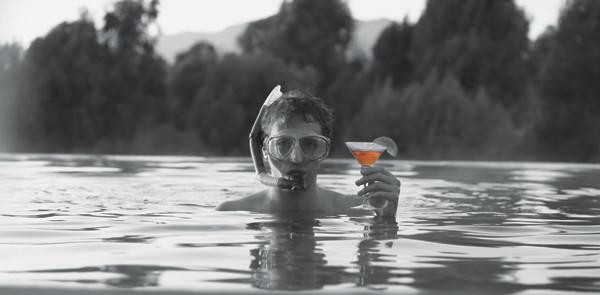 Shot in black and white, the 1.85:1 image has an extremely wide range of luscious grays and great detail in every lacey designer outfit, glamorous furnishing, and sharp, water surface, bringing to mind a perfume or luxury car ad. The grand piano is a deep black, the flame of the candle sitting upon it a bright white, but in other images, when the brightness is reduced, everything is dampened into shades lost somewhere in the middle, lacking depth and detail.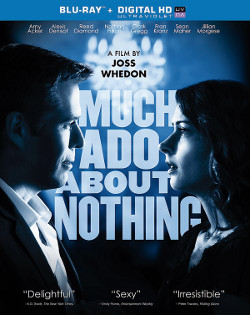 In the DTS-HD Master Audio 5.1 soundtrack, the all-important dialogue is clear, never drowned by Whedon's mellow, loungey score which is either restrained or comes in at the end of a speech, wonderfully immersing you in a sea of jazz, acoustic rock, or classical music, well-separated instruments coming together from all around, to float somewhere in the middle of the room. It's very dimensional and—along with the voices, and minimal effects such as bird song and fountain running water—is full and open, with double basses bowing satisfyingly deep in their reverberations and kettle drums pounding moodily.
The director's commentary engagingly tells how and why he shot the film in downtime while making The Avengers and his logic behind the staging and shooting. Another commentary, with the director and the whole cast imbibing, is completely uninformative but in its own flirty, chaotic way gives a feel of the home-movie quality of the shoot amongst goofing friends at Whedon's home. There's also a gushy but interesting 20-minute featurette telling how the 12-day production evolved from Whedon's casual Sunday workshop readings, a meaningless piece about the party bus to Austin Film Festival, and the "Sigh No More" music video consisting of Whedon's music, Shakespeare's poetry, and outtakes.
Blu-ray
Studio: Lionsgate Films, 2012
Aspect Ratio: 1.85:1
Audio Format: DTS-HD Master Audio 5.1
Length: 107 mins.
MPAA Rating: PG-13
Director: Joss Whedon
Starring: Amy Acker, Alexis Denisof, Jillian Morgese
There's not much gained by the contemporary setting to offset the oddness of having Shakespeare's characters seem like a bunch of Wall Street stockbrokers speaking strange in the Hamptons as if in a Woody Allen comedy, but otherwise the Bard's words flow well enough from the pretty mouths of the cast. Attraction leads to war as dedicated bachelor Benedick verbally spars against "the bitter disposition of Beatrice," each of them fighting for the right to remain independent. Meanwhile, fellow visiting army officer Claudio falls for Hero, the daughter of Leonato, the Governor of Messina. In these contrasting relationships, nobody has superpowers or martial-art moves as in other Joss Whedon films, but the battle of love, inevitably impacted by a series of comic and tragic events that keep the couples apart, is nonetheless brisk and cinematic.