Move every sig: real movie-star autographs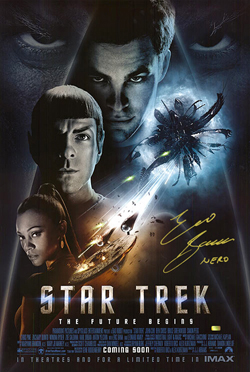 There are three types of celebrity autographs: Sports autographs, convention autographs, and fake autographs. Sports autographs are signed balls, mitts, trading cards, and other memorabilia that bear the signature of a professional athlete. Convention autographs are signed memorabilia at comic book, sci-fi, and other enthusiast conventions by guests, usually actors of science fiction shows. Fake autographs are ones you purchase off dubious web sites or from hole-in-the-wall tchotchke stores in strip malls that have a big name like Al Pacino along with a photo from a movie like Scarface, and are completely bogus.
If you see the person sign it at a convention or a ball game, you can be pretty certain it's a real autograph. Unfortunately, getting autographs from Hollywood headlines is a bit more difficult. You can't really be sure a celebrity autograph you've bought is authentic, or if you dropped cash on a worthless scrap of paper. Double-unfortunately, even if a big star shows up at a convention, you can't be certain you'll be able to get a signature; the bigger the name, the longer the lines, the less chance you'll get to the front to get your poster/DVD/comic book signed.
Just in time for summer blockbuster season, Celebrity Authentics has announced a cavalcade of big names' autographs available. Because each autograph comes with a certificate that has a picture of the celebrity in question at the signing, you can be a bit more certain that you didn't get taken for a ride. The company requires witnesses at all signings, and each item is cataloged and tagged with a hologram. Unless you can actually be at the signing yourself, it seems to be one of the better ways to make sure you didn't waste your money.
Robert Downey Jr., Tobey Maguire, and Eric Bana are three of the newly announced names on the company's list. Bana will be starring as the villain Nero in the upcoming Star Trek movie (hitting theaters this weekend), and Downey and Maguire are working on sequels to Iron Man and the Spider-Man series, slated to hit theaters in 2010 and 2011. Other autographs will include John Travolta, Gerard Butler, Christian Bale, and Kevin Spacey.
— Will Greenwald
LATEST VIDEO