For More Fun in the Sun, Move Your AV Outdoors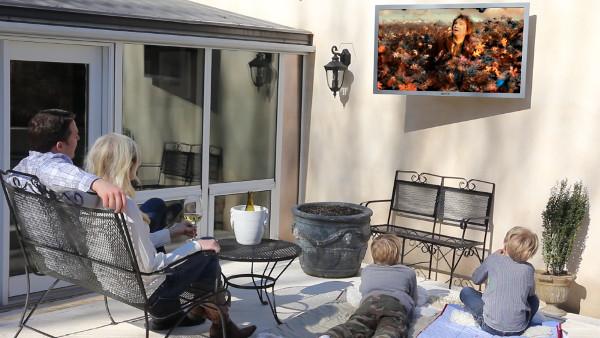 I love that time of year when, after a couple of false starts and brief teases, the persistence of winter finally breaks for good and the soft breezes of spring arrive. That's a decidedly northern experience, of course, one that some folks eventually move south to get away from permanently (well, the winter that precedes it, anyway), and which others have never known because of their origins in warmer climes. I get it — I've got family all over the country and have spent plenty of time out west and in Florida, and I see how a guy could get used to it. But the New Yorker in me thinks those folks are missing out. If you haven't struggled through a winter, even a mild one, you can't fully appreciate the fleeting beauty of a spring and summer in the same way. You need that frame of reference. It makes being outside that much better.
What also makes it better is getting to move your lifestyle outdoors for those months, which means uncloaking the barbecue grill, pulling out the patio furniture, and turning the back deck or patio into an extension of your home. Sure, you can sit out there in solitude and read a book. But you may also want to entertain friends and family, listen to background tunes or dance to the music, and keep an eye on a televised ball game while you tap the drink cooler. Spring and summer is also when we're on the go: taking vacation time, or heading out for a run, a bike ride, a swim, or a kayak float. But whatever your ultimate destination, whether it's just your yard or points beyond, you'll need some specialized AV gear.
It's tradition that we devote some space to outdoor and portable audio and video equipment. This summer, we've got a nice roundup from editor-at-large Bob Ankosko of a dozen curated items of interest, everything from wireless speakers to portable projectors and screens to an underwater media player, virtual reality movie glasses, and more. Audio editor Mark Fleischmann recently tested the incredible (and incredibly expensive) Focal Utopia reference headphones, admittedly more geared for at-home use, but portable enough to take to a summer cottage to get in your regular audiophile fix. Contributing technical editor Steve Guttenberg offers up his usual steady flow of headphone reviews, including travel- (and budget-) friendly in-ear models from Monoprice and 1More. And I reviewed the new Soundcast VG7, a mega-Bluetooth speaker that proved remarkable in its own right.
Depending on your desires, activities, and interpretation of what outdoor and portable entertainment mean to you, you'll find different options and a wide range of equipment to choose from in today's market, and different approaches to achieving your goal. Let's start with putting video into your backyard space for watching sports and movies. There are outdoor TVs that come in fully weatherproof casings made to withstand the elements and keep moisture, pests, and temperature from hurting the TV, while also delivering the extra brightness and anti-glare treatments required for viewing in sunlight. There are sophisticated designs perfect for a permanent installation, though they can be expensive.
An alternate possibility is the seasonal installation of a plain ol' flat panel. I've completed installs in the New York metro area where I've mounted a 32- or 40-inch budget LCD on an articulating arm attached to the house under a covered deck or eave that kept the TV out of all but the heaviest blowing rains. A vinyl TV cover (you can find them online) protects the set and its connections during inclement weather or when not in use. At the end of the warm season (or in case of a hurricane warning!), the TV lifts right out of the mount and gets stored indoors. Will the set last as long as a weatherproof model or perform as well in bright light? Nope. But depending on its usage and the mounting environment, you'd be surprised how many seasons a TV might last under these conditions. TV audio can come from the TV speakers or be routed through outdoor speakers driven by your AVR's Zone 2 or a multiroom audio system. Or, you can tap the set's analog audio output (or use a cheap optical-to-analog converter) to feed a self-powered speaker.
For the communal experience of nighttime movie viewing on a big screen, you're looking at a projector and outdoor screen. Options for permanent fixed or retractable screens and mounted projectors abound (including weatherproof projector casings). But a relatively inexpensive collapsible or blow-up screen mated with a compact but powerful projector works well for occasional movie nights. You can use a mobile phone or tablet and HDMI adapter to feed streamed or downloaded video to the projector, or haul out your disc player. Many portable projectors do come with an audio output that can be used to feed a powered speaker with an Aux input.
Getting music outdoors, meanwhile, involves either a permanent installation with in-wall or buried cabling, or some kind of wireless speaker set up through a multiroom system or a Bluetooth speaker. If you don't have easy access to AC power or want to move a standalone speaker around the yard, you'll find plenty of battery-powered options out there. However you choose to do it, at whatever budget, you'll find that there's a special quality to enjoying audio/video entertainment out in the sun or under the stars. So get yourself set up and have some fun.