Monitor Audio Previews Mini-Cube 5.1 Speaker System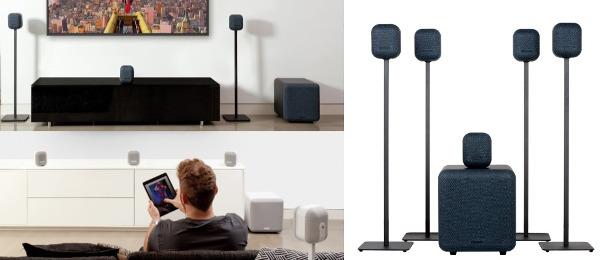 Monitor Audio today announced a 5.1 speaker system "designed to deliver full-scale audio fidelity from compact, elegant speaker cabinets that will augment any interior."
Slated for delivery in the spring, the MASS Surround Sound package appears to be an update of the MASS 5.1 speaker system that made Sound & Vision's Top Pick list in 2013.
The system comprises five satellite cubes and a matching subwoofer, each covered in an acoustically transparent custom-weave cloth unique to Monitor Audio. Pricing was not announced but we do know that the stands shown in the photo are optional.
Each satellite houses a 3.5-inch midbass driver, featuring the company's MMP II metal matrix polymer cone technology, and a 0.75-inch soft-dome tweeter in a fiber-reinforced cube measuring 6 x 5 x 5 inches (H x W x D). The satellites are tuned for "wide dispersion and optimal integration" with the companion subwoofer. Integral hardware accommodates stand or wall mounting.
The MASS Subwoofer combines an 8-inch long-throw MMP II cone woofer and 120-watt Class D amplifier with digital processing in a sealed cabinet measuring 14 x 12.5 x 13.75 inches (H x W x D). The cabinet is braced and made of sturdy 0.6-inch medium-density fiberboard (MDF) with a 0.7-inch-thick baffle. Listeners can choose between three presets modes: Music, Movie, and Impact.
Two finish options are available: blue/black or gray/white cloth. The system is covered by a 5-year warranty.
For more information, visit monitoraudio.com.