Modulus Launches 'DVR for the Streaming Age'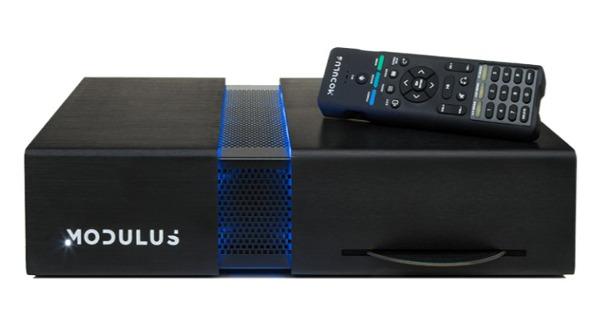 Two years ago the Austin, Texas-based startup Modulus demonstrated the M1 media hub that
Sound & Vision
's Darryl Wilkinson called
almost too good to be true
.
"Imagine putting a Kaleidescape server with a Roku 4, and then wrapping the combo in a TiVo DVR — and that description still doesn't come close to describing the Modulus M1," Wilkinson wrote. "Part DVR, part media server, part universal remote, as well as part nearly anything else you can think of that's important for a modern home theater system, the M1 includes 12TB of media storage space; an RF-based "Ultimate Remote Control" with voice search, air mouse, and full QWERTY keyboard; as well as an internal Blu-Ray/DVD disc player/ripper."
Modulus announced yesterday that the super hub, originally slated for launch in late 2017, is now ready for prime time. Seven-plus years in the making, the brainchild of former Texas Instruments executive Steven Schulz is described as the "perfect tool" for managing streaming content.
"Modulus is the first multifunction media hub that allows you to record all your streaming shows," the company said in a press release. "No more disappearing episodes of your favorite binge-worthy series. Modulus records the entire series and organizes it into folders so you can enjoy it anytime you want. Modulus has a pending patent for this feature, along with several other innovations."
No pricing was announced for the device, which will be sold primarily through home technology integrators.
"With viewers devoting more hours to consuming content, they want the delivery to be simple and fun, not frustrating," the company said. "Modulus answers that demand with a stylish unit that consolidates the best features of a DVR, function-rich media center software, multiple streaming boxes, Blu-ray/DVD disc players, and personal media organizers for the whole family.
"There is nothing like it on the market today. In addition to its ability to record streaming, Modulus also has blazing fast global search, and immediate commercial skip with any recorded program."
For more information, visit modulusmediasystems.com.