Moana
Its 2.39:1 Blu-ray image is appropriately stunning, with lush, vibrant colors that might make viewers yearn for a trip to the Pacific Islands. Detail is likewise extraordinary, from the faintest texture of adventure-buddy Maui's tattooed skin to the photo-realistic water to the many nuances of the authentic artwork seen throughout. Stars pop against the night sky, with virtually no ringing in the darkness. The 3D is a welcome enhancement to the story, with keenly layered compositions and realistic focus pulls. The stereoscopic effect also expands the sense of scale in various locations and makes certain camera angles even more dramatic, as when we're looking down the face of a mountain as our heroes climb.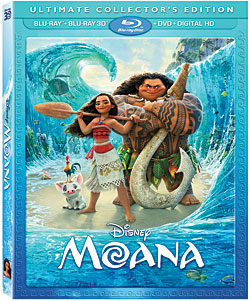 Voices shine within the DTS-HD Master Audio track, some placed discretely within the 7.1 mix while the chorus is given a wide spread that truly embraces the audience. (This is a musical after all, with songs by Hamilton's Lin-Manuel Miranda, plus Mark Mancina and Opetaia Foa'i.) Some symbolic echoes have a pleasing subtlety to them, distinct from literal echoes in other scenes. Noticeable bass is surprisingly sparse, although these low frequencies are deftly incorporated to commendably underscore the action beats as needed, as well as adding a real fullness to the singing.
On the 2D Blu-ray, directors Ron Clements and John Musker provide an enjoyable audio commentary. An array of featurettes discuss subjects that will satisfy star-obsessed fans and serious cinema buffs alike, everything from animation techniques to obscure bits of celebrity trivia. The film's Easter eggs are revealed, in addition to a deleted song and a collection of cut scenes. The new tie-in mini-movie "Gone Fishing" is included, along with the theatrical short "Inner Workings." The latter appears on the 3D disc, too. A DVD of Moana with a subset of these same features plus a Disney Movies Anywhere Digital Copy round out this Ultimate Collector's Edition.
Blu-Ray 3D
Studio: Disney, 2016
Aspect Ratio: 2.39:1
Audio Format: DTS-HD Master Audio 7.1
Length: 107 mins.
MPAA Rating: PG
Dorectors: Ron Clements and John Musker
Starring: Auli'i Cravalho, Dwayne Johnson, Rachel House
The brave, spirited non-princess of the title is still learning how to lead her village when a when a mysterious curse befalls their island. Despite a lifetime of warnings from her father the chief, she sets sail upon an epic journey to save her people, seeking the help of a misunderstood demigod along the way. A tale of destiny, selflessness, and family, Moana is filled with beauty, magic, and wonder and is among the very finest films to ever come from Disney.