Mitsubishi's Immersive Sound LCD TV
Everyone goes on and on about how a TV looks. How often does anyone mention how it sounds? Like, never!  You know that some people are spending a fortune on a new TV, but completely ignoring their sound system.  There are plenty of great sound systems on the market, but many consumers just use the built-in speakers on the TV. (Makes the recording engineer in my shiver!)
Mitsubishi is changing all of that.
Mitsubishi has a line of TVs with Integrated Sound Projectors -- a built-in soundbar with Dolby Digital 5.1 surround, with no extra wires, speakers or confusion to set up.
From Mits: The iSP reproduces Dolby® Digital 5.1 channel surround sound from a single speaker cabinet positioned below the TV screen. The iSP enclosure houses a 16-speaker array that creates a 5.1 channel sound field. Through the use of an advanced algorithm, the iSP delays the sound at varying intervals to each of the 16 speakers. As a result, the speaker array generates 5.1 distinct sound beams that are focused directly and indirectly to the listener. The subwoofer or LFE channel is also available as an output of the TV for easy connection to an external powered subwoofer.
The video specs are good too:
The entire lineup feature Smooth120Hz Film Motion.  They're 10-bit LCD panels with Wide Color Gamut, Deep Color, x.v.Color, Tru1080p processing in both sizes. They have a Digital Cable Ready - CableCard feature that connects directly to cable service without a separate set-top box.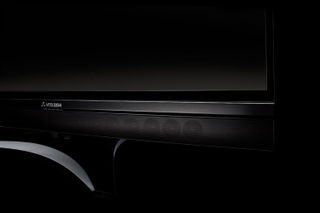 It's available in a 52-inch or 46-inch size. For someone who can't be bothered with a whole home theater setup, this built-in soundbar is a huge step up from using (heaven forbid) typical built-in speakers. -Leslie Shapiro
LATEST VIDEO