Mitsubishi Strutts Its High Definition Stuff
As is their practice this time of every year,
Mitsubishi
recently invited dealers to a secret location (actually it was in Orlando, Florida) where, amidst much hoopla, wining and dining, and the all-important dealer/sales representative bonding (courtesy of the wining and dining), the company unveiled the HDTVs which will be available for delivery to home theaters later this year. Mitsubishi's introduction brought to light 17 new models and involved several of the world's most sought after display technologies.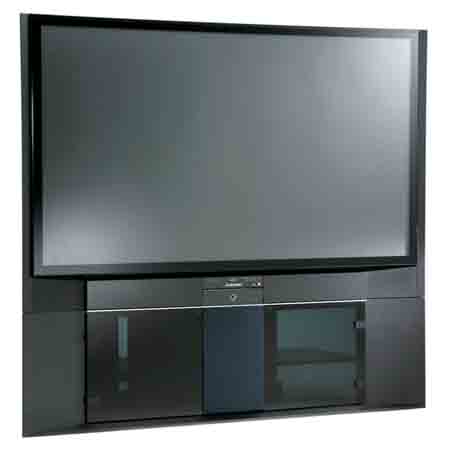 Premiere among the bunch were four models from Mitsubishi's Diamond Series - the 73-inch WD-73927 and WD-73827 plus the 62-inch WD-62927 and WD-62827. Each is a fully integrated DLP rear-projection HDTV that includes an internal hard drive DVR and a pair of high-definition tuners that allow the recording of one HD channel while watching another. The 927-series sets feature 250 GB hard drives for up to 25 hours of HD recording while the 827-series models have more modest 160 GB DVRs for HD storage of up to 16 hours. At the heart of each set is Texas Instruments' latest 1920 x 1080p DLP technology and a 150-watt lamp combined with Mitsubishi's proprietary "Plush1080p" upconversion system for 1080i-to-1080p deinterlacing. Each model is Digital Cable Ready (DCR) and has two HDMI inputs, three component video inputs, a front-panel IEEE1394 jack, and a nine-format memory card reader. (Don't you just wish that we had more memory card formats?) The WD-62927 and WD-73927 also come with a dedicated PC input. The new 827-series models are visually distinguished by high-gloss black cabinets while the 927-series gets a silver treatment.
Five more Mitsubishi integrated HDTV models employing TI's 1080p DLP technology were displayed for oohing and aahing, although these sets lack the internal DVRs found in the Diamond-series sets. The new Digital Cable Ready units - WD-62628 and WD-62627 (62-inch), WD-52628 and WD-52627 (52-inch), and WD-73727 (73-inch) - each include a single high-definition tuner and has many of the same features as the Diamond-series models such as the input package, all-digital audio output conversion circuitry (that handily converts analog audio signals to digital), and a TV Guide On Screen program guide.

DLP didn't steal the entire spotlight during the line show. Mitsubishi also pulled the curtain back on four Digital Cable Ready three-chip LCD rear-projection high-definition sets. All four models - the 62-inch WD-62528 and WD-62527 along with the 52-inch WD-52528 and WD-52527 - employ a trio of 1280 x 720 resolution LCD panels with a specially formulated LCD coating which Mitsubishi claims enables wider viewing angles by producing higher light dispersion from the panels. Similar to the new DLP-based HDTVs, the LCD-based units incorporate TV Guide On Screen electronic program guides, all-digital analog audio outputs, two HDMI inputs, component video inputs (two on the 527-series and three on the 528-series), and an IEEE1394 jack. Mitsubishi says the 528-series models utilize two user-switchable technologies called DeepField imager and SharpEdge. The former monitors the picture signal and adjusts brightness, contrast, and gamma for enhanced contrast and black levels (the result being greater depth-of-field, especially in scenes with both dark and light areas, according to Mitsubishi). The latter technology is designed to create crisp edges between objects and backgrounds.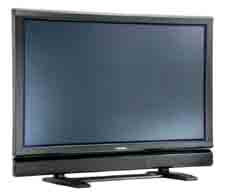 Although the new MicroDisplay rear-projection HDTVs are slimmer by far than the CRT-based rear-pro counterparts of yore, Mitsubishi saw fit to introduce two pair of even skinnier flat-panel HDTVs. The first two are plasma HDTV Monitors, the PD-5065 (50-inch with 1365 x 768 resolution) and PD-4265 (42-inch with 1024 x 768 resolution), which incorporate 12-bit color processing that's said by Mitsubishi to provide more than eight times the number of colors available in traditional plasma displays. (Count them and get back to us, okay?) MicroFilter technology matches a teeny, tiny microfilter to each plasma cell to optimize red, green, and blue phosphors. The sets come with an HDMI input, removable bottom-mounted speakers, and a height-adjustable tabletop stand.
Two LCD flat-panel HDTVs were introduced for those with Napolean complexes or who actually need a screen size smaller than 42 inches. The LT-3780 (37-inch) and LT-3280 (32-inch) include Digital Cable Ready HDTV tuners, dual HDMI inputs, a couple of component video inputs, a pair of S-video inputs, and even a duo of composite video inputs plus another one of those multi-cultural nine-format memory card readers. The 37-inch model is built around a 1920 x 1080p high-definition panel, and each comes with a removable swivel stand as well as a separate media center containing all inputs and output jacks.
Availability of the new models was said to be "soon" with pricing to be "better than what you'd expect but not as cheap as what you're going to tell your neighbor you paid for it".
LATEST VIDEO