Mirage Omnisat 6 Speaker System
Listening outside the pod.
Mirage's VP of engineering, Ian Paisley, went bipolar way back in 1987. Hold on a sec, let me restate that: Paisley designed the first commercially successful bipolar loudspeaker, the Mirage M-1, in 1987. That speaker garnered raves in all of the audiophile mags and put Mirage on the map. Ah, but do bipolar/wide-dispersion speakers always produce great sound? It all depends. People have criticized some omnidirectional speakers for their overly diffuse, vaguely defined imaging. While I've never owned a set of Mirages, I've been a fan of this sort of speaker since I bought a pair of "direct/reflecting" Bose 501 speakers in '76. Hey, I was still wet behind my not-yet-golden ears, and Bose's dispersion concept caught my fancy. My Bose affair was a quickie, and I eventually settled down for a long-term relationship with a pair of Quad ESL-63 (dipole) electrostatic speakers.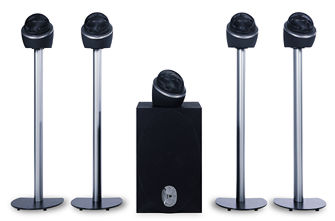 Enough about me and my audio dalliances. I'm here to report on Mirage's brand-new Omnipolar satellite, the logically named Omnisat. Omni-what? Mirage's evolutionary design goes beyond bipolar; the Omnipolar design uses even more of your room's reflections to create a live sense of realism. The Omnisat is a wonderful little speaker that, even for the most casual listener, will sound very un-speaker-like, very different from a standard box speaker.
I applaud Mirage's design engineer, Andrew Welker, for crafting a radical design like the Omnisat. I think his form-follows-function aesthetic is way cool. A foaming agent fortifies the Omnisat's cheeky ABS plastic pod-cabinet, so the entire structure is remarkably solid and inert. A rubberized coating adds another layer of damping and a luxurious feel to this acoustic-suspension design. Tucked away under the "bug eye" metal mesh grille, you'll find a cast-aluminum baffle that provides an ultra-rigid platform for the woofer and tweeter. A dispersion module, which creates the speaker's Omnipolar (spherical) radiation pattern, is strategically positioned above each driver. A tiny, spoonlike module floats just above the tweeter, while a second, much larger conical module hovers over the midbass driver. The drivers, by the way, are pretty special, too: Welker developed the vapor-deposited-titanium-over-polypropylene 4.5-inch woofer specifically for the Omnisat, and the 1-inch titanium dome was derived from Mirage's top-of-the-line OM tweeter.
Welker is so committed to the Omnipolar strategy, he didn't see any reason to cook up a dedicated Omnicenter or Omnisurround. The Omnisat handles every position with aplomb. My review setup consisted of five Omnisats and an LF-150 sub—aka the Omnisat 6 system. It's a $1,700 package, but you can buy additional Omnisats for $250 a pop, and extra LF-150s go for $500 each. The Omnisat is a fairly small speaker: 8 inches high, 6.25 wide, and 8 deep. Its rhodium binding posts accept bananas, spades, or bare wire. You can get your Omnisats in one of four speaker/grille color combinations: white/white, platinum/platinum, black/platinum, or black/black.
The LF-150's 10-inch titanium/polypropylene woofer gets its marching orders from a Mirage-designed and -built MOSFET Class AB 150-watt amp/crossover. I thought the LF-150 sounded a tad lumpy in my regular sub position, so I jockeyed it around my room until it locked in behind the right Omnisat; that's where the sub/sat blend was as smooth as the proverbial baby's behind. Oh, and the LF-150's bypassed line-level input was a big help. I achieved the perfect sub/sat match in just a couple of minutes. Alternatively, you can use the standard filtered line- or speaker-level inputs. If you go this route, you'll appreciate the front-mounted 40- to 120-hertz variable low-pass crossover, level control, and 0- to 180-degree phase control. This isn't a baby-boomer-sized sub; it measures 12.5 inches high, 19.75 high, and 14.25 deep, and it's finished in a black, brushed-metal vinyl wrap. Happy in either a vertical or a horizontal orientation, the 45-pound sub sits on cute plastic footers. The Omnisats and the LF-150 were designed and built in Canada.
I found the Omnisats to be generally unfussy about placement, but I coaxed a more-finely focused image out of them after I tweaked their toe-in. Hmm, why would an omnidirectional speaker need to be toed-in? Well, it turns out the speaker deploys full omni response up to 800 Hz and from 5 kilohertz up. In between those two frequencies, dispersion narrows and becomes tear-shaped and forward-directed. I positioned the left/right Omnisats a good 30 inches out in the room, mounted on Mirage's 30-inch-tall Omnisat stands ($150/pair), and they clearly sounded best with that sort of breathing room. Butt them up against a wall, and the image focus will suffer. So, sure, you'll forfeit some of the omni effect if you crowd the speakers, but that's true of most forward-firing speakers. I noticed that the Omnisat's vertical dispersion rises above 10 kHz. If you stand up, you'll hear a lot more high-frequency energy